The gap between rich and poor in Charleston is widening, according to two new analyses of what people earn here, cementing a stubborn pattern of inequality in one of South Carolina's wealthiest and fastest-growing regions.
The richest residents here have seen their income balloon in recent years, the analyses show. Earnings at the top echelon of the Lowcountry's economy have been boosted by a soaring stock market, rising property values and an influx of well-to-do newcomers, observers say.
But on the lowest rungs of the income ladder, Charleston hasn't made much progress.
Even the region's boosters acknowledge that the path to the middle class here is narrow. Many residents are knocked off of it by Charleston's limited transportation options and the high cost of prime real estate, which forces people to live far away from where they work.
And while local observers are careful to note that there's no one factor driving inequality, few question that a problem is brewing, according to a Bloomberg analysis published last week.
In the past several years, only four cities saw the gap between their rich residents and their poor grow faster than Charleston's.
Two were in Silicon Valley, where the technology sector has driven runaway inequality. Another was Bridgeport, Conn., where New York financiers mingle with urban poverty. The last was Seattle, where major companies such as Amazon and Microsoft have created enormous wealth.
A second analysis, undertaken by the Brookings Institution think tank, suggests that several other cities have made headway in narrowing divides in their community — the ratio between rich and poor. Charleston, however, is flat-lining, at best.
Among the nation's 100 largest cities, it now has the 25th largest divide. Just two years ago, it was No. 37.
"We're seeing property values increase in the metropolitan areas here in the state, and that is an indicator of economic growth," said Kirk Foster, a University of South Carolina professor who studies poverty.
But, he added: "At the same time, you have to ask, 'Economic growth for whom?'"
'Larger and larger'
The factors driving Charleston's inequality aren't unique to the city, but they are especially pronounced in and around downtown.
Rents and home prices are rising in most urban areas, but the pace here far outstrips the national average. Transportation options are limited in all but the biggest cities, but bus ridership in the Charleston region is especially low. And while school systems nationwide have struggled to prepare students for working-class jobs, the local economy has transformed in the past few decades, exacerbating the challenge.
All that is piled on top of robust population growth that boosts property values, and it's happening in a place that lives in the shadows of deep economic inequity along racial lines. A College of Charleston study last year found that the wealth gap between white and black families is as large today as it was a half-century ago.
"Unless we come up with some way of addressing this, this gap is going to get larger and larger," said Patricia Williams Lessane, who co-wrote that study as director of the college's Avery Research Center for African American History and Culture.
Steve Warner studies how well the Lowcountry stacks up against other cities as a vice president at the Charleston Regional Development Alliance, an economic-development agency that markets the area to employers. Asked if the region's economic-development boosters are following the problem, his answer is blunt: "Emphatically yes."
He said the region's job-growth strategy is built on creating pathways into the middle class.
The region has the makings of a blossoming technology sector, which pays more than average. And it's one of the few places in America where manufacturing jobs are on the rise. In North Charleston, Boeing is building planes and Mercedes-Benz is producing vans. New Volvo cars will soon roll off an assembly line north of Summerville.
But Warner said he's well aware that those expansions have driven up the cost of living before their benefits have spread widely. Education policy and transportation infrastructure are changing at a slower pace than the economy.
"The job creation in those high-wage, high-skilled jobs is happening, but we have people in our community who still aren't able to get an opportunity to get those jobs," Warner said.
'Need to scale'
Charleston County easily has the biggest gap between rich and poor in the Lowcountry. Census data shows that the average earner in the top fifth of the county makes 19 times more than the average person in the bottom 20 percent.
But the roots of the region's widening gap actually lie in the suburbs. The difference between the upper echelon and the bottom is opening up in Berkeley and Dorchester counties.
Census data suggest that the suburbs are affected by two trends: The Lowcountry's poorest residents are being pushed out of central Charleston, and more wealthy people are also moving inland.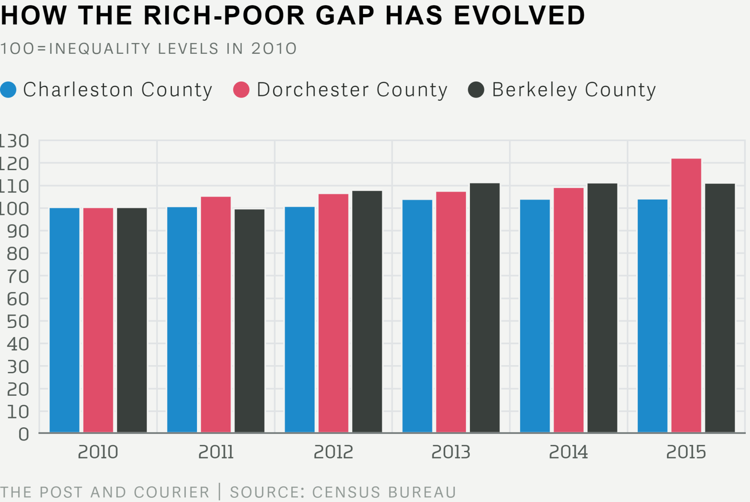 The so-called opportunity gap across the region persists in spite of efforts to bridge it.
South Carolina has aggressively pushed apprenticeships and job training programs intended to give locals a shot at jobs in the region's emerging sectors. Local nonprofits have cropped up to push public schools toward more equal outcomes. Local governments have new initiatives to make it easier for those in lower-paid jobs — programs such as Charleston's park-and-ride service for hospitality workers.
"These are all great programs, but they need to scale," Warner said. "They're having an impact, but it's for a fairly small number of people."
Those programs have affected the lives of hundreds, even thousands, of people, he said. But the region now has some 775,000 residents, more than these programs currently reach.
"I'm encouraged," said Williams Lessane of the College of Charleston, "but we need so much more."