The International African American Museum in Charleston is getting a six-figure boost from a worldwide technology company based in the South Carolina Upstate.
ScanSource, which started in Greenville in 1992 and has grown to nearly 3,000 employees in 45 offices around the world, not only donated $250,000 but is offering its services for free to set up the museum's network for interactive exhibits, communications, ticketing, retail sales and security.
Beyond that, the company is passing the word to some 300 other Silicon Valley companies it does business with, which could help bring in the final $1 million needed to start construction fairly quickly.
CEO Mike Baur, who started out selling TSR-80 computers for Radio Shack in the 1970s, shook hands with about everybody who turned out for the announcement Thursday on Calhoun Street.
"Knowing the history of what they're trying to do here with the museum really got the attention of our company," he said. "We really believe in the spirit and the idea behind this museum. It's extremely relevant in today's world."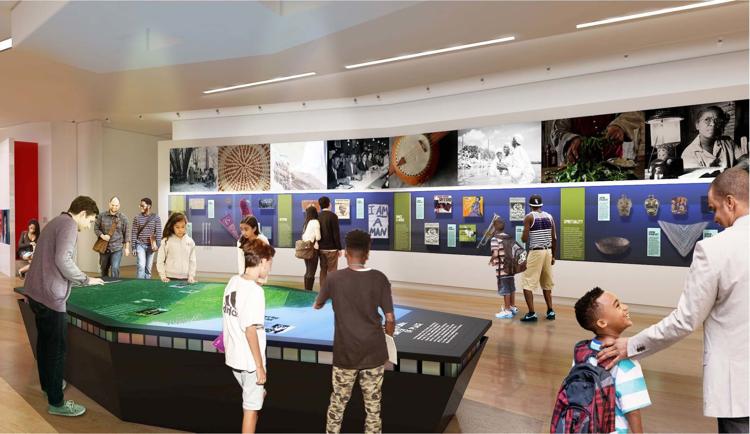 Greg Dixon, the company's chief technology officer who started out years ago selling mainframes for IBM, will help set up the museum's technology network. He said his goal is to make it "a shining example of 21st-century technology."
Museum CEO Michael Boulware Moore said ScanSource's role is vital to the success of the museum.
"We've always endeavored with the African American Museum to create something that's not just static," he said. "We want to create something that's really interactive, that's dynamic, that engages people. These days technology is really at the core of that."
Baur got involved after former Charleston Mayor Joe Riley visited him about two and a half years ago. Riley said the importance of ScanSource's partnership goes beyond the monetary gift and even the technical expertise. 
"They have reached out to their business partners in Silicon Valley," he said.
Dixon said ScanSource works with about 300 companies, and they're passing the word about the museum to them.
The latest donation leaves less than $1 million in private donations yet to be raised, Moore said.
"We are hoping to do that in short order," he said.
Moore said he expects construction to start early next year, with an opening two years later.
Museum supporters need to raise $25 million in private donations for the $75 million project, with the rest expected to come from the city, county and state. A $10 million endowment from the Lilly Endowment is paying for the staff.
The museum will be built near the Maritime Center on the site of the former Gadsden's Wharf, where thousands of enslaved Africans were unloaded from ships in the early 1800s.
ScanSource's investment will be recognized in the Interactive Heritage Map, one of the museum's largest media installations.