Got a complaint over ethics with a local real estate agent? The Charleston Trident Association of Realtors will now consider such grievances on an anonymous basis.
The North Charleston-based group that represents about 5,800 members changed its policy Jan. 1 to allow complaints of perceived ethics violations to be filed without allowing the complainant's name to be used, if one so chooses.
Previously, such reports weren't given much credence. The change was made to increase professionalism after a study by the association determined that the number of violations exceeded what was being reported through formal channels.
"We, along with many associations across the country, expanded our intake to include anonymous complaints," said CTAR spokeswoman Meghan Weinreich. "Allowing Realtors a more streamlined, less confrontational way of reporting issues in the marketplace helps everyone involved in the transaction." 
For a complaint to be filed, it must cite one of eight articles under the Code of Ethics and Standards of Practice of the National Association of Realtors, Weinreich said. They include Articles 1, 3, 4, 5, 6, 12, 14 and 16.
In general, they deal with protecting and promoting a client's interest, cooperating with other brokers, not being involved in secretive transactions for themselves or family members and not providing services for a property in which they have an interest without proper disclosure.
They also include not accepting payment on expenditures made for a client, being honest in all real estate communications, providing pertinent information and not disrupting tribunals investigating alleged ethics violations, and not interfering in exclusive agreements other Realtors have with clients.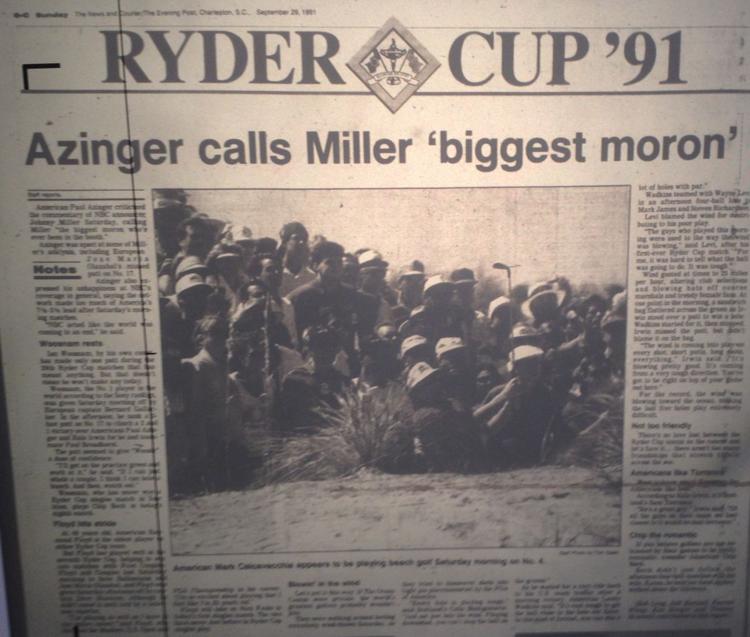 Offensive addition
Golfing great-turned-broadcaster Johnny Miller called it a career a couple of weeks ago during the Waste Management Phoenix Open.
But he nearly walked away from the microphone for good many years earlier at Kiawah Island, after an insensitive attempt at humor at the famous 1991 Ryder Cup.
According to the Golf Channel, Miller was providing his usual candid analysis when Paul Azinger of the U.S. team misplayed the perilous 17th hole at the Ocean Course.
"Terrible shot," Miller commented during NBC's televised coverage.
Azinger found out, and his "fiery rebuttal" was plastered in large font across the front of a special section in the next day's News and Courier, a predecessor paper to The Post and Courier: "Azinger calls Miller 'biggest moron.'"
In a slight to the analyst's religious beliefs, an unknown instigator cut out the headline and, supposedly in jest, added an "m" so that it read, "biggest mormon" before taping it to a wall in the TV trailer. It was no laughing matter for Miller, The World Golf Hall of Famer was deeply offended.
"Miller was so hurt that during a company outing the next day at Kiawah, he told colleague Mark Rolfing that he was done," according to the Golf Channel.
It reached the point that Dick Ebersol, who was running NBC Sports at the time, had to intervene and convince Miller not to quit.
"Eventually Miller found his groove, his uncompromising style garnering him eight Emmy nominations as the game's preeminent analyst," according to the report.
As for Azinger, he recently crossed paths with Miller once again, by taking his place in the NBC broadcast booth in Phoenix.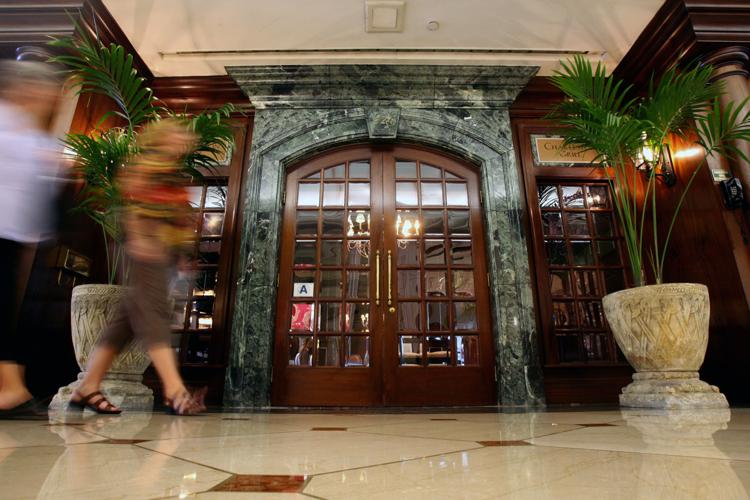 Tasty leftovers
The AAA travel club seems to have reheated the leftovers in deciding which South Carolina restaurants were worthy of its annual four- and five-diamond ratings.
No newcomers were added to the 2019 lists, which were released Thursday.
In the top-tier category, McCrady's on East Bay Street in downtown Charleston reclaimed its five-diamond status for the third consecutive year.
Charleston area eateries also dominated the four-diamond grouping with nine well-regarded dining establishments making the cut out of a total of 11 statewide.
Charleston Grill inside Belmond Charleston Place has been in AAA's good graces longer than the rest of the bunch, since 1998, followed closely by the nearby Peninsula Grill in the Planters Inn.
The other South Carolina restaurants to retain their  four-diamond rankings were Old Fort Pub on Hilton Head Island and The Dining Room at Abingdon Manor in Latta.
Baby on board
A new arrival could delay a long-running lawsuit over the State Ports Authority's plans to build a new terminal for cruise ships that dock near downtown Charleston.
Attorney Blan Holman, who represents several area environmental and historic preservation groups opposed to the terminal's location, has asked the S.C. Supreme Court to delay oral arguments in the case, scheduled for March 27 in Columbia.
The reason: He and his wife are expecting a new addition to the family around that time.
"I am likely to be on 24/7 duty on or around March 27," Holman wrote in a letter to the court. 
A new date for the hearing had not been scheduled as of Friday.
The environmental and preservation groups are suing to stop the authority's plans for a $43 million terminal for cruise passengers at the north end of Union Pier. They say the proposed terminal will create noise, congestion and pollution.
The authority says the project is needed to replace the outdated facility now in use and that it would improve traffic flows near the city's Historic District.
The case centers on a permit the S.C. Department of Health and Environmental Control issued in 2012 allowing the authority to place five additional clusters of support pilings beneath an existing warehouse where the terminal would be located. Two lower courts have ruled that groups opposing the terminal don't have a legal right to stop the project.
A separate federal lawsuit was sent back to the Army Corps of Engineers for further review is still pending.
Lingering no longer
The last remnant of a former Charleston real estate investment firm has been sold for less than the list price.
Pernix Therapeutics notified shareholders last year that it was trying to unload about 118 acres in the northern end of Charleston County near the Santee Delta.
The New Jersey-based specialty drugmaker came to own the undeveloped site when it acquired the ailing Golf Trust of America Inc. in March 2010, namely to obtain the local company's public stock listing.
Golf Trust was formed in Charleston in 1997 to invest in courses all over the country. But within several years, the industry had become overbuilt while participation in the game stagnated. Values suddenly plummeted.
Golf Trust decided in 2001 to sell its 40 or so layouts and distribute the proceeds to shareholders. But in 2007, investors repealed the liquidation plan to allow management to seek other opportunities, such as finding a buyer.
It found one in Pernix, then based in Dallas. The acquisition included $6.7 million in cash Golf Trust had on hand along with the undeveloped agricultural tract north of McClellanville that it had paid $700,000 for.
Pernix had estimated its lingering Lowcountry land holding was valued at $500,000 based on market data and listed it last year at $499,900. Mount Pleasant-based Collins Creek Plantation LLC snapped it up last month at a 37 percent discount, paying $315,000.
Oldest on the island
The oldest commercial structure on Daniel Island is in new hands.
An out-of-state real estate investment firm recently snapped up the 67,774-square-foot office building on about 16 acres at 146 Fairchild St. for $8 million, according to Berkeley County land records.
The buyer is an affiliate of The Becker Organization, which also owns about 15,000 square feet of commercial condominium space at 259 Seven Farms Drive on Daniel Island as well as a 31,000-square-foot office building at 8749 North Park Blvd. in North Charleston, according to its website.
The newly acquired Fairchild Street property is close to MUSC Stadium and is visible from I-526. The building was completed in 1996 to house the operations of a medical insurer called Healthsource Source Carolina, making it the first commercial property built on the island under the then-new master plan for the 4,000-acre development.
Healthsource was sold in 1997 to industry giant Cigna, which sold the Charleston property a few years later.
Montclair, N.J.-based Becker purchased the partly vacant building from 146 Fairchild Street LLC, which was made up of three affiliated local companies that operated under a tenant-in-common ownership structure. It had owned the property since 2005, when it paid $11.3 million for it, according to land records.