It's a standing-room-only request for Charleston Music Hall as the owner of the downtown entertainment venue seeks to add more capacity. 
Right now, the John Street building tops out at 965 people. But a proposal is in the works to boost that figure to about 1,200 by creating a "flex space," said Charleston Music Hall director Charles Carmody. 
If approved by city zoning officials, the 284 fixed seats in the orchestra section would be replaced with new seating that could be removed. That would allow for a 500-person standing area.
For most shows, Carmody said, the audience will be seated. The purpose of the flex-space area is to help attract acts that prefer standing room closest to the stage. On multiple occasions, artists have taken a pass on the concert hall because of the existing setup, Carmody said. 
Charleston Music Hall is owned by Chico Associates LLC, an affiliate of Charleston-based Bennett Hospitality.
The company needs city approval because its request does not call for the required 34 extra parking spaces. Charleston's zoning board is scheduled to take up the issue at its meeting Tuesday on the first floor of the Gaillard Center. It starts at 5:15 p.m.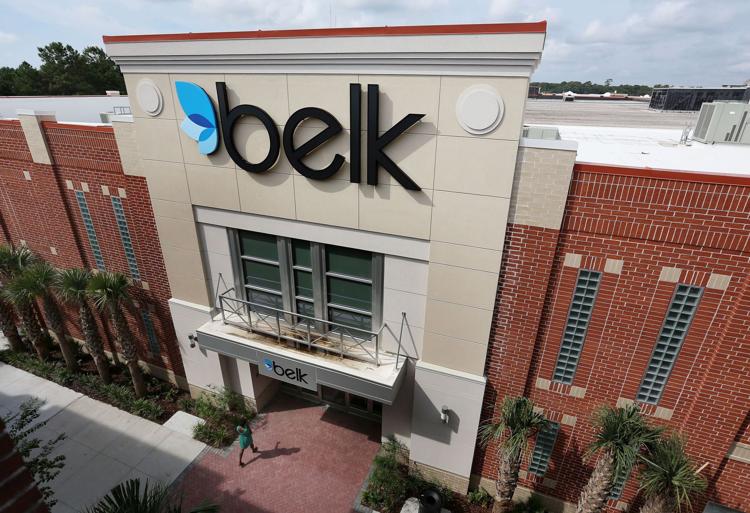 Best of Black Friday
One of the longest-operating department store chains serving the Charleston region is earning high marks for its Black Friday savings.
Belk leads the pack of the top 10 retailers that will be offering the best deals later this week on the traditional start of the holiday shopping season, according to WalletHub.
The personal finance website said it surveyed Black Friday advertising materials for nearly 7,000 deals from 35 of the biggest U.S. retailers to find the biggest price cuts in 11 key product categories, from appliances to jewelry to toys. It then calculated the average discount that each store plans to offer shoppers Nov. 23, while also making adjustments "to give more credit to the retailers discounting higher-ticket items," according to the study.
Charlotte-based Belk, which has been selling goods to Charleston shoppers since it opened a King Street store in 1926, came out on top this year. Its average discount compared to regular prices came in at 68.9 percent. Locally, the chain has four stores, in Mount Pleasant, North Charleston, Summerville and West Ashley.  
Of the rest of the top 10, five other chains have brick-and-mortar locations in the area: No. 2 J.C. Penney, at 65.1 percent; No. 4 Kohl's at 60.8 percent; No. 5 New York & Co. at 54.5 percent; No. 6 Payless ShoeSource at 50.3 percent discount; and No. 7. Dick's Sporting Goods at 49.9 percent.
Pitched contest
A medical therapy and sunglasses shone at "Shark Tank"-style business pitch contests last week. 
The Harbor Entrepreneur Center organized the event at the Charleston Museum, where representatives from promising startups were given about five minutes each to state their cases and win over the judges. The entrepreneurs also fielded questions from a panel. 
The contestants vying for $25,000 from Charleston-based Good Growth Capital included companies offering a private chef service, a mobile phone battery pack, and gourmet dinners for delivery. Jake Berton's Rheos Gear, a local business that markets floating sunglasses for $50 on its website and at some big-box stores, was named the winner of that funding prize.
At the same event, three life sciences firms battled for a larger slug of money from the Charleston Angel Conference. Lindy Biosciences prevailed with a therapeutic technology that would enable patients to administer some drugs to themselves with a needle, rather than intravenously, which can take hours. The win was worth at least $100,000 for the Durham, N.C.-based startup.
'Dash 10' dividend
The first carrier to fly a South Carolina-made Boeing 787-10 has grabbed the top spot in this year's airlineratings.com ranking of the world's best airlines.
Singapore Airlines — which has committed to buy 49 "Dash 10s" — seized the No. 1 ranking from Air New Zealand, which had kept it the previous five years.
The rankings are based on airline safety and in-flight product, with Singapore Airlines scoring points for its new 787-10 jets, the largest member of the Dreamliner family that's built exclusively at the aerospace giant's North Charleston campus.
"For years Singapore Airlines has been the gold standard and now it is back to its best, leading in passenger innovations and new state-of-the-art aircraft models," said Geoffrey Thomas, editor-in-chief of airlineratings.com.
Singapore's national carrier took delivery of the first 787-10 in March.
To date, Boeing has racked up 169 orders for the wide-body commercial plane.
Retirement rating
Charleston ought be on a list — of cities named to the most top 10 lists, perhaps.
Livability.com is the latest to include the Holy City in a ranking of one sort or another. It named Charleston the 10th best city for retirees in the U.S.
The online magazine analyzed all U.S. cities with a population between 20,000 and 300,000 and weeded out those with high health care costs.
Using far-flung data sources, including the Census Bureau, Medicare, U.S. Department of Agriculture and the National Oceanic and Atmospheric Administration, eligible cities were ranked on more than 20 data points.
Among them were community engagement, safety, hospital quality rating, affordability, number of residents over 65, activities and recreation, primary care physician rate, air quality, natural disaster risk, climate, property tax rate and nursing home accessibility and quality. 
"Choosing the perfect place to spend your retirement is a very personal decision, which is why this year's list represents a wide variety of lifestyles, climates and geographic locations," said Winona Dimeo-Ediger, managing editor of Livability.com.
The publication said it chose Charleston because of "the city's charm, deep-rooted history and amazing amenities, including lower property taxes, thriving arts scene and (great) restaurants." 
Naples, Fla., topped the list, followed by Little Rock, Ark.; Scottsdale, Ariz.; Chattanooga, Tenn.; Plano, Texas; Roseville, Calif.; Spokane, Wash.; Carmel, Ind.; and Columbus, Ga.
Earlier this year, Charleston earned on a spot on Livability's Top 100 Best Places to Live.