Even on vacation it can't be escaped — the dings and pings of email, text and social media notifications beg for attention. 
One hotel chain is trying to curb the temptation to text-while-vacationing by providing guests incentives for going tech-free at its pools and restaurants. 
In October, Wyndham Grand tested the program at five of its properties, including the Mills House Wyndham Grand at Meeting and Queen streets. The initiative was supposed to end this month, but the Orlando, Fla.-based lodging chain has decided to maintain the program indefinitely and expand it to 12 of its U.S. locations.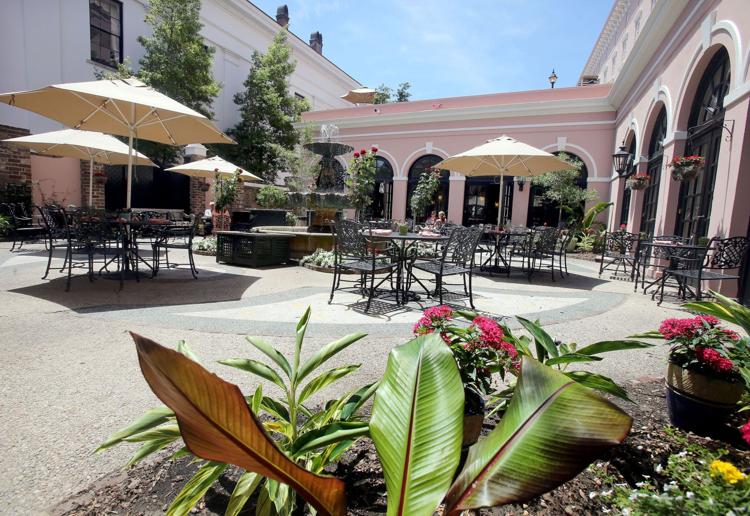 The idea for the program came from feedback from general managers and staffers, said Lisa Checchio, chief marketing officer at Wyndham.
So many people were choosing to sunbathe and scroll over doing cannonballs into the pool that the company had to add extra deck chairs.
"They weren't actually on vacation," Checchio said. "We were seeing a lack of engagement in the restaurants, too, from both kids and parents." 
On a recent visit to the Mills House, Checchio said, of the 10 guests observers saw at the pool, all but two were sitting poolside on their phones.
Now, in return for going temporarily phone-free, Wyndham offers priority seating, off-menu treats, pool perks like beach balls and floats, and chances to win a free five-night stay. 
To enforce tech-free zones, they're working with Yondr, a company that produces pouches that keep people from checking their phones.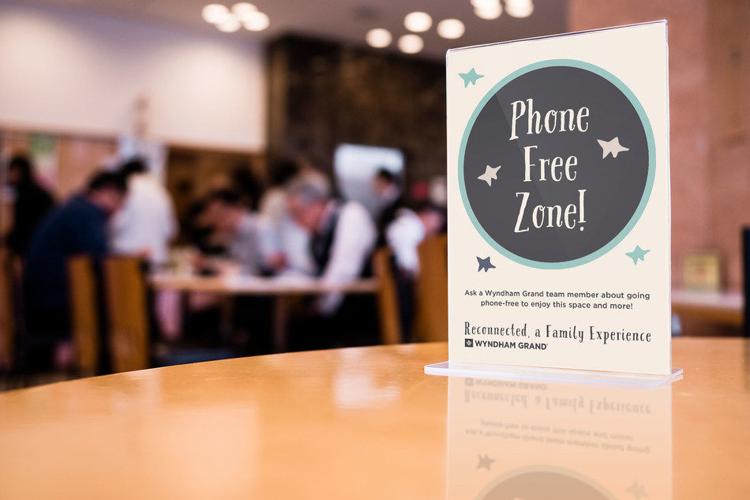 Guests can visit "phone-free zones" where they insert their device into a locking pouch. The phone stays with them at all times, but remains locked until they leave the tech-free area and open the pouch at an unlocking station. 
Since Yondr launched in 2004, the pouches have been used by performers like Dave Chapelle, Donald Glover and The Lumineers to keep fans off their phones during shows. High schools have also enlisted the company to seal away students' cell phones during the school day. 
Though many tout time off as their chance to "unplug," recent surveys show that, in practice, that doesn't usually happen. A study from mobile device insurance company Asurion found American vacationers check their phones an average of 80 times a day — and some as often as 300.
Deciding when to put the phone away on vacation can be difficult. Hotels offer free Wi-Fi, attractions entice visitors to post photos for perks and many travelers rely on mobile maps to navigate unfamiliar areas. 
Hotels have also struggled to provide enough bandwidth for all the devices guests bring with them. On average, travelers bring two to three electronic gadgets per person, travel research firm m1nd-set found. At the same time, quality internet access continues to rank among the top items guests expect from hotels.
But "technology detox" destinations have also been gaining popularity. Most unplugged resorts are international, and enforced phone-free policies in the U.S. are generally reserved for upscale spots. The offerings tend to strictly limit phone access or ban electronics entirely. 
The Rancho La Puerta retreat in Baja California only allows guests to use their devices in private rooms, and the luxury camping, or "glamping," company Under Canvas touts that it intentionally omits Wi-Fi access so guests can "disconnect from technology and reconnect with those they love."