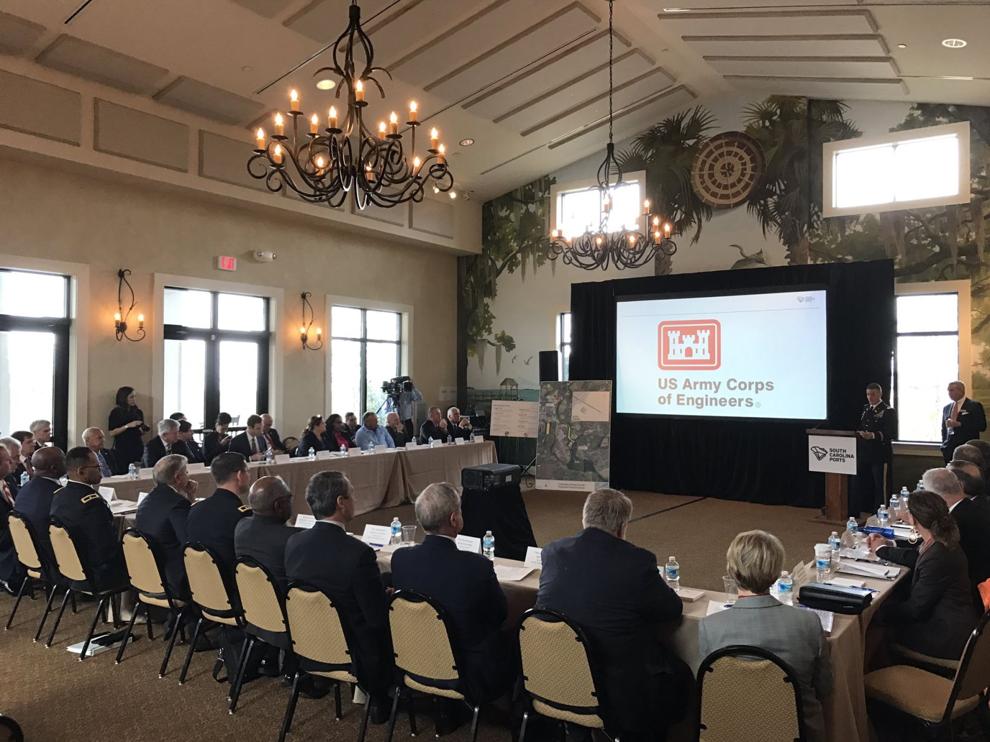 With design work nearly complete, congressional authorization in place and about $300 million of South Carolina cash sitting in the bank, politicians and business leaders met last week to discuss the importance of a Charleston Harbor dredging project they hope begins before the end of this year.
"We ultimately will be awarding projects this coming fall, and we'll have a dredge in the water by December," predicted Lt. Co. Matthew Luzzatto, commander of the Army Corps of Engineers' Charleston district.
The federal agency in charge of permitting the project that will dredge the harbor shipping channel to 52 feet wants to "get after this in the most aggressive manner possible and complete it as quickly as possible," Luzzatto said.
A deeper harbor will better accommodate the large, heavy container ships traveling through an expanded Panama Canal to the East Coast, allowing them to visit the Port of Charleston around the clock and regardless of tides. The $509 million project was authorized in December by passage of the federal Water Infrastructure Improvements for the Nation Act.
While South Carolina legislators have already set aside their portion of the project's cost, the remaining $209 million must come from the federal government. At least some money has to be included in President Donald Trump's upcoming budget for work to start.
The dredging is scheduled for completion by the end of the decade, about the same time the State Ports Authority opens a new container terminal at the former Navy base in North Charleston. Those projects are part of $2 billion in capital improvements the SPA, state and federal governments are planning for the port in order to attract the bigger ships.
Following are some of the comments made during the SPA's round table discussion of the project's progress. Some of the comments have been edited for clarity and brevity.
Pete Selleck, chairman and president of Michelin North America: Were it not for the Port of Charleston, Michelin would not have come to South Carolina. It's just simply that important. We import a tremendous amount of material, most notably natural rubber from Southeast Asia. And we export a lot of material, most notably, those large earth-moving tires. We have 9,000 people working for Michelin in the state of South Carolina and we all know how important manufacturing jobs are, not just to the state but also in providing a basis for our economy. Having those large post-Panamax vessels allows us to move our material in and out much more quickly and at lower cost. It's important that we have a port here that continues to be modern.
Lindsey Graham, Republican U.S. Senator: I think this has been the hardest thing I've ever dealt with, and the most consequential thing. Washington is broken in many ways, but the South Carolina delegation is not broken when it comes to taking care of our own back yard. Not one South Carolina politician abandoned this port at a time of most critical needs. South Carolina has access to the world market because of the companies that have decided to locate here, and one of the reasons they've located here is because of this port. It is the lifeblood of the South Carolina economy.
Jim Clyburn, Democrat U.S. Congressman: This project, to me, is a culmination of people putting this state and its people before any of our own political considerations. Every time it comes to South Carolina and the future of this state we have set aside our differences, and I think we'll do the same going forward.
Knudt Flor, president and CEO of BMW Manufacturing in Greer: One of the reasons we came to South Carolina was the harbor and the support of the government. We produced more than 400,000 cars last year in South Carolina, and we export 70 percent of those cars into the world market - 140 different countries. We need the world market. You are building on your future and you are building on our future because it's our future together.
Jeff Duncan, Republican U.S. Congressman: I've never been prouder of our involvement in Charleston than I was during the Panama Canal ceremony in June and I saw the large ships coming through the new canal knowing they were going to be heading to Charleston very shortly. And understanding the economic impact that would have, not only for the Port of Charleston but also the inland port in Greer and the future inland port in Dillon.
Lee Sowell, president Techtronic Industries: If we can keep our costs down on shipping, that's a big deal. Charleston is much closer to our facility than Savannah and the inland port in Greer is close to our manufacturing facility. We plan to move more jobs to the United States from China and (the port) will be critical for our future success.
Maj. Gen. Donald E. Jackson, Army Corps of Engineers: There is still a lot of work to do, but the Army Corps is totally committed. This project is not only important to Charleston, South Carolina and the Southeast, it's important to our nation. The Army Corps of Engineers understands that and we commit all of our resources to get this done as fast as we can do it. Twenty years from now, when we look at this project and see what it's doing and what it has done, we want to be proud that we did it the right way and a quality way.
Mark Sanford, Republican U.S. Congressman: Today is a celebration of a collaborative effort. It's remarkable to think of the harbor and all that happens with it. It has been the lifeblood of the Charleston community going back to the 1600s. It's a reminder of how central the Port of Charleston is to everything that happens in this community and the state.
Chris Keuleman, vice president of International Paper: This project is a big deal to us because it allows us to have access to bigger ships. We are the second-largest exporter of containers in the United States, with 20 percent of our products exported overseas, so our ability to be efficient with that exporting is important to help support our U.S. workforce of 35,000 people - 1,900 in South Carolina - and grow the U.S. economy. The Port of Charleston is pivotal to that success. We ship approximately $550 million of products through the port on an annual basis and we expect our relationship with the port to only grow. We've made some recent investments to our business here in the region and we just acquired Weyerhaeuser's pulp business, so we expect to see our business go up by more than 50 percent at the port here.
Kevin Pruitt, director of global logistics for Eastman Chemical: Eastman is located in Kingsport, Tenn., and while this is important to Charleston and the state of South Carolina, it's also extremely important to those surrounding Southeast states that export through South Atlantic ports. As the South Atlantic ports become more efficient, our export markets that we try to serve in the global arena become more efficient. We're going to get the benefit of that. For us, Charleston really is a window to the rest of the world in many ways.