Next month Charleston Habitat for Humanity will break ground on its first Veterans Build home in North Charleston through a sponsorship with Publix Supermarket Charities.
A second home to provide a housing opportunity to veterans and military service members will break ground in Charleston later this year.
But there's a problem. There are no veterans qualified to live in the homes.
"We have tried to promote this incredible program with media outlets and veterans groups in the area but have had very few qualified applicants," said Lynn Bowley, Charleston Habitat's executive director. "We'd love to find a veteran and their family selected to live in the home before we break ground in May."
The homes come with a 30-year mortgage and are financed without interest. They are sold at no profit with the average cost between $80,000 and $85,000. Payments average $500 a month.
To qualify, a veteran must meet the family income level criteria between 35-80 percent of the area median income ($74,500 for a family of four). They must be able to afford a down payment of $1,500 and monthly payments of $500 without spending more than 30 percent of their monthly income on mortgage payments.
They must have good rental and credit histories, be a U.S. citizen or permanent resident and have lived or worked in Charleston, North Charleston or West Ashley for at least six months.
The must also complete financial budgeting classes and a will workshop, along with learning how to maintain the new home.
In addition, they must have a significant housing need such as overcrowding, excessive monthly costs, and/or substandard living conditions. Finally, they must show a willingness to partner with Charleston Habitat for Humanity and commit to 350 hours of "sweat equity" volunteering with the organization.
Charleston County has more than 31,000 veteran residents, or 11 percent of the population, compared to the national average of 9 percent, according to Bowley.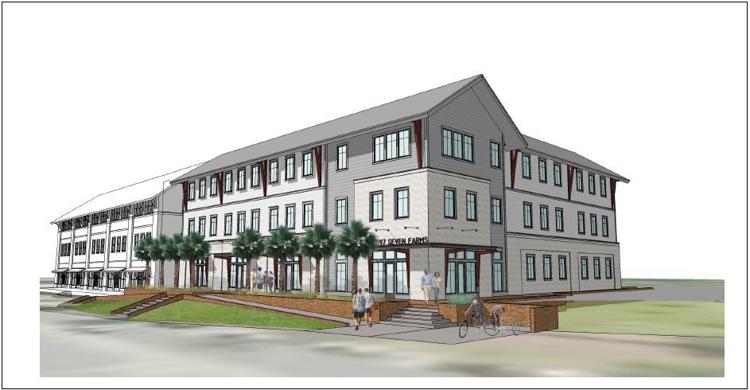 On the rise
A three-story retail and commercial building will soon rise on Daniel Island.
Developer S.L. Shaw & Associates has begun site clearing at 297 Seven Farms Drive. Construction of the 27,000-square-foot property is expected to begin by late spring with completion in late 2019.
The ground floor is designed for either retail or office use while the others will be developed as office space. The final layout will allow for eight to 12 tenants, depending on specific needs.
It's the developer's third project on Daniel Island. Shaw constructed a two-story office building at 125 River Landing Drive in 2015. 
It also is set  to complete a three-story mixed-use structure called Daniel's Corner at River Landing and Daniel's Landing Drive later this year. The 18,000-square-foot project will have retail and office space on the first level, office space on the second floor, and two residential units up top.
Sun-fired
A solar-energy first will soon shine in Berkeley County.
Habitat for Humanity of Berkeley County's ReStore will feature 192 sun-powered panels and be the first commercial solar system in Berkeley Electric Cooperative's service area. It's expected to produce 90 percent of the energy ReStore will use.
The project is a partnership between the power cooperative and SuperGreen Solutions of Charleston.
In addition to the solar system, SuperGreen Solutions completed a full LED upgrade that will save an additional $400 per month on utility bills and cut maintenance costs in the shop.
The Habitat store will host an installation celebration at 2 p.m. Tuesday at 1 Belknap Road in Goose Creek.
Home tour
The Daniel Island Luxury Home Tour is back for a seventh run.
The benefit for East Cooper Habitat for Humanity takes place 1-5 p.m. Saturday as a product of Charleston Home + Design Magazine.
Participants on the self-guided tour can walk through eight custom-built homes and meet builders and local companies to learn more about the houses and their offerings.
For instance, Sub Zero and Wolf will have chefs on hand demonstrating some of their kitchen equipment while sharing cooking samples.
Only 400 tickets will be sold to limit traffic. Tickets may be bought online at DanielIslandLuxuryHomeTour.com for $25 until Friday, or $30 in cash only the day of the event at the ticket pickup site at The Taylor Agency, 225 Seven Farms Drive, Suite 102 on Daniel Island. Tickets for children must be bought separately.
Whether tickets are bought in advance or on the day of the tour, participants must stop by the Taylor Agency between 1-5 p.m. Saturday to pick up a map that must be shown to gain admittance to any of the homes.