Charleston County Government wants to join a growing list of agencies that are paying the Army Corps of Engineers to hire additional staff to expedite their permit requests.
The Army Corps said this month it is studying the county's proposal to foot the bill for an additional salary and benefits over a five-year period so that employee can focus solely on the county's applications. A decision is likely later this month.
Army Corps permits are needed when construction projects affect the environment, wetlands or waterways.
The proposal is hardly unique. Earlier this year, the S.C. Commerce Department agreed to pay $100,000 a year to retain an Army Corps staffer. The State Ports Authority, which operates the Port of Charleston, has been paying for a project manager at the federal agency since 2014. And the S.C. Department of Transportation has had a similar arrangement, which is allowed under a federal law passed in 2000.
Charleston County spokesman Shawn Smetana said no amount has been budgeted, but the county expects the costs to be in line with what the other agencies are paying. The proposed expenses were blacked out in the county's public filing with the Army Corps. That notice did say the employee would be paid at the federal "GS-12" level, which requires a master's or doctorate degree and has an annual salary range of between $63,600 and $82,680.
Smetana said the county is seeking the Army Corps staffer to focus on permitting for a dozen road projects that will be funded through a 2016 sales tax referendum. He said the environmental permitting process "is typically more time consuming than any other phase of the project delivery schedule, including construction."
Money for the staffer will come from the half-cent sales tax referendum collections.
Environmental groups have been wary of such deals, saying the Army Corps might look more favorably on projects presented by agencies that are paying its employees' salaries.
But the Army Corps says the arrangements will not impact impartial decision making, with final decisions to be reviewed by someone at least one level above an agency's staffer.
The federal regulator adds it "will not eliminate any procedures or decisions that would otherwise be required for (the) type of project and permit application under consideration."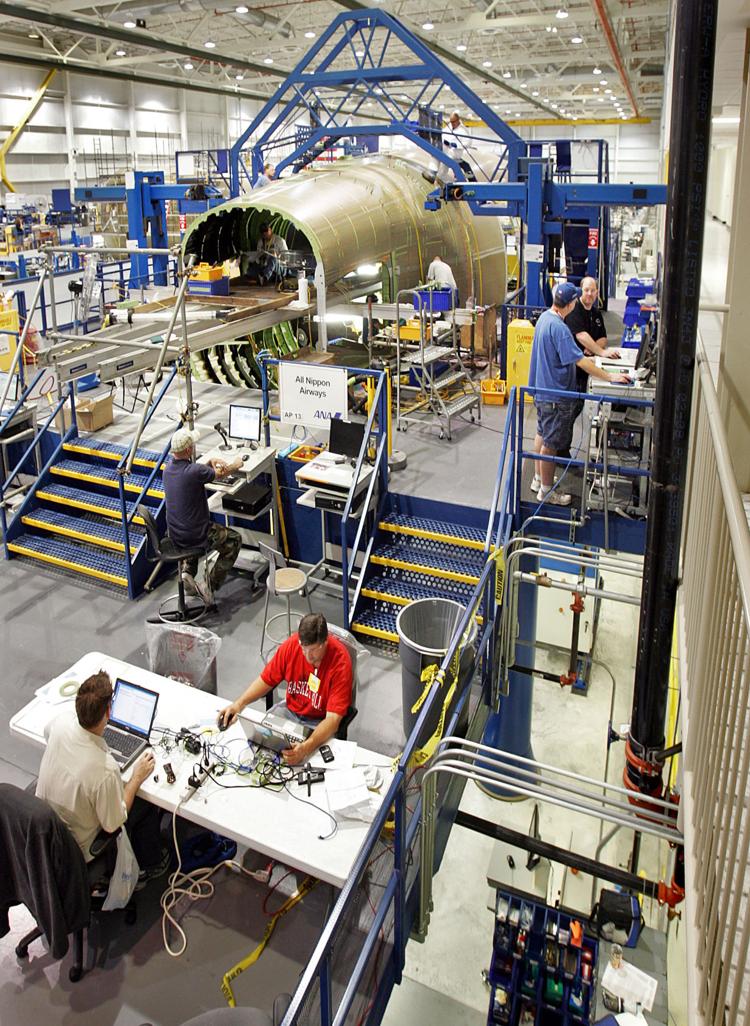 Waste not
Boeing Co. has signed a five-year deal to recycle aerospace waste materials from 11 U.S. factories, including the 787 Dreamliner campus in North Charleston.
Boeing says the arrangement with Britain's ELG Carbon Fibre — the first of its kind for the aerospace industry — will reduce solid waste by more than 1 million pounds a year. The recycled material will be reused in items such as laptop cases and car parts.
"Recycling cured carbon fiber was not possible just a few years ago," Boeing executive Tia Benson Tolle said in a statement. "We are excited to collaborate with ELG and leverage innovative recycling methods to work toward a vision where no composite scrap will be sent to landfills."
The agreement follows a pilot project in which ELG recycled excess material from Boeing's composite wing center in Everett, Wash., where wings for the 777X wide-body plane are made.
ELG put the excess materials through treatment in a furnace, which vaporizes the resin that holds the carbon fiber layers together and leaves behind clean material. Over an 18-month period, the companies saved 380,000 pounds of carbon fiber, which was cleaned and sold to companies in the electronics and ground transportation industries.
Boeing and ELG said they are considering expanding the agreement to include excess material from three additional Boeing sites in Canada, China and Malaysia.
Aerospace acquisition
Liberty Hall Capital Partners, a Charleston- and New York-based private-equity firm that invests in businesses serving the aerospace and defense industries, has acquired Castle Rock, Colo.-based Aircraft Performance Group. Terms of the deal were not disclosed.
Founded in 1999, Aircraft Performance Group develops software that integrates international flight planning, runway analysis and weight and balance calculations for more than 1,800 customers using more than 11,000 aircraft worldwide.
APG represents Liberty Hall's fifth investment in a software-as-a-service platform. Among the group's other investments are: AIM Aerospace, which designs and builds advanced composite structures and engine components; U.K.-based engine components maker Bromford Industries; and Dunlop Aircraft Tyres, which makes aircraft tires.
Financing for the APG acquisition was provided by BMO Sponsor Finance and Stellus Capital Management.
Note: This story has been updated with additional information provided by Charleston County.