Update: The requests for the Board of Architectural Review to review plans for 475 and 485 East Bay St. have been deferred by staff, according to an updated agenda, meaning they will not be discussed this week.
Original story
Plans to tear down the building that houses the high-traffic Starbucks at Calhoun and East Bay streets to make way for a 100-room hotel or timeshare development are up for discussion this week.
The Charleston Board of Architectural Review will consider three related requests Wednesday:
Demolish the single-story building at 475 East Bay St. It houses Starbucks, Top Shape fitness center and The Flagship incubator operated by the Charleston Digital Corridor.
Demolish the building and telecommunications tower at 485 East Bay. The former TV station houses more offices for Charleston Digital Corridor.
Grant conceptual approval for a 100-unit accommodations development at 475 East Bay.
All three requests are by the Strand Capital Group, a timeshare and condominium developer in North Myrtle Beach. The property is owned by Mazyck Holdings LLC, a subsidiary of Rivers Enterprises, which announced last year that it was looking for a buyer.
The project would not include the northwest corner at Alexander and Charlotte streets, which is occupied by houses.
The Charleston Digital Corridor, which provides space for tech startups, has been lining up financing for a bigger building on Morrison Drive. As for Starbucks, the coffee giant is planning a new cafe for the peninsula but not in the immediate area: It plans to take over a vacant bank branch at 281 Calhoun St., near the Medical University of South Carolina.  
The Board of Zoning Appeals would also have to grant a special exception for the Strand Capital project to proceed. The request was on its agenda last week but was deferred. One of the board's main concerns when granting a special exception for accommodations is its traffic impact on nearby residential neighborhoods.
On the record
A lawsuit over a hotel in the City Market can start moving again after the Board of Zoning Appeals managed last week to reconstruct a meeting that didn't get recorded.
Lawyers on both sides said they were satisfied that the board fulfilled a judge's order to reconstruct the salient points of the July meeting in which they approved the 50-room hotel.
Now it's up to Circuit Judge J.C. Nicholson Jr. to evaluate the merits of the suit.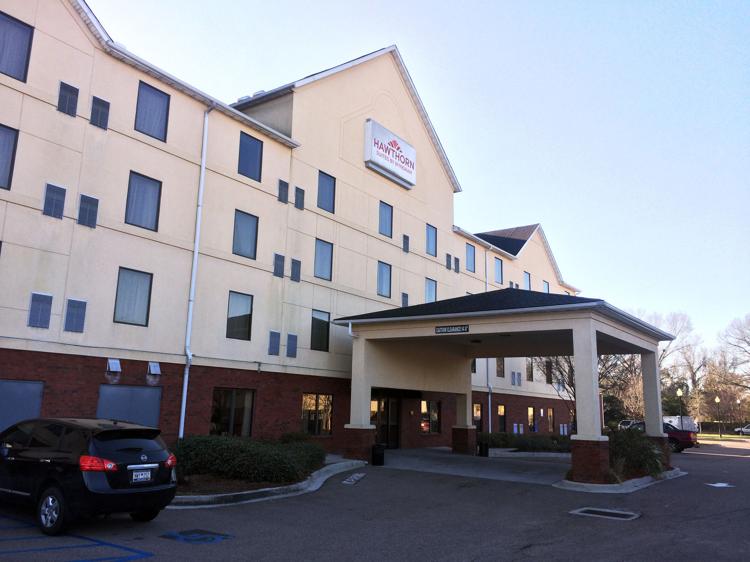 Hawthorn overhaul
The West Ashley Hawthorn Suites will get a makeover later this year.
MidCap Funding of Kansas arranged a $4.1 million loan to renovate the 77-room Wyndham property at 2455 Savannah Highway over the next six months, according to MidCap managing partner Taylor Grace.
The extended-stay hotel is west of I-526, not far from where Jupiter Holdings is planning an extended-stay Woodspring Suites at 3025 Ashley Towne Center Drive near Costco.
The Hawthorn Suites was built in 1986, according to Charleston County tax records. It's owned by Jaswant Multani through MSP Hotel Inc. His son, Paul Multani, is the general manager and said renovation plans have not been finalized.
The bridge loan was structured as interest only to pay off the existing loan and the renovations. It will be repaid with long-term commercial bank securities financing after the renovations are finished.
La Quinta sold
La Quinta is coming under Wyndham's umbrella.
Wyndham Worldwide and LaQuinta Holdings announced the $1.95 billion acquisition agreement last week, and it should be completed by this summer.
Wyndham calls La Quinta one of the biggest midscale brands, although the only La Quinta Inn in the Charleston area is the one on Ashley Point Drive near the Ripley Point Marina. A La Quinta Inn on Northside Drive in North Charleston closed and was converted to a Quality Inn, part of the Choice Hotels stable.
Wyndham operates a host of hotels in the Charleston area, including The Mills House Wyndham Grand Hotel, Wyndham Garden, Hawthorn Suites, Wingate, Ramada Inn and Days Inn.
"La Quinta will immediately become one of our flagship brands," Wyndham CEO Geoff Ballotti said in the announcement.
La Quinta's loyalty program will be rolled into Wyndham's rewards.
La Quinta stockholders will get $8.40 per share in cash, or about $1 billion, and Wyndham will repay about $715 million of the acquired company's debt. The buyer will also set aside a reserve of $240 million for taxes expected to be incurred with the spinoff of La Quinta's real estate assets into CorePoint Lodging Inc.