Folly Beach resident Will Burlingham flies out of Charleston International a few times a year.
Lately, he's been stopping by a new food kiosk called Mama Chef Cuban Cafe in the terminal on his way to the gate waiting area.
"It's excellent," he said. "It seems like it's homemade."
The Cuban offering is just one of four kiosks set up by Charleston County Aviation Authority behind the security line to offer passengers a taste of Charleston-made food and gift items and to give start-up, minority-owned businesses a chance to reach a broader market.
Some of them have exceeded expectations in the first five months they have been up and running while others point to moderate results.
"They are all doing very well," said airport CEO Paul Campbell. "Two are knocking it out of the park, and the other two are doing well. They are all making money."
One of those with phenomenal sales is the Cuban cafe.
"We are doing 20 times more than expected," said Carlos Munoz,cq who co-owns the kiosk with wife Victoria.
"The overwhelming reception from the passengers has been unbelievable," he said. "We are doing great."
All of the kiosks are beyond the federal security checkpoint, which means only ticketholders or airport employees have access to them. They also must be open at least between 7 a.m. and 7 p.m. Some carry longer hours.
Munoz is considering expanding Mama Cuban's hours earlier in the morning and later in the evening because of the kiosk's success.
At King Street Cookies, owner Harris Cohen said the traveling public's reaction to his sweet treats has been positive, too.
"It's doing well," he said. "It's pretty much on target to what we thought."
He recently added an icing sandwich. It's like an ice cream sandwich, but it has icing between two cookies.
"It's been received very nicely," Cohen said. "Much better than expected."
Cohen attributes the success of the kiosk to its offerings.
"It's a snack type of food they can carry on the plane," he said. "A lot of people know us from downtown (at the King Street store). Many passengers are buying cookies as gifts and taking them back with them."
Most of the purchases are from people on departing flights.
Cohen attributes that to the mentality of the flying public. Those on incoming flights are looking to get out of the airport as quickly as possible while those waiting to board to outbound destinations are looking to buy something because they have more time.
He also is considering adjusting his hours, pushing back his opening time about an hour or so from the 5 a.m. opening now since terminal traffic doesn't begin to bustle until about 6 a.m. That's when about eight flights depart among the 165 or so a day, according to the airport's flight schedule.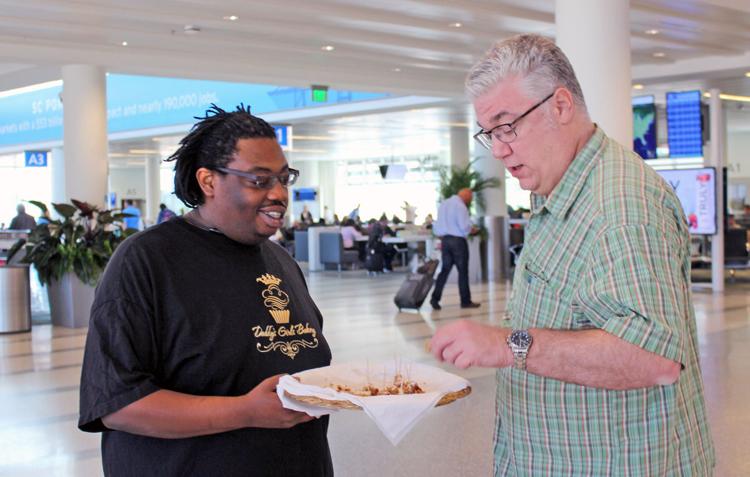 At Daddy's Girls Bakery on the opposite side of the terminal, co-owner Nathaniel Brown reports steady business.
"It's OK," he said. "It's starting to pick up."
Brown had high expectations for the kiosk, based on sales at his Night Market location in the Charleston City Market, but he said he airport crowd is different from the downtown customer.
"The airport is more fast-paced," Brown said. "Their mind is on getting to where they need to go. In the Night Market, people are on a leisurely stroll and have the mindset to spend money."
Brown said it's a little too early to tell how the business will do in the long term at the airport, but he recently added cupcakes to the mix and said sales have been good.
At LMM Dolls & Gifts, co-owner Tyrone Wilson declined to talk about his airport business venture of selling handcrafted items of recycled wood and metal.
"It's too early," Wilson said.
During a recent visit to the gift kiosk, Sheila Jordan of Goose Creek purchased a key chain for her niece on her way to catch a flight.
"I love it," she said of the airport offering. "It's convenient."
Campbell pointed to initial success of the pilot program and said the airport could expand the project to include a couple of new kiosks in a few months, most likely with offerings on the public side of the terminal, where people wait to greet incoming passengers, check in or claim their luggage.
"We need more vendors out there," he said.