After a century in downtown Charleston, a prominent retailer is setting up a suburban outpost.
The satellite store, called Southern Tide by M. Dumas & Sons, will be unveiled during a grand opening from 1-5 p.m. Saturday at 1225 Belk Drive near Gap and Loft in Mount Pleasant Towne Centre.
The shop will feature Greenville-based Southern Tide, a classic Southern lifestyle brand. The store will include apparel for men, women and children.
The grand opening will include live music, barbecue and gifts with a purchase, as well as a chance to win a Yeti cooler plus a $500 gift certificate.
"As Southern Tide continues to grow and venture into new areas, there is no better technique than partnering with well-known, respected and successful retailers to make it happen," said Southern Tide CEO Christopher Heyn. "We're excited to see how this community embraces the new store."
M. Dumas & Sons' leader welcomed the opportunity to partner with Southern Tide and said the new store will be more accessible to the expanding East Cooper neighborhoods.
"The growth of the community, the relationship with Southern Tide brand and its people, and the opportunity at Towne Centre are the perfect combination," said Gary Flynn, part owner, CEO and president of M. Dumas & Sons. "Ideally, we want to make it easier for our Mount Pleasant, Isle of Palms, Sullivan's Island and Daniel Island customers to connect with us."
The store manager is Scott Herron. Hours are 10 a.m. to 9 p.m. Monday through Saturday and noon to 5 p.m. Sunday.
M. Dumas & Sons' main store can be found at 294 King St. in downtown Charleston, where it was founded in 1917. Southern Tide's other signature stores in South Carolina are on Kiawah Island and in Greenville.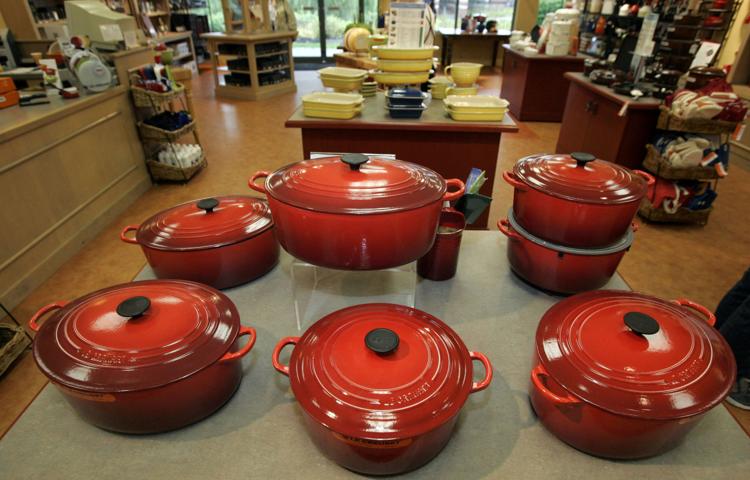 In the cook pot
Cookware maker Le Creuset is bringing back its factory-to-table sale for a third year.
The event is set for Sept. 28-30 at the Charleston Area Convention Center in North Charleston. VIP shopping will be offered on Sept. 27.
Each two-hour shopping session throughout the weekend will feature exclusive discounts on a wide selection of cookware, including limited-edition colors and rare shapes and styles. Tickets cost $10 for events on Sept. 28-29, and $25 for the VIP event on Sept. 27. Admission is free on Sunday with online preregistration required.
Proceeds from the event will fund scholarships for students at The Culinary Institute of Charleston at Trident Technical College as well as funds for Palmetto Goodwill's Culinary Kick-Start program for entry-level, on-site culinary training.
Hours are 4-8:30 p.m. Sept. 27, 9 a.m.-7 p.m. Sept. 28-29, and 10 a.m.-5 p.m. Sept. 30.
The VIP event will offer early sale access, demonstrations, meet-and-greets with Charleston's top chefs, live music, photo booth, drinks and bites.
Hospitality industry members will be offered exclusive deals from 10 a.m. to 2 p.m. Sept. 28, with chefs and others in the field receiving an extra 15 percent off. ID's, such as a business card or pay stub, and online registration are required.
New wheels
Audi Charleston is celebrating the opening of its new showroom this week.
Owned by McDaniels Automotive Group, the car dealer at 2293 Savannah Highway will unveil its new digs in a private, invitation-only event Thursday.
Cash for cameras
AccuPhotoLab & Studio is bringing back its cash-for-cameras event in West Ashley.
The shop at 1757-A Savannah Highway will host its Community Day 10 a.m.-6 p.m. Friday and 10 a.m.-4 p.m. Saturday.
UsedPhotoPro's buyer will be on hand to purchase used photo gear. ID is required.
Lens cleaning and alignment will also be offered for a fee by Peachtree Camera.