The developer of Cane Bay Plantation in Berkeley County recently acquired a huge neighboring, undeveloped parcel already approved for more than 5,700 homes.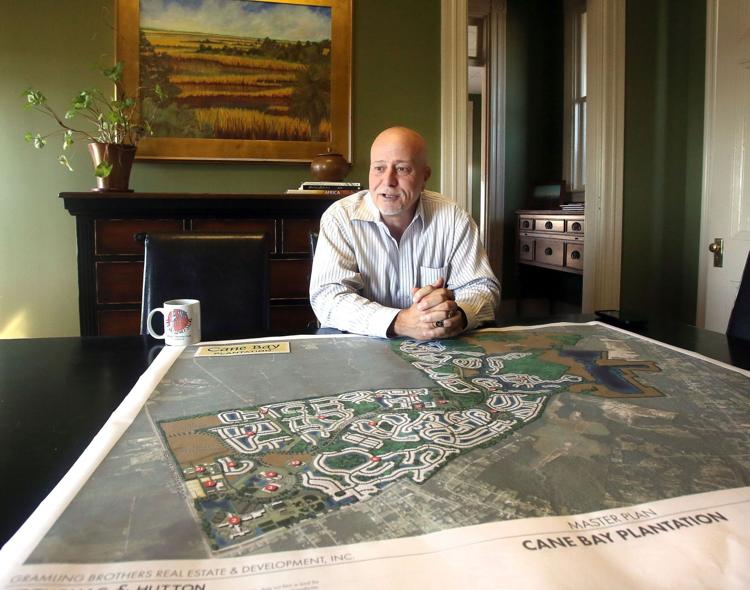 Companies led by Ben Gramling of Charleston-based Gramling Brothers Real Estate and Development bought the 2,031-acre Wildcat Tract off U.S. Highway 176 for $21 million in late December from PCCR LLC, an affiliate of land developer Crescent Communities of Charlotte. The parcel abuts Gramling's 4,500-acre Cane Bay Plantation community he started developing in 2007.
Gramling called the newly acquired site along Black Tom Road "a land hold" that "fits like a glove" with the neighboring Cane Bay tract. He has no immediate plans for the Wildcat property, but he said he is already receiving interest in the parcel.
"We are going to let it evolve," he said. "The exact layout is yet to be determined. It will have residential, commercial, retail, multifamily and some sites set aside for schools, also. It fits in nicely with our current piece of land."
The sale came with previous development agreements that allow up to 5,778 homes and 65 acres set aside for commercial buildings. Wetlands exist on the site, though Gramling said new small lakes like those created in Cane Bay could be part of the new development.
Because the Wildcat Tract backs up to the Cane Bay property, the two are a natural fit to be connected in some areas, Gramling said.
"It lends itself to a lot more cohesiveness and a lot more connectivity," he said. "With Volvo and other suppliers coming in to this part of the tricounty area in Berkeley County, we feel like there should be good demand there."
Swedish automaker Volvo is building a $500 million manufacturing plant southwest of the tract near Interstate 26. It's set to open in late 2018.
Also, Gramling's purchase of the Wildcat Tract does not mean Cane Bay is about to run out of developable land. While it's permitted for up to 10,000 homes, Cane Bay boasts about 3,500 rooftops and the land for another 3,000 has been sold or is under contract, the developer said.
Because a good chunk of Cane Bay has been set aside for parks, lakes and trails, Gramling doesn't believe the community will ever see its permitted home allowance. But he said the day will come when the sprawling former rural timberlands could reach its development limit and people will look for another option as the region continues to expand up the I-26 corridor.
"This is kind of a land hold position for the future of what should be happening in the area," he said.
The previous owner, formerly called Crescent Resources, a one-time affiliate of Duke Energy, acquired the site in 2007 for $7.875 million. Crescent went bankrupt when the real estate market crashed during the last recession. It re-emerged in 2010 as a separate entity.
That same year, it filed plans to cut roads, install infrastructure and develop the Wildcat Tract into a mix of uses including homes, civic structures, commercial buildings and parks. The project never materialized. Crescent Resources changed its name in 2013 to Crescent Communities.
A representative for the seller could not be reached for comment Tuesday.