With mortgage interest rates having roughly doubled since last summer, reducing the pool of potential homebuyers, it seems inevitable that asking prices will soften.
I took a glance at houses for sale in the Charleston region during the last several days, sampling what counts now as the more affordable end of the market for single-family homes — those selling for under $400,000.
Of 40 listings I picked at random in all three counties, 19 had recent price reductions. Most of them were modest discounts of less than 5 percent of the previous asking price, but some were above 10 percent.
Is that good news for people hoping to buy a home? Unfortunately, not much, unless they plan to make an all-cash purchase.
The rapid increase in home prices up to this point, combined with a spike in mortgage rates, have made homes less affordable now than at any point in recent memory.
In the Charleston metro area, for example, the housing affordability index has plunged, hitting 67 in May, which was the most recent month available in Charleston Trident Association of Realtors reports as of last week.
What does that mean? A reading of 100 means that a potential buyer earning the area's median income — median is where exactly half are higher and half are lower — should qualify to buy a median-price home.
So, a reading of 67 means the median income is just 67 percent of what's needed to buy a mid-priced home. Even in the pre-Great Recession peak of housing market excess, in mid-2007, the affordability index only fell to about 90 in the Charleston area.
Would a drop in asking prices turn the tables? Not for purchasers who need a mortgage to seal the deal — unless prices just fall off the cliff, and it's important for first-time buyers to understand why.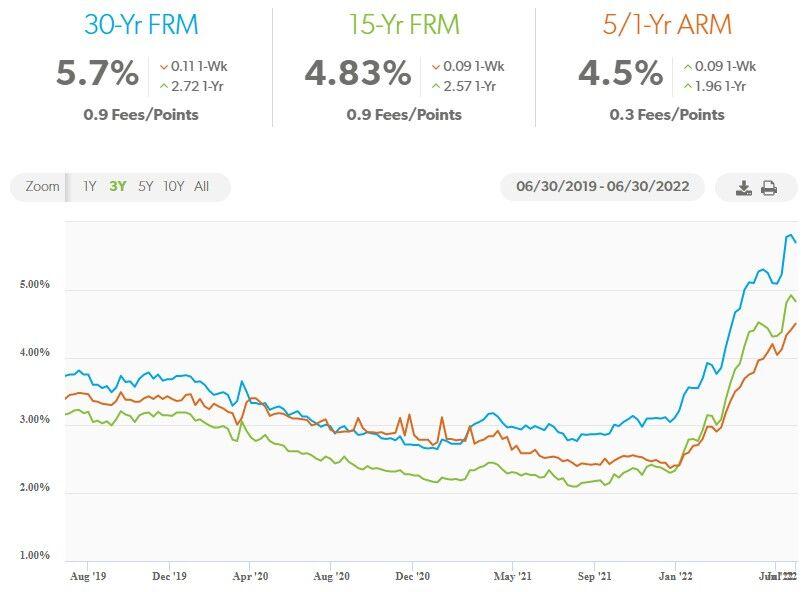 Yes, soaring prices play a large role, and incomes are part of the equation, but interest rates are the key. In February 2021, the area's affordability index was a manageable 120 despite soaring prices, and the median home price was $329,000.
By this February the index had dropped to 90 and the median home price climbed to $375,000, according to the local Realtors association. By May, the median price hit $425,000 and the affordability index was in free-fall, hitting 67.
Would homes be affordable again if the median price plunged back to $329,000, where it was in early 2021? No, and here's why:
The average 30-year mortgage interest rate in February 2021 was 2.81 percent. A few weeks ago, in mid-June, it was up to 5.81 percent.
So, if today's median-price home were to somehow plunge from $425,000 all the way down to the $329,000 seen in February 2021, the monthly mortgage payments would still be $550 more because of higher borrowing costs.
To get down to the monthly payments that buyers were able to lock in in early 2021, at today's interest rates, home prices would have to drop by half. Even during the housing meltdown of the Great Recession that didn't happen —prices fell by a third back then — and with persistently high demand and low supplies of housing, big price drops aren't anticipated.
Getting the three factors — incomes, prices, and interest rates — to line up in a way that brings the housing affordability index back toward something manageable is unlikely to happen quickly. 
For now, as the affordability index tells us, homes in the metropolitan Charleston area have simply become too costly for most would-be buyers, and there's little relief in sight.