British Airways won't resume its seasonal Charleston-to-London service until early spring, but that won't keep the carrier away from the Lowcountry.
BA officials will be in North Charleston in January to pick up their first 787-10 Dreamliner, which Boeing Co. makes exclusively at its assembly plant next to Charleston International.
The locally built widebody will be put into service in February on the London Heathrow to Atlanta route.
The jet will feature eight first-class seats and a brand new business-class offering called "The Club Suite." The Points Guy, a travel website, called the additional 48-passenger configuration with direct aisle access "a major improvement over the biz-class product currently offered to Atlanta and to other U.S. destinations except New York JFK."
In all, the BA Dash 10 will have total capacity of just 256 seats, which The Points Guy report on MSN.com called "a very low density" for the largest of the three Dreamliner models. The move is aimed at maximizing "premium seating, making it likely the new jet will be deployed on routes with heavy business traffic," the article noted.
The British Airways fleet includes 12 787-8s and 16 787-9s. It plans to take delivery of six of the dozen Dash 10s it has on order in 2020.
The U.K.-based carrier flies the 214-passenger 787-8 Dreamliner on its twice-weekly Charleston-Heathrow flight, which made its debut earlier this year. The service is set to return March 29 for a roughly six-month run.
Mile High extension
The point-to-point Charleston-to-Denver air route will have a little more competition for the rest of the year after all.
Southwest Airlines will continue its flights through Jan. 5 with a few days off between now and then while United Airlines will offer daily service, according to Explore Charleston.
Denver-based Frontier Airlines ended its seasonal service to the Colorado capital Nov. 13, but plans to return next year at a time yet to be determined. Southwest will return with weekend service April 18.
Double dipping  
A formidable newcomer to the Charleston area's retail banking scene has won approval to double down on its planned branch presence in the East Cooper market.
The U.S. Office of the Comptroller of the Currency recently gave JPMorgan's Chase unit the green light to open a full-service location at the site of a shuttered Burger King restaurant at the main entrance to Mount Pleasant Towne Centre. No other details were available.
Chase previously was approved for its first East Cooper branch a few miles south near U.S. Highway 17 and Houston Northcutt Boulevard, where the town's only Hardee's burger joint once stood.
The New York-based financial services giant also has asked permission to open a retail office near Azalea Square in Summerville.
JPMorgan Chase & Co. announced plans about 18 months ago to open a commercial loan office in downtown Charleston to court small and mid-sized businesses in the area. Its plans to open branches in the suburbs became public this past summer.
Yachta, yadda  
A boat builder promising 207 manufacturing jobs may have sailed past South Carolina for the Tar Heel State.
According to a report in the Charlotte Business Journal, Pamlico Yachtworks considered Charleston, Port Royal, as well as Cape Charles, Va., and a city on Mexico's Yucatan Peninsula for the $12 million expansion.
The company, which is affiliated with Rhode Island-based MJM Yachts, picked Washington, N.C., in Beaufort County. The decision was announced Nov. 22. The company was offered a $1.7 million state grant that it can dip into over 12 years.
New at the helm
After a hunt for a new skipper for its technology hub in Hanahan, the Naval Information Warfare Center named its deputy executive director to the top job.  Peter Reddy was promoted to executive director at NIWC Atlantic on Nov. 22, about 11 months after being named to the No. 2 post. 
NIWC Atlantic sets the organization's strategy for the entire region, and reports to the Naval Information Warfare Systems Command in San Diego. Reddy oversees 4,900 employees. 
Reddy was chief engineer at NIWC Atlantic — which was called the Space and Naval Warfare Systems Center until earlier this year — prior to his post as deputy executive director. Reddy has degrees from the University of Virginia, George Mason University the Marine Corps War College and the Naval Postgraduate School.
Reddy's promotion comes several months after Chris Miller, the previous executive director, left Charleston to take a job as assistant deputy chief of Naval operations for information warfare in May.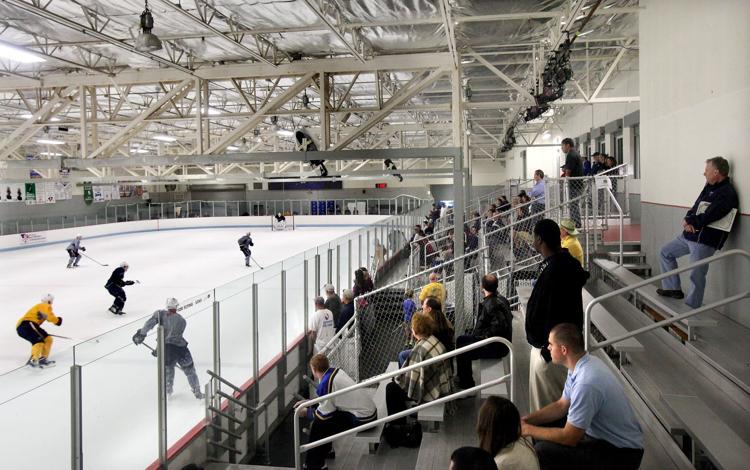 Extra ice 
The InterTech Group Inc. has acquired what it described as a rare find in hockey-crazy Canada.
The North Charleston-based global conglomerate's Buckingham Sports Properties subsidiary recently snapped up a 130,000 square-foot, four-pad ice-skating complex in Montreal, Quebec. Financial terms were not disclosed.
The Pierrefonds Sportplex is Buckingham Sports' sixth skating arena in Canada.
"It's an absolutely wonderful business," InterTech executive Rob Johnston said.
The newly purchased 12-acre complex includes a restaurant, lounge, pro-shop and training facilities. Johnston said it's "very highly utilized."
"We are pleased to be expanding into Montreal and this acquisition provides Buckingham with one of the most modern four-pad arenas in the region," said John Cook, vice president of Buckingham Sports. "We have a long and successful track record of operating and improving arenas throughout Ontario and look forward to building upon our success."
Johnston said the opportunity to add another skating property north of the border was a rarity.
"Not many come up for sale," he said. "They go in fits and starts."
Locally, an affiliate of InterTech has owned the Carolina Ice Palace near Northwoods Mall since 1996. The North Charleston skating center is not part of the Buckingham Sports portfolio.
Feeding the need
One of the region's largest supermarket chains is doubling down on its effort to ease hunger.
Publix has donated $2 billion in dairy, deli, meat, produce and fresh-baked goods since 2009 to Feeding America member food banks and other nonprofits. The Florida-based chain said last week it's looking to replicate that giving goal by 2030.
"As a food retailer, our greatest opportunity to give back is by helping to alleviate food insecurity," CEO Todd Jones said.
According to Feeding America, about 9 million Americans across the Southeast don't have enough to eat. About 680,000 are in the Palmetto State.
"We are grateful for our long-standing partnership and for Publix's commitment to fighting hunger," said Claire Babineaux-Fontenot, CEO of Feeding America.
Publix operates 14 supermarkets and one GreenWise specialty store throughout the Charleston region.