When Chase launched an extra cash-back incentive for credit card holders in late 2018, I didn't pay much attention. That is, until it saved me more than $11 on a pair of windshield wipers.
Chase Offers are not incentives to sign up for credit cards. Rather, they're targeted at people who already have the company's credit cards. The offers have to be activated online or through a Chase app.
Yes, that sounds annoying, but in practice here's how it works: I get an email from Chase with some offers, and I click through the email to activate the ones I like, and if I shop at certain retailers extra cash back appears on my credit card statement. That's pretty simple — no new passwords or accounts.
That's how I saved money on some windshield wipers, which I was going to buy anyway. An offer in one of those Chase emails was for 20% off at Advance Auto Parts, and they have a store near me, and my wife needed new wipers.
If you're a Chase card holder, that doesn't mean you also would have seen that offer. The offers vary from one card holder to the next, and even from one card to the next for the same card holder.
I know this because I have three Chase cards, and Chase emailed me offers for all three of them. So, I could have gotten 10% off at the auto parts store with one card, or a 20% discount with another; the savings at Starbucks were 5%, or 10% with a different card.
That was an easy choice.
I don't carry balances or pay interest on credit cards, so the only consideration was which offer would give me the most money back.
Cash back is not much incentive to charge a purchase if you're going to end up paying double-digit interest rates, but it's free money for those who don't carry a balance. Chase is the largest credit card issuer in the U.S., so that's a lot of people who could save a little more cash.
I'll be curious to see how many attractive offers I get. The last batch included one I could use — the auto parts store — and a discount I might use, a discount I wish I had known about a week earlier and many that were of no interest.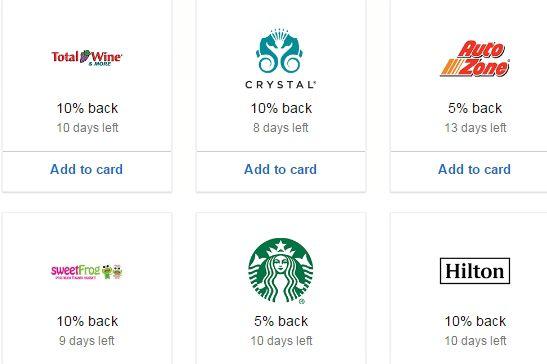 Usually, the emails just mention a few offers, but many more are listed online. I've seen hotel cash-back offers in the 10% to 15% range, offers for restaurants and auto repairs, and lots of chain stores and mail-order companies.
Some of the offers, and particularly those involving hotels, have conditions and limitation, and all have near-term expiration dates. For example, a 15 percent cash-back offer for the Four Points by Sheraton hotel chain that I looked at turned out to only be valid for up to $35 back, but that's still much better than paying full price.
There are always lots of ways to get extra discounts and cash back, but usually they involve more aggravation. For example, most credit cards will give you discounts or frequent flier miles or some other proxy currency if you do your online shopping through their shopping portal. Money can also be saved by buying re-sold gift cards for a business at a discount to face value, on any the reputable resale websites.
Clicking on an email from my credit-card company? That's easy money.