Another longtime downtown Charleston retailer is turning out the lights.
After 134 years, Bluestein's Menswear at 494 King St. will close at the end of December, owner Nicky Bluestein said Monday.
"Business is fine, but there are some things I want to do in life," Bluestein, 74, said, as he walked around the racks of pants, shirts and hats in the first-floor retail shop of the three-story building with its distinctive blue facade. "I think this is the time to do it."
Bluestein is marking everything down up to 70 percent, starting Thursday. His most expensive item is a Steve Harvey-brand suit at about $250.
While the store's closing will create a prime piece of available real estate in the downtown area, the longtime entrepreneur does not plan to sell the 7,300-square-foot building.
"I intend to lease it," he said.
He hasn't lined up a tenant, but he is not worried because of the location in the booming upper King Street area.
"The building will lease," Bluestein said. "I'm not concerned about it."
He also would rather focus on having the building occupied than trying to squeeze top dollar from a tenant.
"I'm not concerned with getting the most amount of rent, but I do want the least amount of time for vacancy," Bluestein said. "If it sits here vacant for a year and a half, that's not what I want."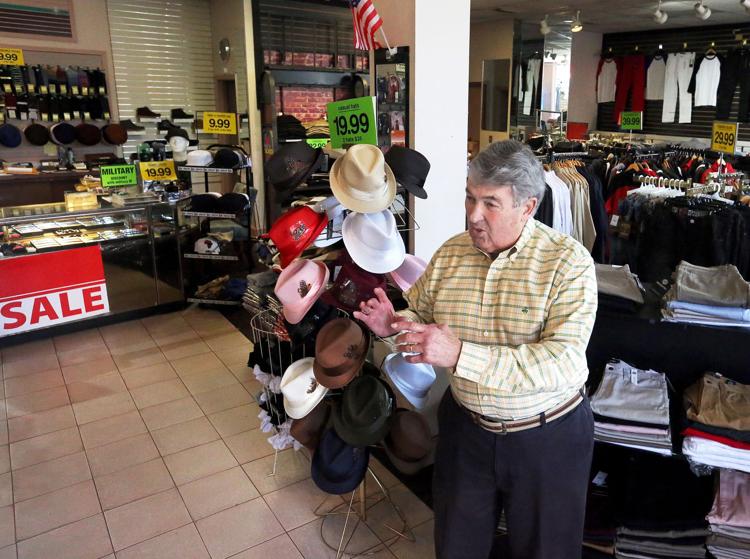 His great grandmother started the business in 1883 on upper King Street, but Bluestein doesn't know exactly where it was located.
In 1907, she purchased the structure at King and Mary streets with her two sons, Joseph and Hyman Bluestein. It included a single-family house next door that eventually was incorporated into the store.
In 1911, Nicky Bluestein's grandfather, Joseph, outbid the brother for the property and the business at a price of $4,500. In 1913, his grandfather restored the front with blue ceramic on brick, which remains today. The date can be seen on the front of the structure.
Nicky Bluestein's father, Melvin, took over the business in the early 1930s. Nicky started working there in the mid-1960s.
In 1987, a fire destroyed the building when it was shared with George's Loan & Music, which closed earlier this year a few doors north of Bluestein's after 81 years in the pawn shop business.
Everything was destroyed except the facade and 29 feet of stucco and brick on both sides.
"The actual contract on the property burned in the fire," Bluestein said.
Bluestein said he is amazed at the development now occurring throughout Charleston and the rapid changes to upper King Street.
"What blows my mind is when I come here at night and see all the traffic and all of the people on the street," he said. "It's unreal what's going on."
He's also noticed the change in his clientele over the years.
"From the 1960s, it's gone from middle class to more ethnic and tourist customers," Bluestein said.
He once maintained iron bars over the windows but as King Street changed, the security elements came down about seven or eight years ago.
"I didn't need them anymore," he said.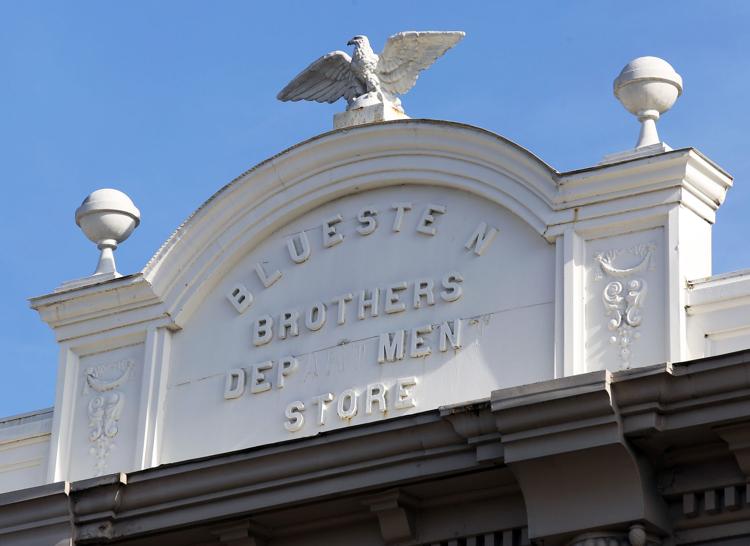 After the store burned, he decided to rebuild and asked himself, "Am I crazy for putting this much money in here?"
Now he's glad he did.
He also put 14 parking spaces in the rear where part of the former store stood.
"They are like gold now," he said.
Bluestein salesman Benjamin Hanna has worked at the store for 15 years.
"It's been a good ride," Hanna said. "It was enjoyable, but everything good comes to an end and life goes on."
The West Ashley resident plans to explore the retail market and find something that fits his persona.
"He gets along well with everybody and can communicate well with anybody," Bluestein said of Hanna.
Hanna likened the changes on upper King Street over his 15-year tenure with Bluestein's to raising a child to 15 and watching them grow up very suddenly.
"It happened so fast," he said. "It's been like an overnight transformation."
Longtime customer Bridgette Johnson said she is saddened by the decision to close the store.
"Everybody in here is good people," she said. "I come here to shop for my cousin because it's hard to find his size anywhere else. I'm really going to miss it."
The building won't be completely empty after Bluestein's goes dark. Food magazine The Local Palate leases the second and third floors. Bluestein said the periodical intends to remain on site after he closes the store.
Bluestein's decision to close comes after several other longtime merchants have left downtown in recent years, either by selling their property or leasing it out.
They include Morris Sokol Furniture, Dixie Furniture, Bob Ellis Shoes and Hughes Lumber Co.