GOOSE CREEK — On the edge of Nexton and just south of Cane Bay, another large mixed-used development is quietly rising in Berkeley County.
When finished in about 15 years, the 2,300-acre Carnes Crossroads community will be home to about 4,500 houses, a hospital, medical offices, apartments and retail tenants.
Developed by the Daniel Island Co., the area at U.S. Highways 176 and 17A will feature about 250 acres of ponds and lakes, 25 miles of walking trails and a junior Olympic swimming pool that's already in place.
The development, more than a decade in the making, has 175 occupied homes, with 30 lots sold and 20 more available for sale. The first residents moved in six years ago, and the community has slowly been taking shape since then.
Roper St. Francis is building its long-planned 50-bed Berkeley Hospital on 90 acres near the highway intersection. Two large medical office buildings are under construction near U.S. Highway 17A, and a 275-unit apartment development called The Passage sits across the street, not far from where Harris Teeter has been planning to build a supermarket for several years.
Other medical offices have already set up shop along with a child day care center and a 100-unit senior care facility called The Blake at Carnes Crossroads.
Private-school Northwoods Academy and its church have been up and running for a while on the property, and a small retail center is in the works near the cluster of medical offices that have sprung up on the site.
A retail center called Windmill Station will feature The Grill, a coffee shop, a cupcake and ice cream parlor and a Philly Pretzel Factory shop. A windmill will be placed in front, next to U.S. Highway 17A.
Another strip of frontage road sits undeveloped in front of the school and church. It will house commercial businesses such as restaurants and retailers closer to the juncture of U.S. 17A and U.S. 176 as the community builds up.
A longtime structure called the Green Barn, which once sat at the busy intersection, was moved down the road to the new 1st Avenue. It's next to the pool and is used as an open-air community center.
On the road
A new traffic signal will be installed on U.S. 17A at Second Avenue this fall.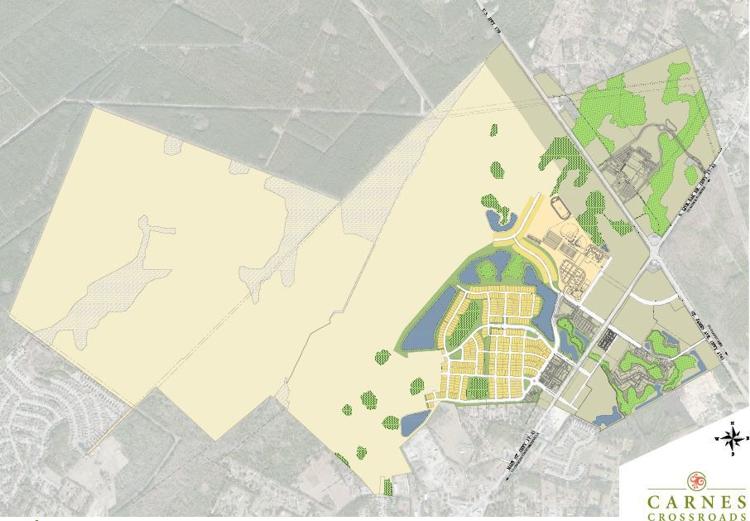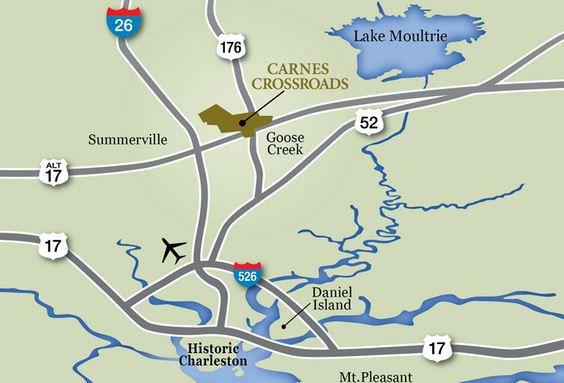 Interestingly, the boot-shaped piece of property, annexed into Goose Creek in 2005, abuts the developing 4,500-acre Nexton community, but as it stands now the two neighborhoods will not be joined by roads. The farthest western edge of Carnes Crossroads is just a couple of miles from the new Nexton Parkway, which opens when the new interchange will be dedicated on Interstate 26 on Thursday.
Connecting the two neighborhoods would allow residents on the backside of the Carnes Crossroads area to use Nexton Parkway and avoid exiting onto Highway 17A.
"We would love to, but they aren't talking to us," said Bill McKenzie, vice president of development for The Daniel Island Co.. "Hopefully, it's something that can be advanced."
Nexton representative Brent Gibadlo said Friday there are no immediate plans to connect roads between the two communities.
Building up
Hobbled by the recession after breaking ground in 2007, just before the economy tanked, Carnes Crossroads was slow to take off. Everything was put on hold for about five years, when the first house was sold.
"It continues to get better," McKenzie said. "It was slower than we would have liked, but this year is off to a great start."
Five builders — Ashton Woods, David Weekley, Eastwood, Pulte and Sabal — keep a fair number of homes they build on a speculative basis, but some buyers want to design their own, McKenzie said.
With homes ranging from 1,800 square feet to 3,500 square feet, prices start at about $250,000.
"We cater to everyone from single professionals to retirees," said spokeswoman Julie Dombrowski.
The developer is not concentrating on completing one section of the community before moving onto another.
"We want to have multiple neighborhoods going in different directions at the same time," McKenzie said.
Looking ahead
A representative of the property owners association said people who live there want to see more business offerings.
"They want to see more commercial development in the area, such as retail and restaurants," said Jane Baker. "They also want better roads and easier access, and they are excited about a new traffic light."
She called the initial residents of the master-planned neighborhood the pioneers who go through growing pains together.
On the prospect of Berkeley County's plans to move forward with widening U.S. Highway 176 to four lanes westward beyond the Cane Bay development, Baker said it would enhance the neighborhood.
"I think any connections are important in urban communities," she said.
Roper's new 140,000-square-foot hospital is on track to open in mid-2019. A separate 80,000-square-foot office building under construction next door will open later this year.
The comprehensive-care, $113 million project will include a 24-hour emergency department, cancer care, cardiology, diagnostics, endocrinology, maternity, orthopedics, pulmonology, surgery and therapeutic services.
Roper St. Francis set out in 2008 to build a hospital in the community, but it faced legal opposition. A December 2015 state Supreme Court ruling allowed it to finally begin construction.
"This project is instrumental to not only meet the needs of this rapidly growing community but also to ensuring Roper St. Francis Healthcare continues to provide the best access to quality care," said Lorraine Lutton, the hospital's president and CEO. "This is a significant investment by Roper St. Francis Healthcare into Berkeley County, and it will be a major focus for us going forward."