Look at Benefitfocus just so, and you can make out the sketches of a technology giant.
It claims 20 million users. It says nearly $50 billion crosses its platform each year. It has pulled down tens of millions of dollars in investments.
Its management thinks that on some level, it should be thought of alongside names like Airbnb and Uber. After all, Americans and their employers log onto Benefitfocus's software to buy insurance each year, and they spend billions and billions.
Take those individual transactions together, and it's processing sums of money in line with the darlings of Silicon Valley. The difference is, Airbnb and Uber are getting a cut of that cash. Benefitfocus isn't.
Its new chief executive thinks it's high time it does.
C-suite shakeup
Benefitfocus has slowly expanded its reach in the Lowcountry, from a fledgling startup to a publicly traded company to one of its largest employers.
It navigated most of those changes with the same management team it had for most of its 18-year history. The company's founders, Mason Holland and Shawn Jenkins, called the shots in the early days, and they were still in charge when the company was clearing hundreds of millions in annual revenue.
That's changing for the first time in the company's history.
Jenkins, its longtime chief executive, stepped down at the end of 2017. He decided in March to leave the company altogether, passing up a new role as an adviser to the new leaders.
Other management changes had been slowly taking shape, too. Of the company's seven top executives, five arrived at Benefitfocus in the last two-and-a-half years.
Which is to say, the new occupants of the C-suite have a chance to reshape Benefitfocus. And in the corner office, Ray August says that's his plan.
His goal is to solve a problem that Benefitfocus has struggled with for years: Take a bigger cut of the revenue flowing through its software.
'Critical mass'
The company has long been dead-set on growth over earnings, and August says that approach hasn't changed entirely. Like so many expansion-hungry tech companies before it, Benefitfocus is focused first on getting bigger.
But August says he's looking to squeeze more money out of the users it already has — "to get their fair share of that transaction."
Right now, when a worker hops on Benefitfocus's software to enroll in an insurance plan, the employer pays a monthly fee, no matter the plan and how much money is flowing to the insurance provider.
August thinks that could change. The company's new plan is to start offering users a slate of new services, and take a cut when they sign up. Think identity theft protection and pet insurance and college-saving funds.
"We're now at this critical mass. We've got enough people to the platform, so now it's time," August said, adding later that his goal is to "take advantage of the investment that's been made in this company for the last 18 years."
Benefitfocus is now a $257 million-a-year enterprise. It handles benefits for nearly 1,000 of America's largest employers, meaning its software is used by 20 million people. Wall Street pegs its value at nearly $1 billion.
And yet as long as its books have been open to the public, it has never turned a profit. It's lost nearly $268 million since 2010.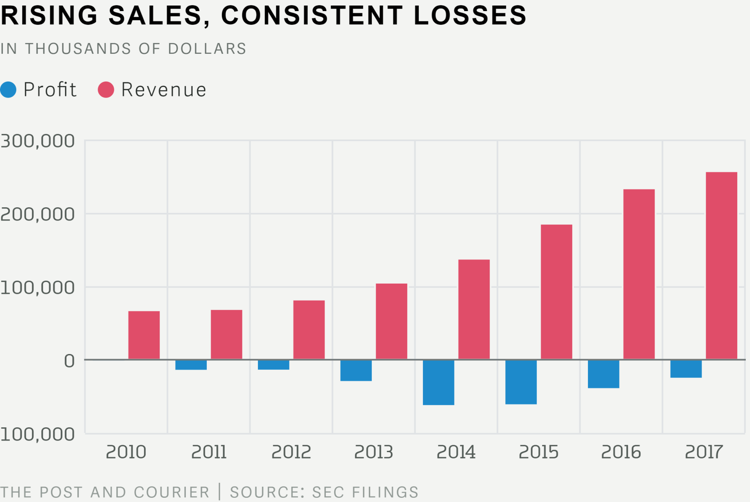 Brokering deals
The losses owe partly to the way Benefitfocus wins contracts: one by one.
The company has poured money into growing its sales force and marketing its products. It has opened offices in New York and Utah, aiming to get as close to prospective customers as it can. It now spends more on sales than it does on developing new products.
And for every dollar it spends on things like servers and customer support — the expenses that keep its business humming — it spends another 55 cents on sales.
August is beginning to chart a new path to sales. Benefitfocus had been the middleman between insurance companies and the employers that hire them.
Now it wants to make room for another middleman — the brokers who connect them. The company has had an adversarial relationship with brokers who thought they were being cut out of the process of selling benefits.
But August thinks brokers with a long Rolodex of clients are the path to even faster growth. Its new platform, called Benefitsplace, offers brokers a cut of insurance sales in a bid to get them to bring their clients to Benefitfocus.
"They'll be enticed to make sure they're recommending our platform because they'll be making more money working with Benefitfocus than anybody else," August says. "We can sign up a broker and then today they're out talking to 10 different people. So that's 10 we don't have to talk to."
'Execution'
The new strategy appears to be buoying Benefitfocus's flagging stock. Since August first floated his plans in March, the company's shares have soared 40 percent, including a 14 percent jump Friday. 
It was a much-needed boost for a company that had been trading near its all-time low, which was half the price it commanded when it first went public five years ago.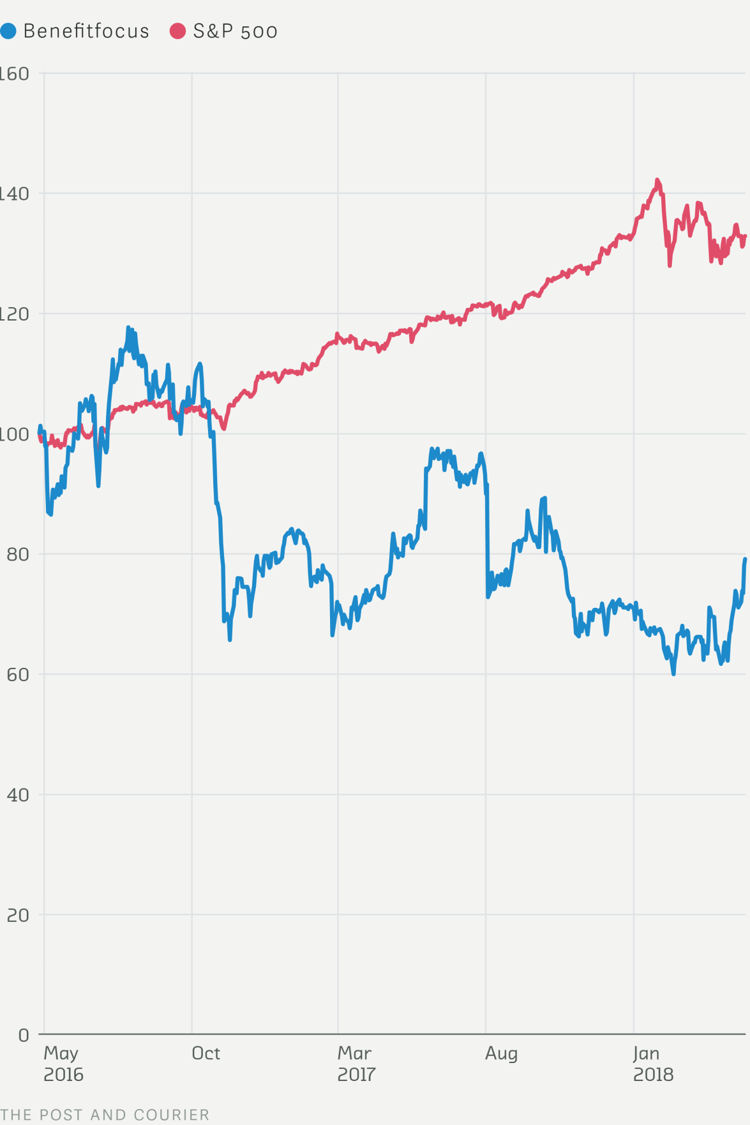 Wall Street analysts say there's cause for optimism: A new slate of executives is in place. The sales team appears to be working more efficiently. There's plenty of demand for benefits-management software.
"The company needs to show ability to execute after two years of disappointing performance," wrote RBC Capital Markets analyst Ross MacMillan in a research note. "The demand backdrop from private companies in the space remains positive, suggesting it comes down to execution."
That leaves August a weighty task five months into his new job. Jenkins, his predecessor, grew Benefitfocus from a startup in a vacant Walmart store in Mount Pleasant to a buttoned-up corporate campus with more than 1,000 employees.
August's job is to make it sustainable — to take the sketches of a massive tech company and start filling them in.