COLUMBIA — A recently-revealed audit reviewing the doomed construction of two nuclear reactors in South Carolina could thwart investor-owned SCANA's attempt to charge customers for the now-cancelled power plants, a utility expert told lawmakers Friday.
That was one of the major opinions that came out of a sometimes heated legislative committee meeting.
Members of the South Carolina House held the third legislative hearing in recent weeks with utility officials as they continue to investigate the $9 billion failure of two Westinghouse-designed nuclear reactors at V.C. Summer station in Fairfield County.
The hearing offered the first opportunity for state leaders to raise questions about the once-secretive audit produced by Bechtel, the country's largest civil engineering firm.
It was also the first chance lawmakers had to question SCANA Chief Executive Kevin Marsh, who was rushed to a hospital with kidney stones last month moments before he was set to be sworn in by a separate Senate committee.
The 2016 audit produced by San Francisco-based Bechtel showed the project had no legitimate construction schedule. It said the reactors' design was "often not constructible." And it questioned whether Westinghouse, the primary contractor, had the resources and organization to finish the job.
SCANA was presented with those findings but continued to push forward with the project. Several months later they requested state regulators approve a fixed-price contract with Westinghouse and more than $800 million on top of their already approved budget.
Scott Elliott, an attorney who represents industrial electric customers in South Carolina, told lawmakers the Bechtel audit was "damning."
Even with a utility-backed state law that was passed in 2007, known as the Base Load Review Act, Elliott said the Bechtel audit should mean SCANA will not be allowed to collect $2 billion to $4 billion from its South Carolina customers.
"They live by the Base Load Review Act; they die by the Base Load Review Act," Elliot said.
Officials with Cayce-based SCANA told lawmakers they appointed a construction oversight board after the Bechtel audit was finished. They streamlined the hundreds of design changes that the audit highlighted. And they increased the number of laborers on site, which the audit suggested.
SCANA Senior Vice President Steve Byrne said the utility didn't agree with all of the findings in the Bechtel report that cost SCANA and its project partner, Santee Cooper, $1 million.
Lawmakers were not impressed with what SCANA's leaders had to tell the committee, however. 
"I can't say that any of my concerns are alleviated by the presentation," said Rep. Peter McCoy, a Charleston Republican leading the committee. 
"There is this lack of understanding or lack of responsibility," said Rep. Russell Ott, D-St. Matthews. 
Elliott told lawmakers that SCANA officials intentionally withheld the audit from state regulators, even though he suggested the utility had a "duty" to disclose Bechtel's finding that were provided to SCANA and partner Santee Cooper in the fall of 2015.
SCANA's recent arguments that the Bechtel report was protected under a legal privilege was likely flawed, Elliott said, and in his opinion was meant to ensure the document "never saw the light of day."
Marsh said they never misrepresented to state regulators. 
Elliott, a Columbia-area attorney, told lawmakers Byrne had testified in past years the utility trusted the completion dates that were provided by their contractors even as they hired an Atlanta law firm to look into their contractors.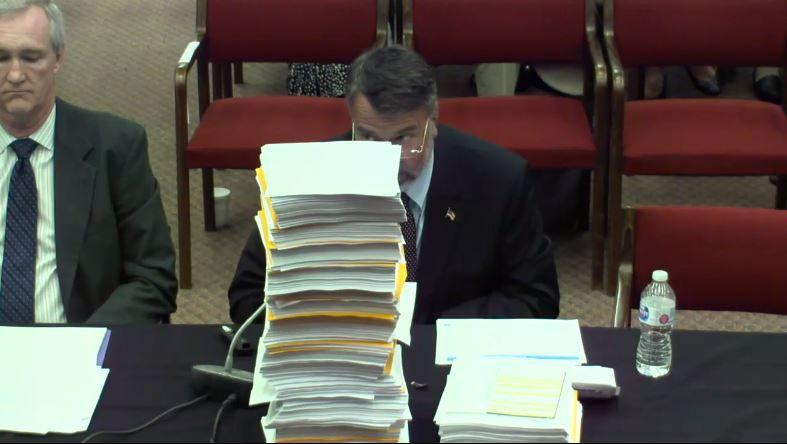 Emails obtained by The Post and Courier showed SCANA and Santee Cooper never received a fully-integrated construction schedule that had been promised for years, and the utility's leaders responded with astonishment when Westinghouse's executives told them a schedule didn't exist earlier this year.
Lawmakers were also told state regulators with the Office of Regulatory Staff, who acts as a watchdog for ratepayers, had raised frustrations with the lack of a legitimate construction schedule in past years and had reported the failure to produce a schedule "hampered" oversight of all other areas of the construction that ended in July.
The lawmakers on the committee raised frustrations over the lack of transparency SCANA used on the project and lamented the billions of dollars that are now wasted.
"They've lost more money than we have in the whole state budget," said Rep. William Crosby, R-North Charleston.
Had Westinghouse not gone bankrupt in March of this year, Elliott told lawmakers he fears the failing project would have continued to waste billions of dollars in electric customers money.
"They went forward until they could no longer go forward," Elliott said.
As the end of the hearing, lawmakers became visibly frustrated with the executive's responses to their questions. 
"I don't think there is anything y'all can say that makes sense," said Rep. Kirkman Finlay, R-Columbia. "I cannot overstate the damage that I think y'all have done to your standing with this committee and with our body."
The Senate panel examining the failed nuclear project is scheduled to meet with utility leaders Monday.