A pricey antebellum mansion at 60 Montagu St. in downtown Charleston is still on the market after an auction was pushed back for a second time this year.
Not only that, the estimated price has been trimmed — by $3 million.
The sale was set for earlier this month, after being postponed in May. It's now being pushed back to an undetermined date, according to a spokesman for Elite Auctions, which is handling the event.
Unlike the last time in the spring when the sale was put off "to give interested buyers/bidders more time for due diligence for such an extraordinary property," no reason was given for the latest delay.
The 9,345-square-foot Gaillard-Bennett House, built in 1801, features six bedrooms and 5½ baths.
Along with the main three-story residence is a restored former kitchen house, carriage house and a reconstructed tack house for all the mechanical equipment on the property. The 1.25-acre site includes expansive gardens, a saltwater pool and newly built pool house.
Carolina One Real Estate has the price listed at $9.75 million, down from $10.99 million. Realtor.com now shows the same price as Carolina One after earlier putting the price at $12.95 million.
Drop that
There wasn't much chance that a proposal  to extend the city's accommodations zone to allow up to 50 hotel rooms in the old SCE&G office building on Meeting Street would be approved.
So the developer has dropped the request. 
Justin Ferira, CEO of the Seine Group of Charleston, said he planned to build condominiums, offices and shops at 141 Meeting St. and the one-acre parcel behind it. He also wanted the option of converting some of the space into guest rooms at some point.
The city accommodations zone, which defines where new hotels can be built, ends just north of the site at Horlbeck Alley.
The planning department and two historic preservation groups said they would oppose the request.
An amended agenda for Wednesday's meeting drops the accommodations request. The only zoning change that's being requested now is from general business to urban commercial, which would allow higher residential density and retail uses.
South Carolina Electric & Gas moved its offices out of the building in 2015 and put it up for sale last summer. It was built in 1876 and 1878 as offices for the Charleston Gas Light Co., according to Historic Charleston Foundation. SCE&G later added an extension in the rear and built a covered drive-through for customers to pay bills from their cars.
The utility has not named a buyer for the property.
Make You Sweat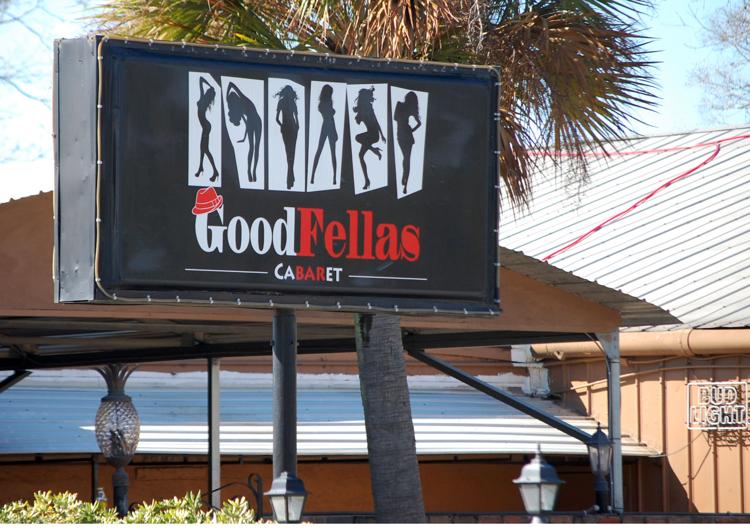 A Charleston County strip club won't be playing playing "Gonna Make You Sweat" and "I Wanna New Drug" without paying for them anymore.
A copyright-infringement lawsuit against GoodFellas Cabaret at 2028 Pittsburgh Ave. was dismissed July 3 after a confidential settlement.
In February, the American Society of Composers, Authors and Publishers sued 11 establishments around the nation, including GoodFellas, for playing music without paying licensing fees.
The complaint was seeking a court order to restrain GoodFellas from playing four songs named in the complaint and for damages of up to $30,000 for each infraction, as well as attorney fees.
GoodFellas is owned by JBCM Holdings LLC, whose principals are John Bailey and Clifford McGehee, according to the complaint.
JBCM's parent company, which was not named in the lawsuit, is Heavy Man LLC of Jacksonville, Fla. Scott Hendrix of Heavy Man said there was some confusion over who owned the rights to the songs in the complaint, and he was willing to make things right after that was cleared up.
The cost of a license varies based on the nature of the business. A typical bar or restaurant pays about $60 a month, depending on frequency and the size of the establishment.
GoodFellas, an adult venue with an occupancy of about 400, was being asked to pay about $300 a month, according to an ASCAP spokesman.
About 4,000 bars, clubs and restaurants in South Carolina pay the license fee.
Quality is job 1
For a company that prides itself on quality workmanship, the news came as an unwelcome wake-up call: Volvo Cars finished third from last place in this year's J.D. Power Initial Quality Study.
Henrik Green, Volvo's head of research and development, attributes the poor showing to the Swedish automaker taking its eye off the ball during the launch of its redesigned XC90 SUV. He told Automotive News Europe that the company has now solved its quality issues.
"A lot was going on last year and it continued into this year," Green told the publication. "We have to admit that we had a bit of a struggle when we launched the XC90. We had a very good package when it came to attributes in the features and functions, but we had some challenges on the quality side."
Volvo finished just ahead of Jaguar and Land Rover at the bottom of the report that shows which new vehicles give customers the most mechanical problems. The results are based on responses to 233 questions from more than 75,700 people who bought or leased new cars in 2018. The survey was conducted from February to May.
South Korean-made vehicles gave new-car owners the least problems, with Genesis, Kia and Hyundai finishing in the top three spots. Germany's BMW, which has its biggest manufacturing campus in Spartanburg County, finished 11th among 31 car brands.
Green told the European publication that Volvo expects to turn its quality issues around with the new S60 sedan that will be built starting this summer at the automaker's $1.1 billion campus near Ridgeville.
"The S60 should be the best car launch in Volvo's history when it comes to quality," he told Automotive News Europe.
Volvo, owned by China's Geely Holding Group, expects to hire 4,000 people for its Charleston-area campus, which will add the XC90 to its production line beginning in 2021.