A proposed "pop up hotel" plan at Charleston's rising WestEdge development is over, before it ever really started. 
Over the past couple months, the item has appeared on — and then disappeared from — agendas for Charleston's Board of Zoning Appeals. The application asked for the city to approve a 137-unit hotel use at a westside site. 
What was unusual about the application was that it was proposed for an already-rising apartment building, 10 WestEdge. 
The pop up hotel concept is the brainchild of hospitality start-up WhyHotel. By operating temporary lodgings in luxury apartment buildings, the company isn't quite a hotel but also differs from home-share services such as Airbnb. 
The company also claims to help solve a business problem for many apartment buildings: bringing in revenue during the first couple years of operation, when some units sit empty. 
Founded in 2017, the company is still fairly new but has two pop-ups currently running. One is in Washington, D.C., where the company is based, and the second is in Baltimore, Md. A third is set to open soon in Arlington, Va. 
At these locations, WhyHotel furnishes and rents out the allotted apartments, gradually reducing units over time as long-term tenants are found. 
The arrangement had seemed like a "win-win proposition," said David Tyndall, a founder and owner of the firm behind the WestEdge developments, Gateway Development Services. But venturing into hotel development in Charleston proved to be complicated. 
"None of us are hotel developers, not do any of us have plans to become such," Tyndall said.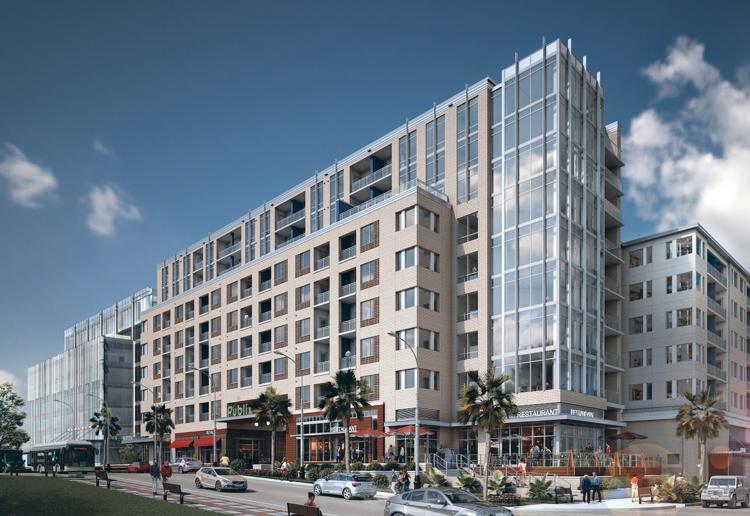 After a couple months of deferrals and conversations with city staff, they decided to permanently withdraw the request, Tyndall said. 
The Historic Charleston Foundation, which has been a vocal group in the city's discussion around short-term rentals, recently sent out a message urging people to oppose the WhyHotel proposal. 
Though the group has been supportive of the construction of new residential units in the area, the WhyHotel project, in their view, would have changed the dynamic and purpose of the building.
"It's a complete 180-degree shift from what they were entitled to," said Winslow Hastie, the foundation's president. 
There was also concern, Hastie said, of establishing a precedent, considering that similar apartment developments are rising in several areas on the peninsula. 
With Charleston also in the midst of enforcing its recently-adopted short-term rental ordinance, the WhyHotel project — which shares qualities of both a hotel and a short-term rental — would have also posed regulatory questions, he said. 
The developments in WestEdge include almost 600 apartment units, Tyndall said.