American Airlines is teaming up with Patriots Point in an effort to address a big issue for the travel industry — a shortage of pilots.
The carrier is donating $25,000 to expand the state-owned tourist attraction's Flight Academy, an education initiative based aboard the Yorktown aircraft in Mount Pleasant. About 4,500 youngsters went through the program last year.
Patriots Point was chosen because it fits with the Fort Worth-based airline's goal of attracting more minorities to its workforce, said Chris Broom, American's managing director of flight and training administration.
Broom and Heather Bowers, the carrier's manager of pilot career recruiting, visited the Yorktown on Friday to meet with the Patriots Point Development Authority board and discuss what will be done with the money.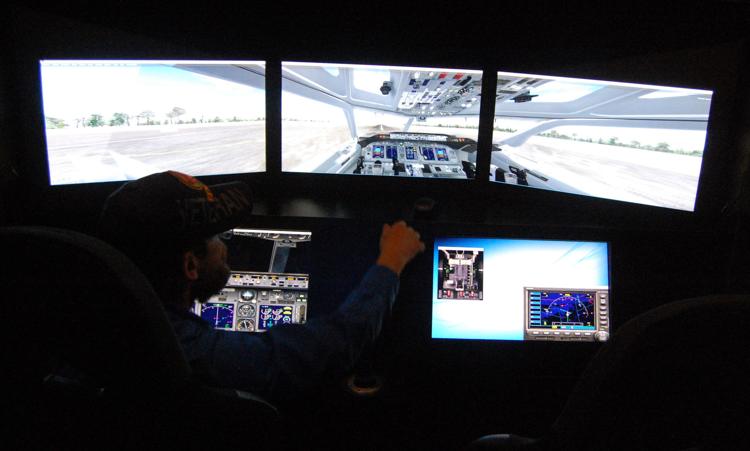 "We actually had hundreds of applications (for grants)," Broom said afterward. "Patriots Point looked like a good fit with serving underprivileged children. What we don't want is for aviation to be just for the wealthy. We want kids of all demographics and socioeconomic backgrounds to learn to fly airplanes."
Airlines around the world are facing a pilot shortage as more planes are built to handle more air travelers at the same time many pilots are nearing the mandatory retirement age of 65. Boeing Co., which builds its 787 Dreamliner jet in North Charleston, predicts the need for 637,000 new pilots over the next 20 years.
One of the biggest recruitment challenges for the aviation industry the cost of learning to fly, which averages around $100,000, Broom said.
"At this point we're not able to help (with that), and I don't think any airlines really are," he said. "We're working on some avenues, and hopefully in the next couple months we'll have some programs to announce that will help with that. It's the biggest challenge we see."
The military remains a path to the cockpit for many who can't afford otherwise. But it's not immune, either. Air Force Secretary Heather Wilson said last fall that her branch of the service also is feeling the pilot shortage.
"We think some of our efforts will help them as well," Broom said.
The grant will help develop a new 747 flight simulation aimed at 8th-graders, according to Aaron Franklin, the academy's primary instructor. The experience will focus not only on flying but also on communication and math skills.
American Airlines is one of the largest carriers serving Charleston International Airport.