After a devastating freeze in South Carolina's peach country, empty orchards mark the start of summer
JOHNSTON — Any other year, the orchards that hem in this Edgefield County town would come to life at daybreak, bustling through late afternoon with hundreds of farmhands picking peaches and walking over ground strewn with rejected fruit.
But for South Carolina's peach industry, this isn't any other year: It's the middle of the afternoon in early May, days after the harvest would usually start, and thousands of acres sit empty.
The week after Johnston's annual Peach Blossom Festival, the pink flowers are long gone, nipped by a destructive freeze months earlier. Somewhere between 85 percent and 90 percent of South Carolina's peaches were wiped out in March, agriculture officials say.
Crews of farmhands — mostly guest workers from overseas — have been sent home. Fruit that normally wouldn't make the cut for commercial packing still hangs on hundreds of thousands of trees because there's no one around to thin the branches and hardly any peaches will get big enough this year to sell in stores.
"We should be harvesting fruit today," Larry Yonce says in the office beside his family's packing shed, getting ready to see his grandchild's baseball game instead of supervising work in the orchard. "There's nothing to pick."
Guesses vary about the last time the damage was this bad — 2007, 1996, 1954 — but the consensus is simple: The state's most iconic crop is in unusually bad shape.
Yet the hit taken by peach growers is hardly unique in South Carolina's agriculture sector. In the last three years, farmers have faced drought and flooding, a hurricane and falling commodity prices. The value of the state's crops fell by about half between its peak in 2012 and 2015, the most recent figures available. Last year isn't thought to have been much better.
Peaches are different, of course: They're pushed by the whims of economics, but unlike cotton and soybeans, they're at the mercy of shoppers in the produce section, not global commodity markets.
And unlike damage to most of the state's crops, consumers in South Carolina will notice a difference when the nation's second-largest peach producing state sits this year out.
"Soybeans may come into the food production (system) and may come out as a steak because the soybean could have been fed to a cow or to a chicken. It may come as an egg," said Hugh Weathers, the state's agriculture commissioner. "The impact of some of those crops is felt farther away from the consumer."
But the peach, he said, "is just one of the signs of summer around here."
'They're dead'
The trouble for Johnston's lifeblood began last year, with another warm fall that meant peach trees wouldn't get enough cool air to produce fruit.
Before the blossoms came out, it became clear that the summer's late crop, which typically needs more time in the cold, wasn't going to amount to much, said Juan Carlos Melgar, a Clemson University fruit researcher.
The warmth likewise led to a peach bloom that came weeks before normal — and before the last cold snap of the year. When the trees' pink flowers emerged, it was a matter of time.
And then it happened, a couple of days in mid-March when the weather dropped into the 20s, killing peach blossoms and stunting the growth of the fruit that had already emerged.
"Once they're dead, they're dead," said Jimmy Forrest, owner of the Dixie Belle peach farm in nearby Ridge Spring. "We're making the most we can out of a tough situation."
Two months after the freeze, Greg Henderson, a Clemson Extension agent in Edgefield, would weave through a row of trees on Yonce's farm, and the impact would be clear. He was surveying a variety that normally brings some of the state's first peaches, and about all the fruit he saw was small or misshapen.
"I'm struggling to find a little sackful," Henderson said as he gradually filled a paper bag, pointing out the small, green peaches that won't grow past the size of a quarter and deep red fruit that's done growing but too small to sell to supermarkets.
What's left of South Carolina's crop will be harvested starting in July, and for the most part, it will be sold like this — by the bag at farmers markets and roadside stands around the state, not in supermarket displays in the Northeast.
Even those could be scarce. And in a year when states such as California and New Jersey are still producing fruit, Weathers said, South Carolina grocery stores could soon be stocking out-of-state peaches.
'The queen of fruits'
The troubles for South Carolina's peach industry aren't limited to the weather, though. The marketplace appears to be shifting against it, too.
The economic forces pushing against peaches are unlike those pinching the state's other big crops, which are at the mercy of global commodity markets. Farmers who grow corn and soybeans, for instance, have seen the value of their harvest plunge over the past few years after a period of unusually high payouts.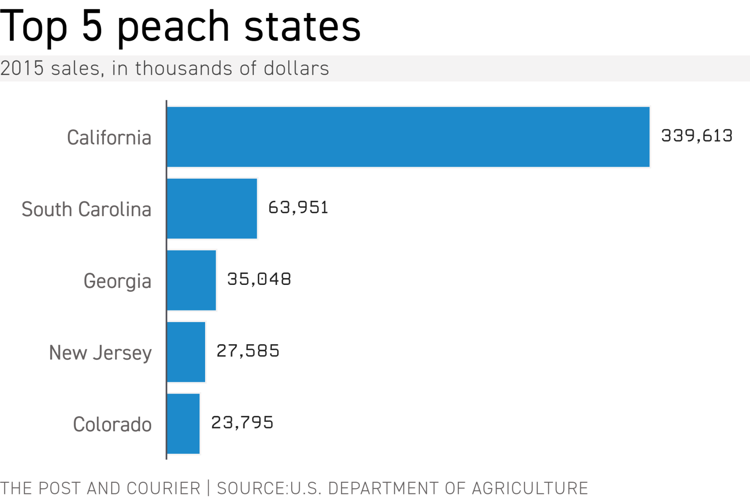 Peaches don't keep long, so traders in Chicago and New York don't get involved in setting prices. Instead, the problem is in the produce section, where shoppers now have access to more fruit throughout more of the year.
"Used to be we were the only game in town. We were the queen of fruits," Yonce said. "We're not the queen of fruits anymore. We've got everything all over the world."
Increasingly, consumers are choosing against peaches for fruits such as mandarins, raspberries and strawberries, according to the market researcher Nielsen. The new winners of the produce section are "trendy and convenient," said Brooke Larson, a produce analyst at the firm.
A juicy, messy fruit isn't a particularly convenient snack, and South Carolina is being left behind on the new trend in peaches: organics.
Last year, while overall sales were flat, organic peaches grew 15 percent, Larson said. And most of those gains went to California, which is by far the nation's largest peach producer.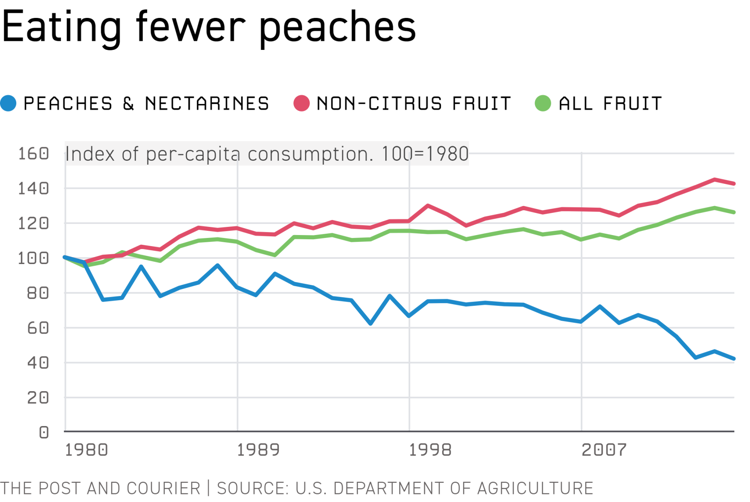 South Carolina has hardly any organic peach production, Melgar said. Only one grower has made the switch.
Becoming certified as an organic grower is a long process with a slow reward. And the warm weather that makes Palmetto State peaches especially sweet makes for lots of bugs, so weaning off pesticides is especially challenging here, Melgar said.
Researchers are experimenting with new ways to fend off pests, like putting paper bags around fruit to keep bugs out, a method being tested this year in the Midlands, Georgia and Florida.
But Melgar said they don't expect to get results this year: Their test plots were wiped out in the freeze, too.
'A poker game'
Peaches are far from the state's most substantial agricultural product — chickens, the biggest, bring in 14 times more money — but in the places they're grown, the $60 million to $70 million they attract each year makes for a significant economic impact.
That's especially true along the Ridge region of the Midlands, a strip of slightly raised ground that runs through Johnston toward Lexington. The elevation keeps trees from freezing most years, and the sandy soil is good for peaches: A huge majority of the roughly 16,000 acres grown in South Carolina is planted here.
Across the border, 30 or so miles away, Georgia calls itself the Peach State, but Johnston considers itself the "Peach Capital of the World" — a title it proclaims on the water tower that looms above downtown and the big welcome sign on the way into town.
It drops subtler hints, too, like the peaches that adorn street signs, the peaches painted on storefronts and the peaches on banners promoting — what else — the Peach Blossom Festival, which dates to 1947.
Most years, the town benefits from the ripple effects of the cash flowing into farms. Hundreds of guest workers move here for months at a time, and commercial growers hire locals to work in packinghouses and retail operations. The money the peach crop brings in is thought to change hands five times over.
In a bad season, then, the hit is also compounded: Weathers figures the economic impact of this year's freeze will amount to $300 million, centered in towns like this one.
And unlike past crop losses, the impact this year will be especially concentrated. The number of peach farmers in South Carolina has dwindled over the past three decades as thin years pushed many out of business and led to bigger, more specialized farms as those who hung on bought their land.
When conditions are right, Yonce said, the consolidation makes the business of producing fruit more efficient, spreading out the overhead and slimming the cost of growing each peach. So does focusing on one crop: Yonce's farm has the infrastructure to grow only peaches, but it doesn't need to spend money on equipment for other crops.
But in years like this one, farmers' pursuit of efficiency leaves them on the wrong end of an enormous bet.
"By virtue of what the economics of our industry demand, we've had to enlarge our operation. It's not fun to be large," Yonce said. "It's like a poker game: The more you bet, the more you lose sometimes. What we bet on this crop is lost, and that's millions of dollars."
So Yonce is doing something his family hasn't done in the last 76 years: He's mortgaging pieces of their property to pay their bills — to cover the payroll of the office staff, maintain the trees and pick what they can.
And then they'll hold on, he said, hoping that it's enough to get through another year, waiting for the orchards to come to life again.
Reach Thad Moore at 843-937-5703 or on Twitter @thadmoore.