Allison Hunt was 9 years old when she first stepped aboard the Yorktown aircraft carrier along the Mount Pleasant waterfront.
Back then, she was vacationing with her family in Charleston for the week, not knowing that decades later she'd be drawn back to lead the Yorktown Foundation and become Patriots Point's first female executive director.
"After all these years, there's never a time where I don't walk down that pier and stop in awe of the ship," Hunt said. "The history is remarkable to think about."
Former executive director Mac Burdette, who was only two years into retirement, was called back to serve the Patriots Point Development Authority in 2022 until its next leader was found. What started as a short stint of two months led to almost a year in the role, as the board took its time hiring a replacement. Burdette said that "without a doubt" Hunt was the right candidate to lead Patriots Point. She officially stepped into the role March 1.
Hunt had been leading the USS Yorktown Foundation for the last five years, raising money to fund scholarships, programs and exhibits at Patriots Point Naval & Maritime Museum.
Throughout her career, Hunt has worked in executive management for of several philanthropic groups and held leadership roles in public-private partnerships and business development organizations in North Carolina and South Carolina. She has master's degrees from the University of Georgia and Bristol University, and a bachelor's degree from the University of Georgia.
While her day-to-day role changes significantly, she is no stranger to the state-owned military attraction. Her new role comes with additional responsibilities overseeing not just the museum but the real estate development side of the Patriots Point Development Authority as well.
During her time at the foundation, she worked closely with the Patriots Point board, donors, volunteers and museum staff. That sense of familiarity eased the transition, she said, in addition to having an established support network of familiar faces. When Hunt applied for the top job, she felt like it was a natural next step in her career, but also because it was where she felt she could make the biggest difference.
"I love Patriots Point, I love this museum, and I love everything that we're doing here — everything that we stand for," she said. "It's really meaningful to me because I love mission driven work. This gives me an opportunity to continue to be part of the team in a different capacity."
She said she is proud of the success of the program for underserved students to attend programs at the museum. Pre-pandemic the foundation funded $75,000 in scholarships, which allowed 30 groups from 17 counties in the state to participate. 
"When you see those kids come on board, some for their first time, you just feel their excitement as their eyes get big," Hunt said. 
She said that her top priority as she settles into her new role is keeping all the operations at Patriots Point on track, especially as the educational programing and visitor numbers rebound this year and big maintenance projects are underway.
In her last role, she also helped the foundation undertake a huge capital fundraising partnership to restore the historic aircraft on the Yorktown's flight deck. Since the 28 planes are exposed to the elements, many need to be sanded and repainted. With the money raised, the restoration of those planes has already begun. The foundation funded half the cost, and Patriots Point picked up the other half.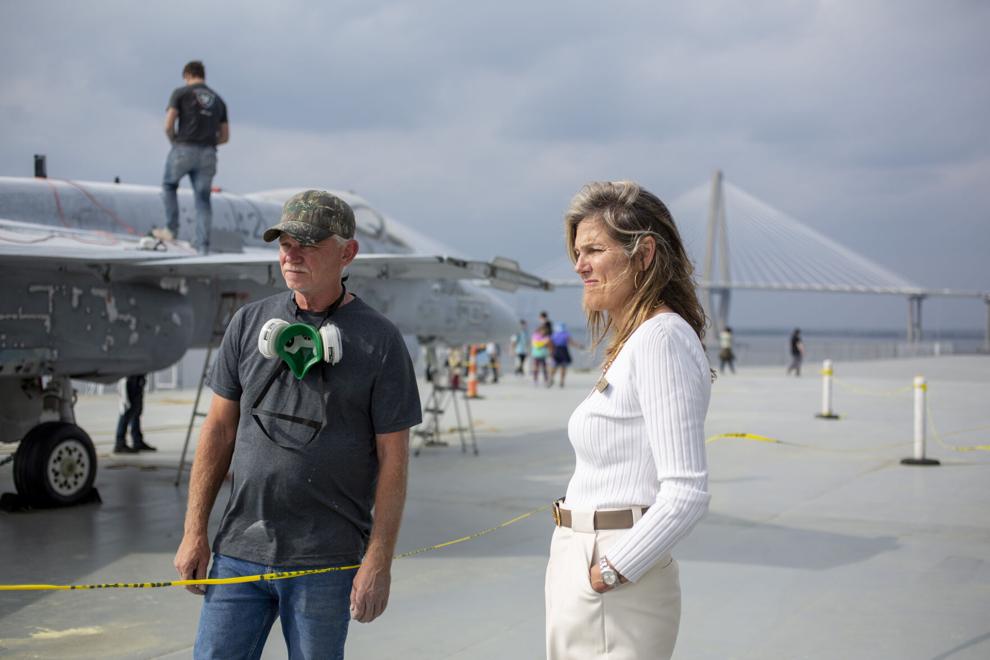 Tiresome turnover 
Patriots Point has faced leadership turnover after Larry Murray succeeded Burdette for about two years before stepping down in the spring of 2021. Then, Rorie Cartier left after about a year into the role in mid-2022.
Burdette said the back-to-back turnover of executive directors since his retirement has been "tiresome" for staff.
During the hiring process, he said there were a lot of assumptions and questions about the kind of experience needed for someone to successfully fill the role. Was it someone with a military background? Someone well-versed in running a museum? Was a development background needed? Should it be someone local? He said when he met Hunt, he knew she checked the qualifications that he thought mattered.
Burdette previously said it's "not your typical museum director position" because the role entails responsibility for both the museum and about 400 acres the agency is responsible for. He said that Patriots Point's next leader needed to be someone with a strong attachment to the museum and its mission, demonstrated leadership and managerial experience, negotiation skills and someone that who is business-minded.
"With her many years of experience at the Yorktown Foundation, there is no question about the fact she loves this place and wholeheartedly believes in it," Burdette said.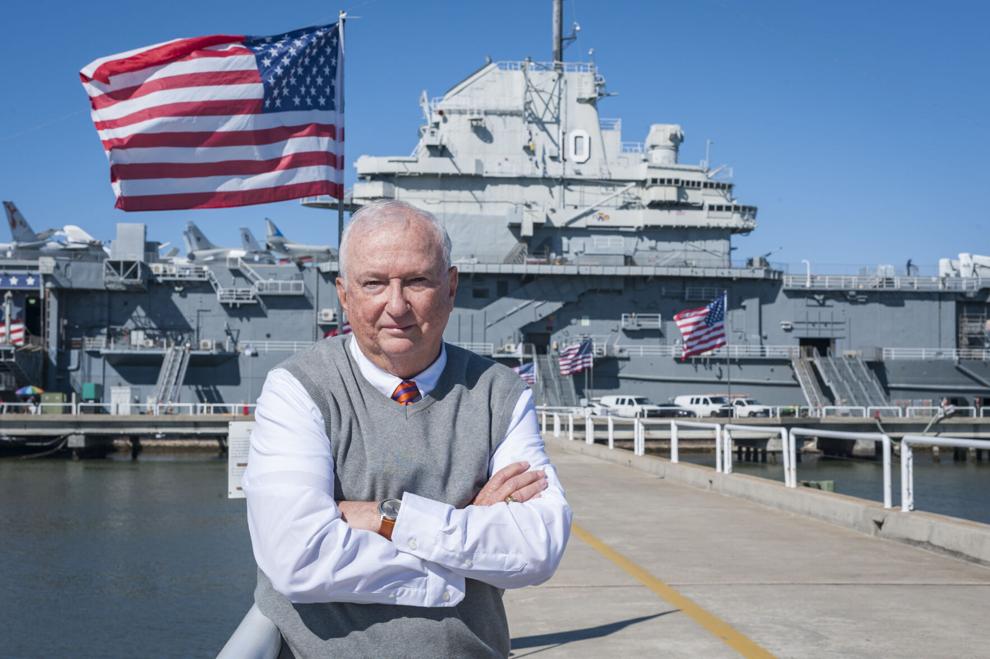 Patriots Point includes the military displays anchored by the Yorktown aircraft carrier, an 18-hole golf course and other valuable waterfront property that either has been or is in the process of being developed.
Patriots Point runs like a business, and the development authority acts as a landlord to its tenants, has say in proposed projects and oversees the day-to-day operations within the museum ships. 
The biggest project on the book is Bennett Hospitality's $500 million plan to build hotels, a convention center, office buildings, parking garages, an amphitheater, a boardwalk, retail space and 130 residential units on land the Charleston-based company is leasing from the state under a long-term deal.
"We are quickly becoming a museum within a destination, with all the developments proposed here," Burdette said. "It's the executive director's job to orchestrate that and ensure that the development is successful, because that is what helps support the museum."
One of the biggest advantages of an internal hire is the trust and confidence that's already established between the new director and the staff, he said.
"Everybody on this ship knows her," he said. "She's helped our staff in incredible ways throughout her career at the foundation. She helped raise money for projects we needed and was always involved and volunteering."
Hunt was chosen out of a pool of 83 applicants. Other top candidates include experience ranging from nearly a decade of public relations experience for Patriots Point, a longtime military career, to museum experience working on the Houston-based Medal of Honor Museum project.
"They were competitive candidates and they were worthy of consideration but she was our unanimous top choice," Burdette said.
During the initial search, the board could not "settle on a candidate at that time." The search was restarted late last year to try to attract a more diverse range of talent. Burdette, who is 73 and was ready to step back and let a younger leader step in, said it worked.
As part of the transition, he and Hunt worked to reorganize departments to streamline communication and prepare her for her new role.
"It's easy to get bogged down in the minutia in this role," he said. "My advice to her was to surround yourself with the best people you can. Trust and lean into your team."
'Exciting but busy' 
Hunt takes the helm at an "exciting but busy" time, with Medal of Honor Week, Vietnam War Veterans Day and the Yorktown's "Fighting Lady" 80th anniversary events coming up.
That's on top of a fast approaching budget season around the corner, an environmental remediation study of the centerpiece aircraft carrier and real estate projects making their way through the planning process.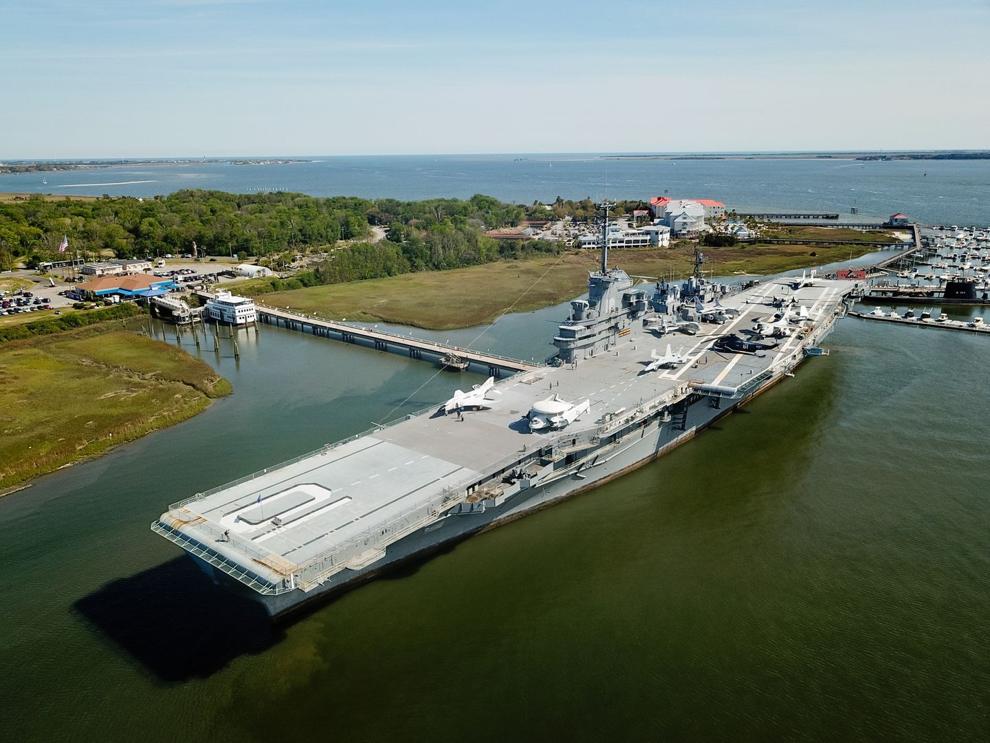 "It's exciting to see Patriots Point continue to develop and grow as a destination," she said. "We are coming off of one of our biggest years yet and we are on track to match it or beat it again this year."
Attendance numbers were up in 2022, totaling almost 280,000 visitors, just shy 22,000 shy of 2019's pre-pandemic total. With tourism and its operation overnight program ramping back up, the museum expects this year to continue the upward trend.
As Patriot Point grows, Hunt said she wants to keep pace with that growth and stay true to the mission it was founded on.
"People are drawn to what we represent here and to the stories of the people who flew these aircraft and served on this ship," she said. "Our mission revolves around our veterans and the history of their service and sacrifice. We want to share these stories and this experience with as many people as we can."