Once work begins on the new Charleston Tech Center, a service that provides affordable parking to downtown hospitality employees will be bumped out of its current spot on Morrison Drive. 
But workers who utilize CARTA's Hospitality on Peninsula, or HOP, shuttles don't need to worry, said City Councilman and Charleston Area Regional Transportation Authority  board chairman Mike Seekings. The program is here to stay, thanks to a nearby lot that's waiting in the wings. 
The park-and-ride program was launched in April as an affordable alternative for employees of hotels and restaurants on the peninsula. Parking costs a flat $5 all-day rate, and rides on the shuttle are free.
Organizers knew the Morrison Drive location was temporary, since the Charleston Digital Corridor had already secured the spot for its new office building.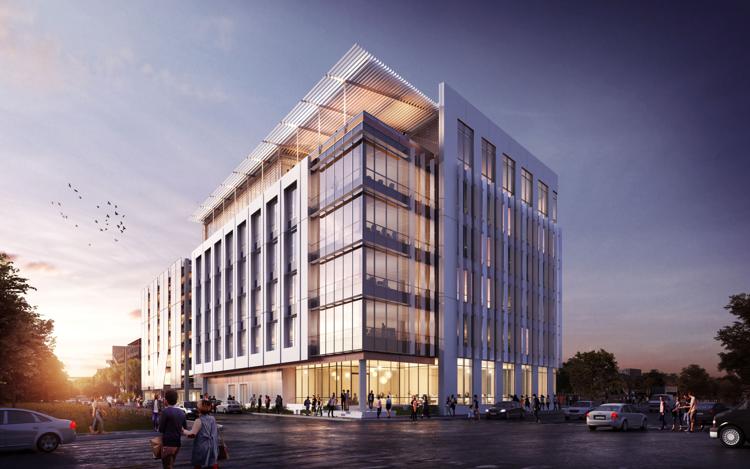 Final approval for the Charleston Tech Center was granted by the city's Board of Architectural Review earlier this month. CARTA's contract to use the Morrison Drive lot will last at least through March, and possibly longer, depending on when construction work on the six-story structure begins. 
Another lot has been acquired for the park-and-ride program, Seekings said, a triangular parcel a few blocks farther up the peninsula, at Mount Pleasant and King Streets. The site is about a one-minute drive from the current lot.
It's also close to the planned terminus for Lowcountry Rapid Transit, a proposed "light rail on wheels" system that would connect Charleston, North Charleston and Summerville. The Charleston, Berkeley, Dorchester Council of Governments hope to have the rapid transit system up and running by 2025. 
"That's one reason why we picked it," Seekings said. "We want this to be a transit-oriented site."
Though it's not known when the transition to the Mount Pleasant Street lot will happen, Seekings said there will not be an interruption in service, and the route the shuttle takes will not change. 
The shuttle runs for 21 hours a day, from 6 a.m. to 3 a.m., to accommodate hospitality workers' varied schedules. The program was created with hospitality workers in mind, but anyone can use it. 
Ridership has steadily been increasing over the program's first 10 months. On the first day the service operated in April, just 12 people rode. In November, ridership for the month surpassed 12,000, and about 550 people are using the service every day. 
But there is still capacity for ridership to grow, Seekings said, projecting that HOP could comfortably service about 50 percent more people, shuttling between 750 and 800 a day.  
The HOP on-time performance has been about 90 percent, said CARTA spokesman Daniel Brock. That's slightly higher than the CARTA system overall, which is on schedule 87 percent of the time. 
Seekings said they still plan to expand the service to other locations throughout the Charleston area, such as West Ashley and North Charleston.