Businesses are typically required to post bonds that can run into the millions of dollars to cover potential liabilities from legal battles.
Not so when it comes to the ongoing feud between a well-known North Charleston personal injury lawyer and his son. George Sink Sr. has offered to post a somewhat lower bond in a trademark infringement lawsuit with George Sink Jr., who's also a lawyer — $100.
A hundred clams. A single C Note. One Benjamin.
That's how much — little? — in damages the elder Sink estimates his son might incur from a temporary injunction that prohibits him from using the George Sink name to market his competing practice.
Sink Sr.'s law firm — the one promoted by nearly around-the-clock "all nines" TV commercials — sued his namesake in federal court. It alleges it owns the trademarked name that's become synonymous with car wrecks and slip-and-fall injuries.
A judge issued an injunction in August that prevents Sink Jr. from using his name to market his law firm. The younger Sink appealed the injunction, saying his father's firm should have been required to post a bond to compensate him for his financial losses if he ultimately wins the right to use his name.
So Sink Sr. decided to offer up his $100 bond, saying the amount "is appropriate in this instance, and sufficiently protects" his son's interests.
Sink Jr. alleges the lawsuit has exposed him to ridicule and adversely affected his ability to practice law at his fledgling firm.
U.S. District Court Judge David Norton, who issued the injunction, has scheduled a hearing for Oct. 31 to discuss the senior Sink's bond offer.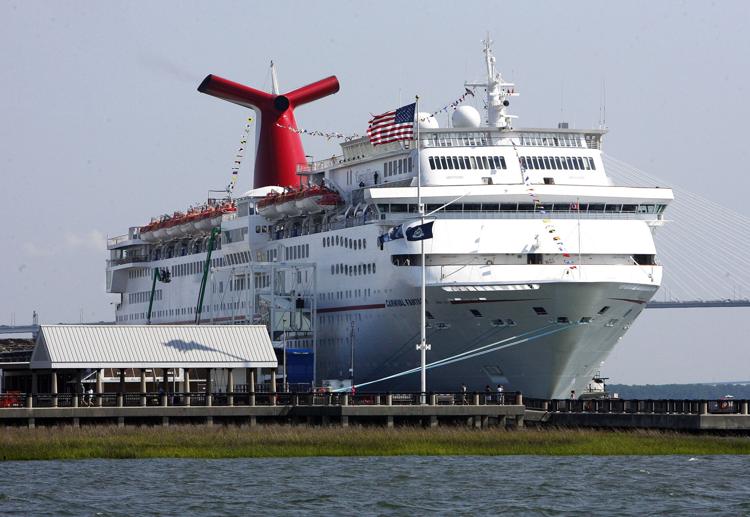 Three more years!
A Gulf Coast city has pulled off a feat the S.C. State Ports Authority has been itching to achieve by persuading Carnival Cruise Line to commit to a multi-year docking deal.
The Miami-based leisure company agreed last week to keep one of its pleasure ships in Mobile, Ala., for at least another three years. The deal centers on the Carnival Fantasy, which called Charleston home until 2016.
Carnival executive Terry Thornton described the Mobile move as unusual because the company doesn't typically agree to such lengthy deals with cities of that size, according to news reports.
In South Carolina, the SPA has been working to strike a similar agreement, but Carnival has yet to sign on the dotted line.
One obstacle: a long-running legal dispute over a new cruise terminal planned for the north end of the SPA's Union Pier Terminal in downtown Charleston. 
The neighborhood and environmental groups that are fighting the project have said they're not against the industry. Instead they've argued that having a ship and a passenger terminal so close to the Historic District would hurt property values and create too much traffic congestion and pollution. The existing terminal is at the south end of Union Pier, near the foot of Market Street.
One of two lawsuits filed over the project is pending before the S.C. Supreme Court.
SPA chief executive Jim Newsome has said his agency offered Carnival a deal that would keep a ship in Charleston for 25 years.
No long-term agreement has been announced, though Thornton told The Post and Courier in May that the company was "very committed to entering into a long-term agreement" with the authority.
Carnival picked the Holy City as one of its year-round home ports a decade ago. The company replaced the Ecstasy with its larger Sunshine vessel this past spring.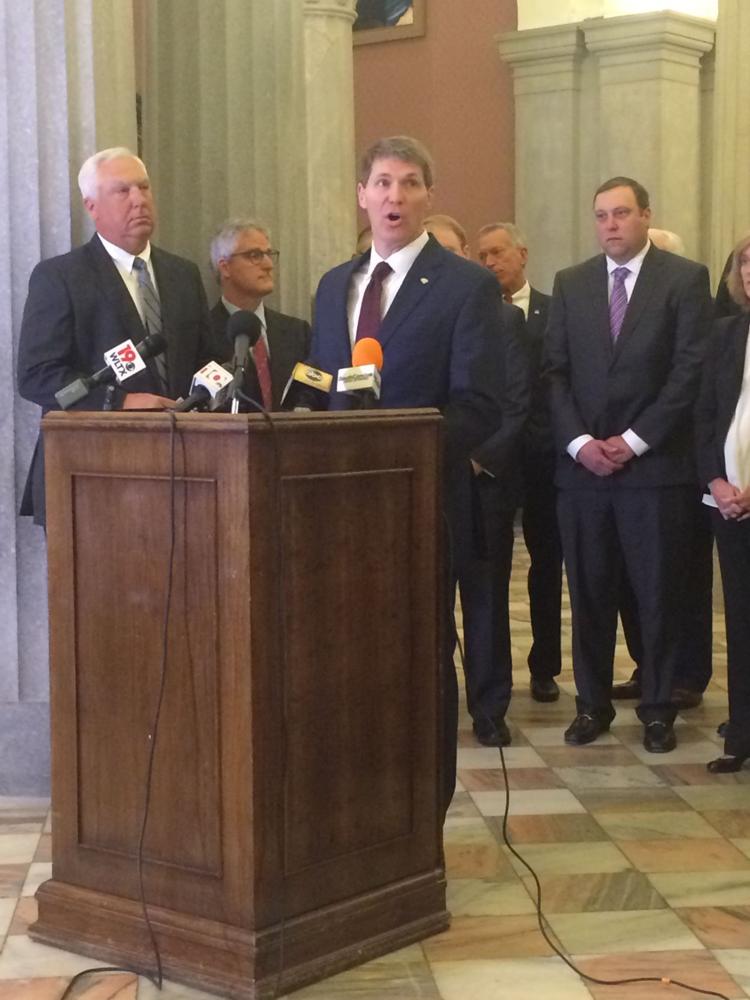 Tax talk 
After a swing and a miss in the last session, the S.C. Chamber of Commerce plans to go to bat again for a tax reform package in South Carolina. 
CEO Ted Pitts, explained the pro-business group's legislative priorities to a small crowd of business representative at a Greater Summerville/Dorchester County Chamber event last week. 
The S.C. Chamber has been advocating for a broad tax reform proposal in Columbia, but with other issues on the Legislature's agenda, those proposals failed to gain traction again this year. 
That's not stopping the group from stepping back into the batter's box. Changing local and state tax codes, Pitts said, continues to be a major goal for South Carolina's business community. 
The reforms the Columbia-based group is pushing for include cutting the state's income taxes, making local business license taxes more uniform and studying property taxes in the state, Pitts said. 
One of the local business owners at the Summerville event asked about whether the General Assembly could repeal Act 388, a 2006 law that removed school operating taxes from owner-occupied homes, leaving businesses, rental properties and vehicles to cover any increases. 
Pitts and others in the room, however, recognized that was going to be an extremely tough sell, especially with the state's 170 lawmakers up for re-election next year. 
"I'm not sure they are ever going to address Act 388," Pitts said. "We're going to push them to."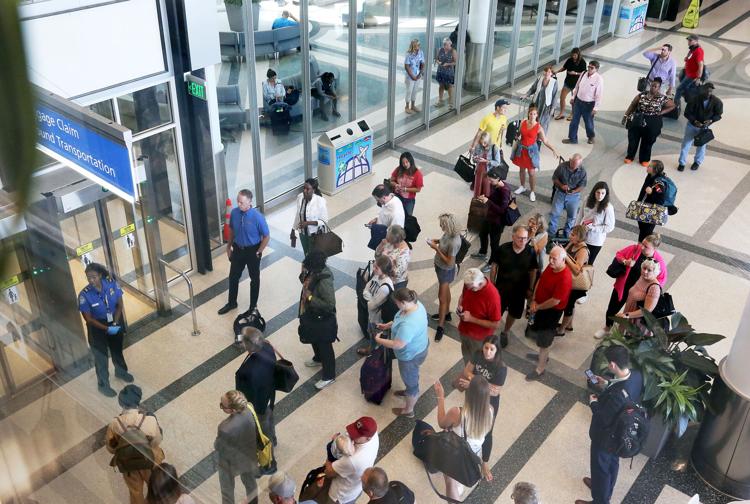 Fare amount
Charleston International may have the most passengers in the state, but the state's third-largest airport in Myrtle Beach still offers the lowest fares.
Charleston, ranked No. 70 nationally in airport size by passenger count, saw average roundtrip airfares rise about $2 to $364 in April-June compared to the previous three months, the U.S. Bureau of Transportation Statistics found.
The coastal neighbor on the Grand Strand, No. 107 Myrtle Beach International, saw fares soar $65 during the second quarter to an average of $329. That's still the cheapest of any airport in the Palmetto State.
No. 116 Columbia Metropolitan retained the top spot of the most expensive airport in the state, with fares rising $13 from the first quarter to the second to about $473. 
Greenville-Spartanburg, at No. 82, saw fares climb about $14 in April-June to an average of $421.
The national average for the second quarter was $364, up about $12 from the first quarter, a rise most likely connected to higher fuel costs. 
The federal agency uses a sampling of 10 percent of tickets with the price at the time of purchase. Baggage fees are not included.
Million-dollar metrics
It's hardly groundbreaking news, but buyers with $1 million to drop on a home get more bang for the buck in terms of space in Greenville and Columbia than in Charleston, according to a new analysis by Zillow.
The national average for a detached, single-family residence priced right at the seven-figure level has four bedrooms and two-and-a-half baths contained within 2,200 square feet, according to the study released last week by the Seattle-based real estate data firm.
"Owning a $1 million home was once a status symbol, but now, due to escalating home prices, it feels closer to the price of entry for homeownership in parts of the country," Zillow senior economist Cheryl Young said in statement Tuesday.
"Nationwide, the typical $1 million home at 2,200 square feet may not be sufficient to impress colleagues or neighbors." she added. "Only in the most affordable markets, such as some in the South, will you find $1 million homes that verge on palatial, and the reality for some markets – particularly those on the coast and in California – is that $1 million homes often stand out more for their diminutive size given their hefty price tags."
In the Palmetto State, a cool million buys nearly 4,900 square feet of space in the Capital City and about 4,500 square feet in Greenville.
Charleston, flush with historic South of Broad mansions and seaside mega-mansions, was the priciest among the three, offering $1 million purchasers slightly less than 3,200 square feet, on average.