The site of a shuttered restaurant in West Ashley soon will see a new culinary offering while a new eatery is planned for the Charleston peninsula and a breakfast café will offer giveaways next week as part of its makeover debut.
Ye Ole Fashioned Café & Ice Cream Parlor plans to move into the outparcel space formerly occupied by Famous Toastery at 1319 Sam Rittenberg Blvd. in Ashley Landing Shopping Center.
Rolando Ravelo, who said this will be his first location as a co-owner after working in two other Ye Ole Fashioned sites for a few years, hopes to open by March or April.
It will be the restaurant's second location in West Ashley. The current site is at 474 Savannah Highway.
Ye Ole Fashioned also operates two restaurants in Summerville and one each in Goose Creek, Mount Pleasant and North Charleston.
Famous Toastery closed last year after opening in 2018.
On the peninsula
Sandwich, breakfast and frosé eatery Co-op is planning a new location in downtown Charleston at 81 Cannon St.
The café currently operates on the Isle of Palms and Sullivan's Island as well as next to Edmunds Oast Brewery on Charleston's upper peninsula.
The new location is currently under construction. Look for an opening in late spring or early summer, according to Colin Keenan of Co-op.
New look
Another Broken Egg Café will unveil its redesign on Jan. 10 at its downtown Charleston location.
The restaurant at 99 Market St. is the company's latest to adopt the brand's "New South" design, featuring a full bar with extra seating, patio bar access for diners and a brighter image.
The café offers an array of breakfast and brunch items along with its signature cocktails.
To celebrate the makeover, the restaurant will offer a full week of daily giveaways through Jan. 14.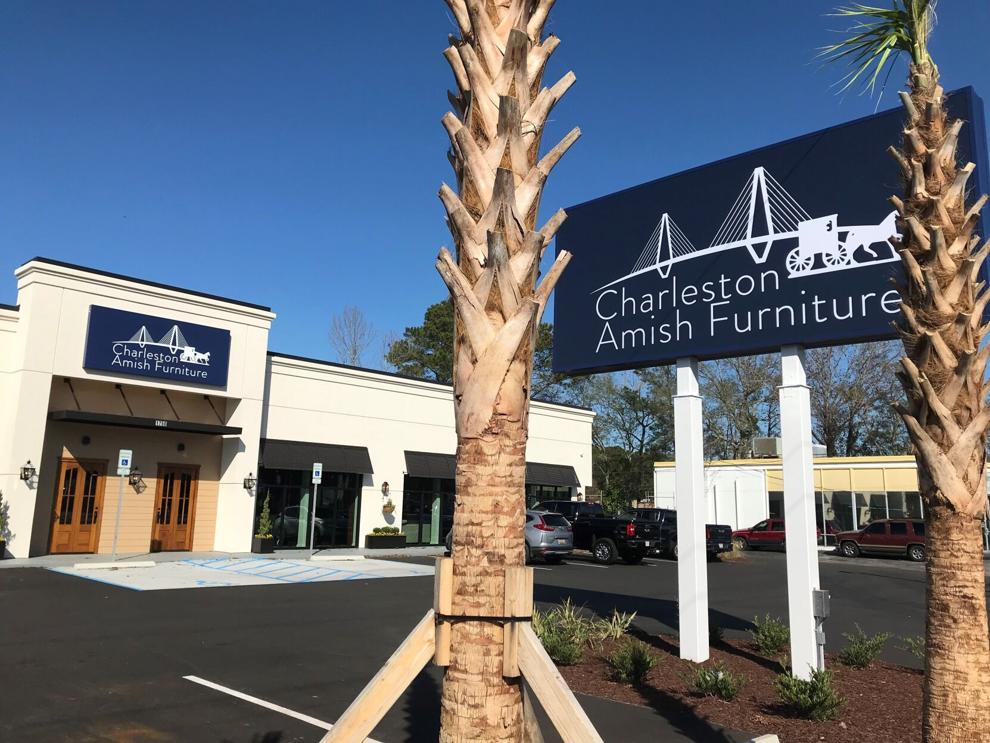 Rearranging 
A West Ashley home furnishing retailer is now in a new location.
Charleston Amish Furniture moved Jan. 3 from 1401 Sam Rittenberg Blvd. in the Publix-anchored Ashley Landing Shopping Center to a standalone, refurbished building at 1750 Sam Rittenberg Blvd.
Matt Troyer, who co-owns the furniture business with wife Beth, bought the 35,000-square-foot former Heilig-Meyers furniture store near S.C. Highway 61 for $4.2 million in November 2020, according to Charleston County land records.
The Troyers wanted to own instead of rent. Renovations began on the new site last spring.
The business opened in 2017 in Ashley Landing, where the company plans to maintain a furniture line through May because it had to renew its lease last spring because of construction delays at the new site.
A grand opening with a ribbon-cutting ceremony is planned for 4:30 p.m. on Jan. 12.
The store will make a $10,000 donation to The Navigation Center, a nonprofit with a multi-faceted approach to helping Charleston's homeless or at-risk of homelessness population. The donation represents about 3 percent of the business's sales in December.
Getting fit
A new Chicago-based fitness franchise will host the grand opening of its first South Carolina location this week.
Franchisee John Youngblood will officially launch Spenga in a 4,000-square-foot space at 996 Johnnie Dodds Blvd. in the Publix-anchored Queensborough Shopping Center in Mount Pleasant at 7 a.m. on Jan. 8. 
From 5-7 p.m. on Jan. 6, the site will host a grand opening party for guests to tour the studio and meet the staff. Local vendors will be on hand as well as food and drinks.
On Jan. 8, the new fitness center will host its first full day of business with refreshments served after each session.
Spenga, combining spin, strength training and yoga and also forming the brand name, is located in three of the four spaces in the new building where Maple Street Biscuit Co. opened in late 2020.
Spenga will offer sessions 5 a.m.-7 p.m. weekdays and 7 a.m.-noon weekends.