NORTH CHARLESTON — A large mixed-use development valued at more than $100 million will bring a slew of new construction projects to the Centre Pointe area near Tanger Outlets.
The area has been a magnet for retailers, hotels and dining establishments since it opened nearly 20 years ago, and plans presented to state environmental regulators show hundreds of thousands of square feet in new buildings along International and Tanger Outlet boulevards where land clearing is underway for a new Topgolf center that was announced earlier this year.
The Uptown North Charleston development includes plans for a 175-room hotel, a 100-room hotel, 300-unit apartment building, three-level parking deck with 483 spaces next to Topgolf and five-story office building of 110,000 square feet.
Also planned are a 2,400-square-foot coffee emporium, three restaurants and four small retail sites.
A proposed 32,000-square-foot bowling venue has been scrapped and a second parking garage with more than 500 spaces that would be owned by the city is being considered for the site along International Boulevard, according to Lenn Jewel of the development firm RealtyLink.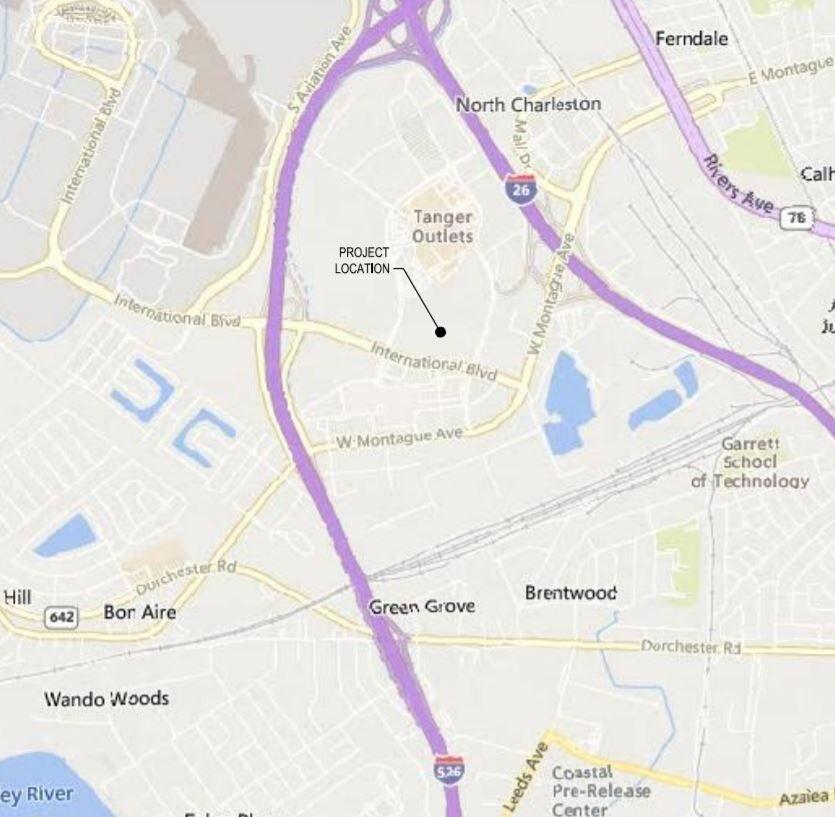 Two smaller parcels west of Centre Pointe Drive at International Boulevard are set aside for other developments. They include apartments for corporate clients called Waterwalk and a retail facility.
Jewel valued the entire project at more than $100 million with different venues taking shape over the next few years.
Nearly 30 acres of the proposed project includes wetlands between Tanger Outlets and McCall Center, a retail site at International and Tanger Outlet boulevards that abuts the planned Uptown project. 
Developers received approval last year from the U.S. Army Corps of Engineers to fill the site and offset the loss by acquiring 780 acres in Berkeley and Dorchester counties for remediation. A land-preservation easement with the Lord Berkeley Conservation Trust was finalized in May.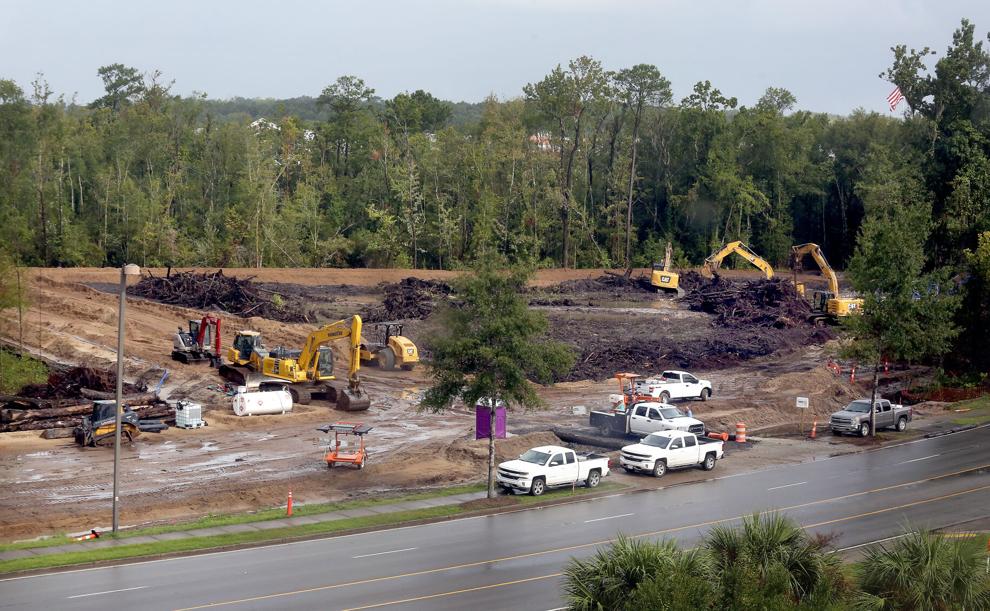 The Coastal Conservation League endorsed Uptown a few years ago as the project focused on an urban infill site rather than new "greenfield" development.
As part of the project, the city is poised to approve a special district for the site by the end of September that  would direct half of the increased tax revenue from the completed development to help pay for roadwork, infrastructure and the planned garage. The rest of the money would go to Charleston County School District.
The city is not committed to the parking deck yet, but it is exploring the idea, Mayor Keith Summey said.
North Charleston also is exploring the idea of adding a second garage with 2,000 spaces near its coliseum and convention center complex by using Uptown's tax revenues.
"It's just too valuable a property to have asphalt on it," Summey said.
At the Uptown site, vertical construction on the new Topgolf facility will begin in January, Jewel said. It's scheduled to be completed in December 2022.
Work on restaurants, a hotel and apartments, some of which could open as early as 2023, will be underway next year as well.
"All of that stuff will be under construction, but it all won't open at the same time," Jewel said.
RealtyLink has been working on the Centre Pointe site for the better part of two decades. It includes Walmart, Sam's Club, Tanger Outlets and numerous restaurants and retailers.
"We have a lot of retail out here," Jewel said. "What we don't have here is a lot of rooftops. We are creating this entertainment district tied to the coliseum and convention center."
The developer's aim is to create gathering places for people to attend before and after events at the two venues across International Boulevard and to offer amenities for the apartment renters. 
"It would serve clientele that are here for happy hour and dinner after work or a place where you could tailgate before a hockey game or get a drink or a bite to eat later," Jewel said.
Both Jewel and Summey expect the Topgolf attraction to be a major draw for the development. Summey said he was impressed when he visited the company's existing facility in Myrtle Beach.
"It's a very busy place," he said. "It's something that caters to all people."
Jewel said the Uptown project is more vertical and dense than existing nearby development and some of it will be upscale.
"It will look more urban and more downtown," he said.
Summey called the new development "a huge plus" for the city. 
"It's tax money for the future, and we are developing what we can and keeping it centralized by adding new life to what is already there," the mayor said.
One part of the project that had been on the drawing boards for several years is no longer there.
A proposal to put a pedestrian bridge across International Boulevard has been axed because the ramps would have cut into the parking lot.
"It didn't fit in a practical manner," Jewel said. "It raised more concerns than it solved."
In its place, a planned new intersection with traffic lights will be built.
A new street called Veras Way will intersect with International west of McCall Center while a second new street called Topgolf Way will begin off Centre Pointe Drive and end at Tanger Outlet Boulevard between McCall Center and a new parking deck next to Topgolf.