Hominy Grill's cookbook, which will become the last material remnant of the downtown Charleston institution when the restaurant closes later this month, is as unassuming as chef-owner Robert Stehling. Held together by two staples, the self-printed booklet looks like something that a cash-strapped church would publish.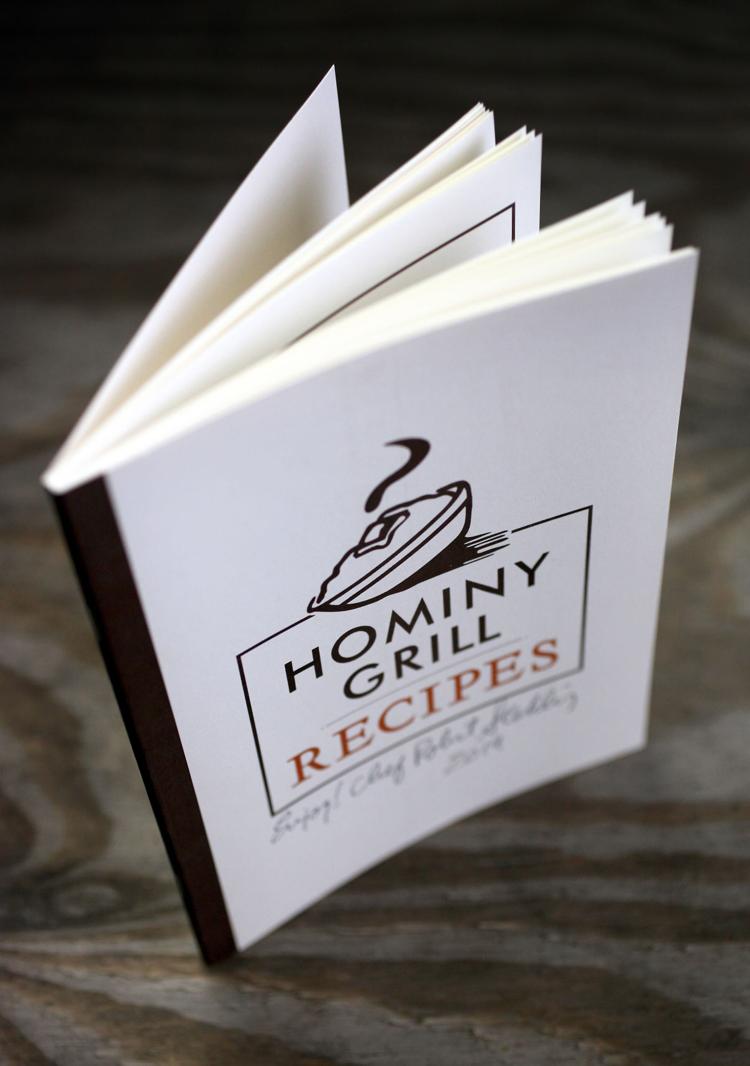 Although Stehling had multiple offers from accomplished authors to collaborate on a traditional bound book with blurbs and color photographs, he preferred to stick with the minimalist recipe collection.
"Robert turned out a cookbook which was almost punk rock at the same time as Thomas Keller's glossy celebration of cheffy ways was in the marketplace," recalls Southern Foodways Alliance director John T. Edge, a longtime Hominy Grill customer and champion. "That was not the norm when he opened. It's becoming the norm now."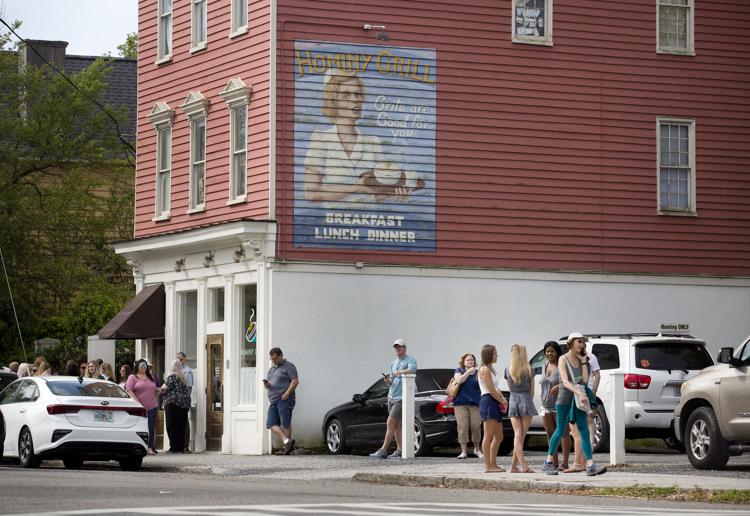 As word of Stehling's decision to exit restaurant life spread throughout the Southern food world this week, his fans reflected on what Hominy Grill meant to them and the region's restaurant culture. And in both cases, they credited Stehling with creating a casual gathering space in which the chef's values and guests' comfort took precedence.
"It's what a Southern restaurant should be," says Brett Anderson, restaurant critic for The Times-Picayune in New Orleans. "It's a restaurant that doesn't feel like it's the product of investor ideas; increasingly, that's difficult to find. This is Robert's idea of what a restaurant ought to be."
Anderson puts Hominy Grill in a class with Portland, Maine's Fore Street, Phoenix's Pizzeria Bianco and Birmingham's Highlands Bar & Grill, a tiny group of restaurants distinguished as recipients of near-universal diner adoration. Introduced to Hominy 15 years ago by the late Johnny Apple of The New York Times ("He liked to talk about going to Hominy Grill to eat shad roe: That just sounded so gangster."), Anderson last ate there on his most recent Lowcountry visit.
"Something about it makes you want to get a plane," he says.
Or not, if it's taking off from Charleston. Bob and J'Anna Pucci on Tuesday morning returned to Hominy Grill just before flying back to Melbourne Beach, Fla. The couple wasn't aware the restaurant had announced its closing but they were so pleased with their meal there on Monday that they wanted another crack at the menu.
"We wanted really good Southern food and that's what it is," Pucci said.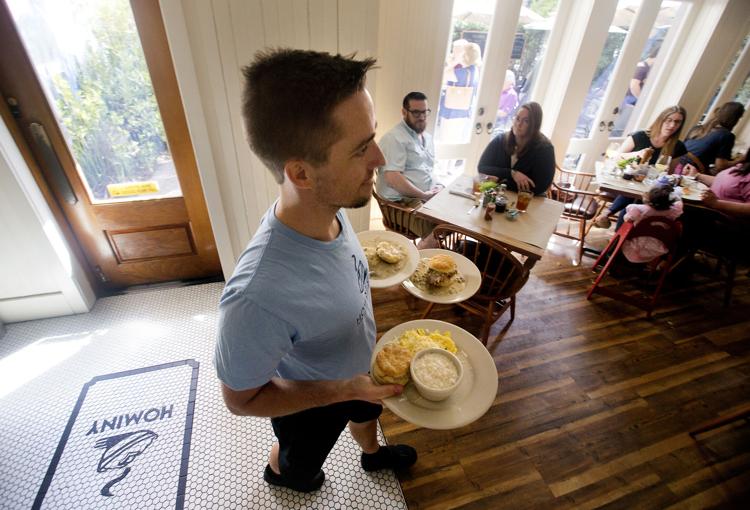 Cortney Lassetter was at the restaurant specifically for shrimp-and-grits, which she knew she wouldn't have another chance to taste. Lasseter lives in New York, but grew up in Charleston. When she was a teenager, Hominy Grill's chocolate pudding was a favorite after-school treat.
"There are so many restaurants that come and go in Charleston," Lassetter said. "And this is something that has been a constant."
While diners across the country have lamented Hominy Grill's closing, Edge praised Stehling and his wife Nunally Kersh for handling the transition with grace. "It's like what Karen and Ben Barker did with (Durham's) Magnolia Grill, which was elegant and recognized the power of going out on top and saying, 'We've had a great run, folks, thank you very much.'"
Edge adds that the restaurant's legacy will outlast it in the form of chalkboard specials, bare tabletops, ingredients sourced with integrity and affordable food that tastes good. "American cuisine has caught up with Robert Stehling," he says.
Plus, there's the cookbook, still available for sale at the restaurant. It closes with the recipe for the chocolate pudding beloved by Lassetter and hundreds of bereft former customers who've shared their memories of Hominy Grill on social media. Appropriately enough for a dessert perfected by a place synonymous with comfort, it originated at a restaurant called Home.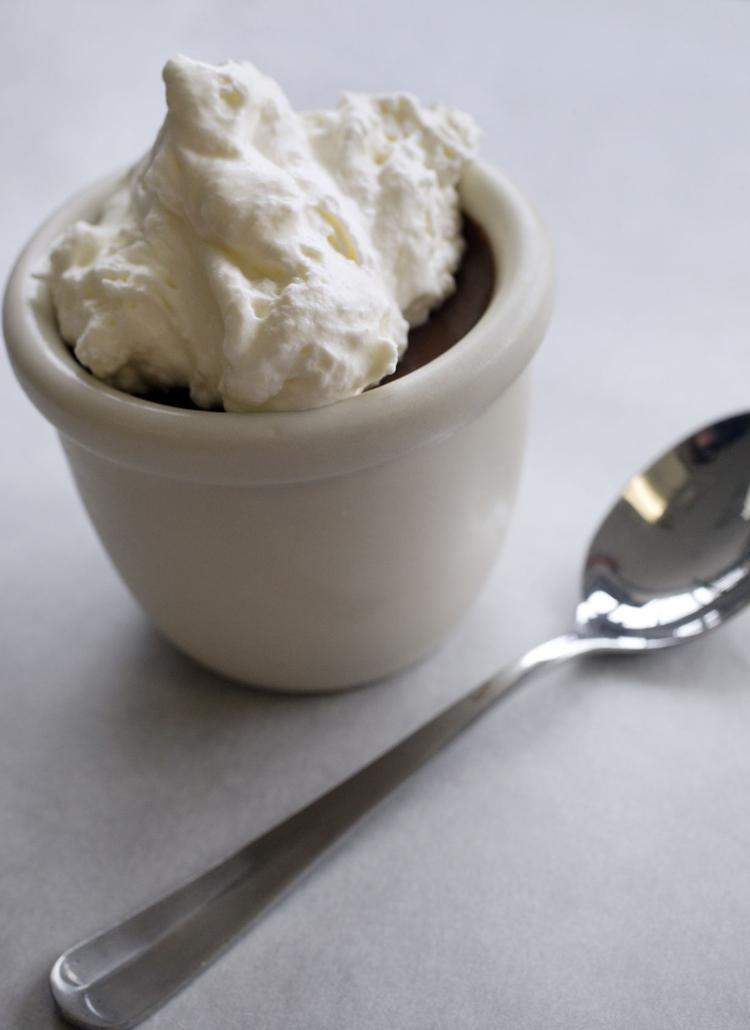 Hominy Grill's Chocolate Pudding
Reprinted from Hominy Grill: Recipes
Ingredients
8 ounces bittersweet chocolate
½ cup sugar
6 egg yolks
4 cups heavy cream
1 teaspoon vanilla extract
½ teaspoon salt
Directions
Preheat oven to 350 degrees.
Chop chocolate; reserve in bowl.
Whisk ¼ cup sugar into egg yolks. Mix rest of sugar with cream and vanilla in saucepan, bring to boil. Pour a little hot cream into bowl with egg yolks for smoothness and then pour the remainder over chocolate, stir with spatula until smooth. Add egg mixture and salt, then strain into a pitcher.
Refrigerate until cool.
Pour into 2/3 cup ramekins, place ramekins into a shallow baking pan half filled with water, cover with foil and cook for about an hour. Chill for at least 3 hours before serving.