The old-school way of running a kitchen just doesn't work anymore, says Jimmy Poole, co-owner of Pancito & Lefty, the King Street restaurant which recently installed a trio of experienced chefs.
Reid Henninger, Greg Marks, and Corey Phillips have worked at some of the top restaurants in town: Edmund's Oast, Xiao Bao Biscuit, SNOB, Butcher & Bee and The Ordinary. Now they'll work together to lead the eight-month-old Pancito & Lefty.
For Poole, replacing former chef Robert Berry with a team of three makes financial sense for all involved. "We are coming at it from a unique approach," he says. "With the cost-of-living issues, the staffing shortage (and) the housing crisis, we have to be creative in order to pay people a living wage and attract the talent that's out there."
With the three-man team, Poole says nobody in the 84-seat restaurant is making less than $15 an hour; everyone is full time; there's no need to hire lower-level line cooks and overall payroll costs are down.
"These three guys work well together," says Poole.
Having no head chef allows the kitchen to streamline work; set regular days off; stave off burnout and ultimately prevent turnover.
"We've reset the culture," says Poole. "People need to be able to have a career and eliminating a few positions allows a good lifestyle for these guys. And ultimately, it's all about the guest experience." With a strong kitchen comes both consistency and creativity, he adds.
And with Henninger in the kitchen, amazing seafood dishes. The chef left his post at Edmund's Oast in order to work on the boat with commercial fisherman Mark Marhefka of Abundant Seafood before landing at Pancito's. The guy knows his fish – he's rumored to be able to break a whole one down in a matter of minutes – and this week he's serving up a red snapper ceviche with serrano peppers, pumpkin, mint, and avocado that's rather remarkable and a sign of good things to come.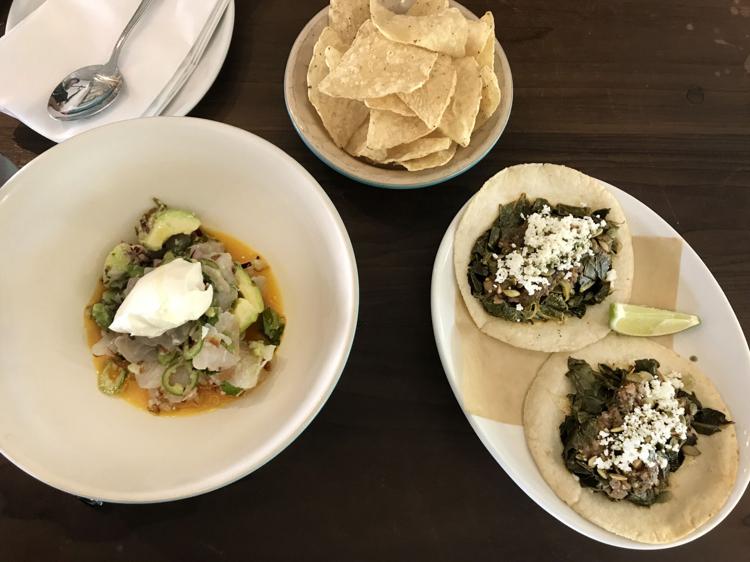 The menu will be tweaked over the coming weeks, with an overhaul planned for the new year. Expect less tacos and more plates; lower prices and bigger portions. Before long, you're likely to see queso and chorizo being made in house, alongside the freshly-made tortillas.  
Matt Spear is head of the beverage program, which treats mezcal like wine. He's looking forward to working closely with the back-of-the-house team.
"We're using authentic Mexican flavors, going up to Ladson to find ingredients, to flavor cocktails," he says. "Things like squash liquid instead of juice, to create savory instead of sweet cocktails."
He promises edible garnishes, housemade liqueurs, and creative uses for Mexican Coca-Cola (Mexican Manhattan anyone?) Spear works closely with Bottles in Mt. Pleasant to acquire ever more variety in Pancito's mezcal stock.
Poole is convinced this kitchen reset will allow them to be a better restaurant for their neighborhood, with more family-friendly options and a better dining experience overall. Time will tell, of course, but if that red snapper dish is any indication, I'd say they're off to a good start.