Goddess Tiye has a hard time reeling off what's on the menu at Vegans on Rivers, which this week replaced Tav on the Ave. It's not that she isn't familiar with the dishes. She just has to keep pausing as she names them because, "All the things are mouthwatering."
Among the items are Salisbury steak, chicken salad, a crispy chicken sandwich, a Denmark Vesey burger and pineapple upside-down cake, all of which are made without meat, butter or any other animal product.
When Goddess Tiye in March opened a restaurant in the 4245 Rivers Ave. building, which previously housed Ragamuffin Sugarshop and Iron Dog Diner, she figured she could draw a crowd with chicken wings and cocktails. But the August closure of Dellz on the Macon left North Charleston without a source of vegan food, so Goddess Tiye (who doesn't use a last name) on a random Tuesday decided to see if she could entice more customers with plant-based protein.
The experiment was so successful that Goddess Tiye retired Tav on the Ave. She and her husband worked with the founder of Lamb's Bread, a popular vegan restaurant in Columbia, to create Vegans on Rivers.
"I've known him 20 years," Goddess Tiye says of the man known as King. "I went in one day looking for African artifacts and he said he would help make this happen here if I just got the building."
Despite her longstanding relationship with King, Goddess Tiye is just two months into veganhood.
"It's better than what I thought," she says. "It's more healthy, and it can be healing."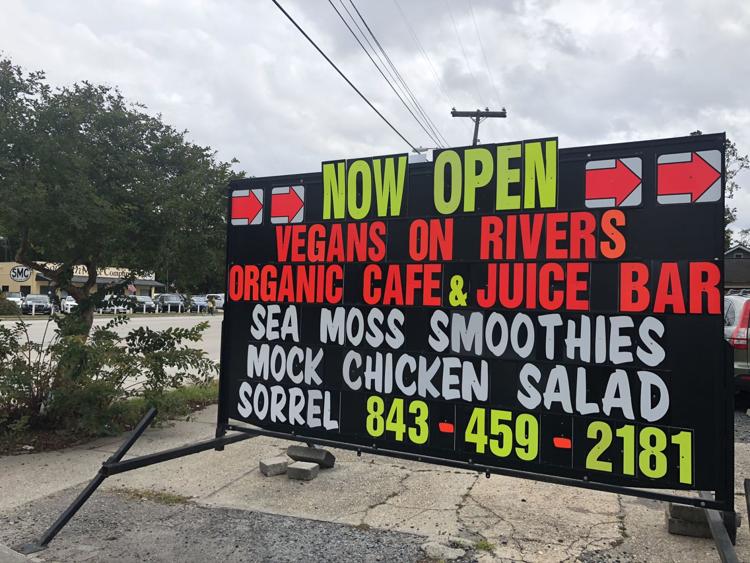 In addition to dishes ranging from collards to gizzards ("not really my idea," Goddess Tiye clarifies), Vegans on Rivers offers an array of beverages that are supposed to have curative properties, such as a sea moss smoothie. The restaurant also sells statues, clothes and incense.
"It's a little bit of everything," Goddess Tiye says. "And they're loving everything so far."
Vegans on Rivers is open 11 a.m.-9 p.m. Monday-Wednesday and Friday-Saturday; 11 a.m.-8 p.m. Thursday; 1 p.m.-6 p.m. Sunday. For more information, at least until Goddess Tiye updates the restaurant's website to reflect its new identity, call 843-459-2181.