GALIVANTS FERRY — While the other presidential candidates at the 143rd annual Democratic meeting here quietly prepared for their turns at the stump, New York City Mayor Bill de Blasio strode to the chicken bog tent.
A historic 2020 presidential election collided with a beloved piece of South Carolina political history, as the long-running Galivants Ferry Stump Meeting added a new chapter to its 143-year tradition by hosting White House hopefuls for the first time.
De Blasio had never tried chicken bog, but eating the traditional cast-iron kettle pilau out of a Styrofoam cup sent him into a minor rice reverie.
"It's almost like an arroz con pollo," he said, referring to the popular Latin American dish. "And there's a Spanish paella thing going on. I love it!"
Bog has been a staple of the Stump since its beginnings, but not every featured politician feels compelled to sample it.
"Some gets it," says Ronald Atkinson of Marion, who supplies his grandfather's bog pot and serves as lead cook. This year's bog called for 160 pounds of deboned chicken, 75 pounds of rice, 50 pounds of sausage, as well as 50 years of bog-making experience on Atkinson's part. "I know (U.S. Rep. Jim) Clyburn eats it because I seen him eat it two years ago."
At Monday night's Stump, de Blasio was the only candidate who paid a visit to the bog tent.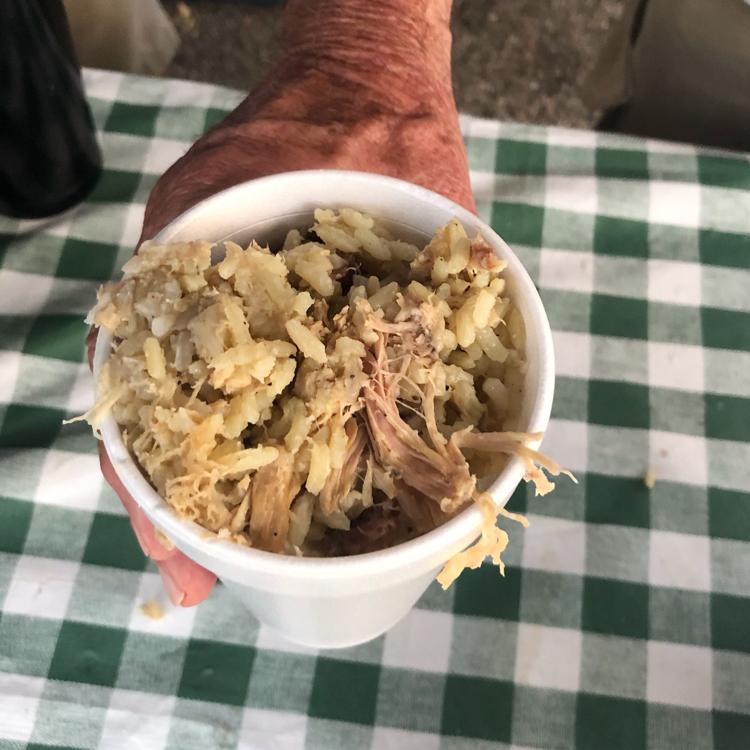 Matthew Small, a member of the cooking crew, said "people from Amy what's-her-name"'s camp scoped out the stew, but nobody affiliated with the Klobuchar campaign could confirm or deny her interest in the communal dish.
"We don't have anyone who can speak on the record with the press," a volunteer explained.
U.S. Sen. Klobuchar of Minnesota brought her own snacks to the Stump. In addition to distributing stickers and placards, her team set out a blue plastic bowl with bags of Cheez-Its and Keebler Fudge Stripes cookies.
Mayor Pete Buttigieg of South Bend, Ind., expressed interest in bog.
"Hopefully it's in my future," he said after taking to the stump to describe some of his other visions for the years ahead. "I'm curious to try it because I've seen the footage of it on Twitter."
Candidates weren't the only ones abstaining from bog. Despite Small's enthusiastic sales pitch ("How many you want? Ten or 20?"), hot weather killed the chicken-and-rice mood for many attendees. At one point, every woman under the Massachusetts U.S. Sen. Elizabeth Warren tent was eating ice cream.
But de Blasio wasn't daunted.
"You have to eat the food!" he proclaimed. "You want to understand the people; what they love and why they care about it. Also, why would you want to miss this?"
After eating chicken bog, de Blasio bought boiled peanuts from a former New York City Police Department photographer fundraising for The United Methodist Church's local disaster response group.
"I can pull you some hot from the pot," Brian Nolan told de Blasio, who seemed momentarily concerned that the peanuts set out for sale weren't exemplars of the snack.
De Blasio has performed poorly in presidential polling but he's made tremendous headway in The Post and Courier's S.C. Iconic Foods Challenge. His handlers, who are still getting over how much he ate at the Iowa State Fair, report he's knocked eight items off the newspaper's 16-dish list, including a vegetable from Lizard's Thicket.
"I've been doing a comparative collard green tasting the past few days," said de Blasio, who later joked he could sell boiled peanuts and bog in New York as a side hustle to his mayoral gig.
Small and his fellow cooks were impressed by de Blasio's instant affection for bog.
"He liked the hot sauce," one remarked to another.
"He did like the hot sauce," the second cook agreed.
Before the event was underway, Small confidently predicted that Joe Biden would eat bog.
"I fully expect the vice president will be trying it," he said. "And if the rest of them won't be trying it, I expect they won't be winning the primary."