If everything had gone as planned, a soufflé omelet would have been the first dish Louis Osteen ever prepared for his future wife.
But Osteen was new to the restaurant business in 1975 and didn't yet know how to simultaneously handle a dining room and beat separated eggs by hand in a copper bowl.
"When the restaurant got crowded, you could wait an hour for a soufflé," recalls Marlene Osteen, who placed the order on her lunch break. "I ended up having to leave."
Marlene Osteen didn't think much more about the restaurant or its young chef until she ran into trouble booking her regular babysitter. Louis Osteen, also divorced, was scheduling the babysitter further in advance.
"By the way, I think he's really cute," the babysitter added when she explained the situation. "I think you should meet him."
Within six months of them meeting at Osteen's restaurant, they were living together. And Louis finally cooked a meal for Marlene.
"It was very simple," she says. "Just a sautéed chicken breast and rice and perfectly cooked green beans. I think there was a beurre blanc. But I didn't know anything about food and it just opened up such an incredible world to me."
Friends and former colleagues of Osteen, who died Sunday at 77, agree that the chef's vision and active mind contributed mightily to his work promoting Southern cuisine and establishing Charleston as a locus for it. But when they remember the man, they also think of his extraordinary palate and grasp of technique, as well as his efforts to bring together Southerners who could claim the same.
"He was a damn good cook, you know," says fellow Southern cooking pioneer Nathalie Dupree. "I think that was the thing that set him apart. I know lobster mac-and-cheese probably sounds mundane now, but it was delicious. That's one of the things I'm missing in Charleston right now, the gooey, cheesy things."
Proper preparation
That ability to produce dishes that were at once delicate and satisfying also struck Marion Sullivan, who supervised the recipe testing for Osteen's 1999 cookbook "Louis Osteen's Charleston Cuisine: Recipes From a Lowcountry Chef." For months, Sullivan and her crew of Johnson & Wales University students would take over the Osteens' kitchen for five hours a day, turning Osteen's scraps of paper and spoken suggestions into a set of instructions for home cooks.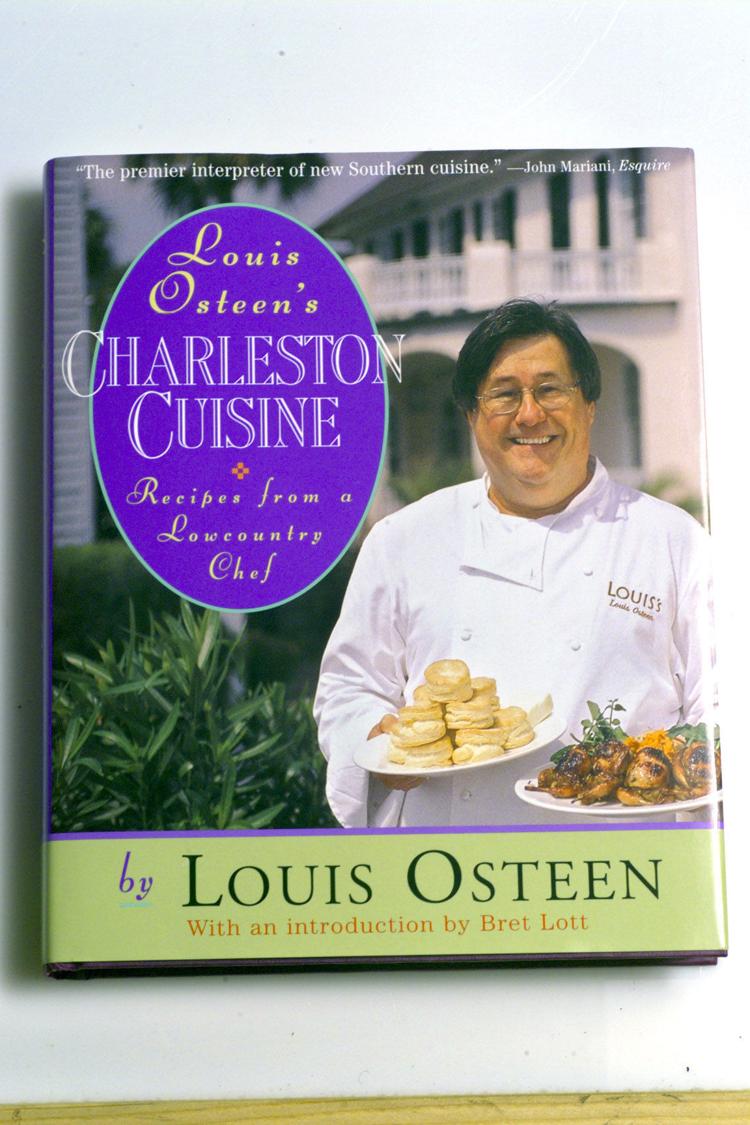 "Louis would come back from the restaurant every day about lunchtime to be sure it was what he wanted it to be, and I would sit down with him," Sullivan says. "It was a revelation, the methods he used to convey his palate into dishes."
Among the dishes immortalized in the book are grilled pears with Clemson blue cheese, devised before most chefs sought out local products, corn cake with sorghum buttercream (created back when sorghum was written off as a diversion for country folks) and panned quail with gravy.
"His quail was so wonderful," Sullivan says. "But almost anything in that book, I would give my right hand to eat it again with Louis cooking it."
Forrest Parker, a chef who was on the opening team at Louis's on Meeting Street, describes Osteen as "a fantastic human being and very gifted cook."
According to Parker, Osteen was so firm in his culinary opinions that he printed them on the menu. Parker remembers a listing for "properly-prepared strip steak."
"He was very quick to correct things," Parker says. "He'd have a media tour going through the kitchen and he'd still find time to come over and correct me on my knife cuts."
When Osteen approached the sauce station, Parker says, "He had this odd mannerism where he'd stick his finger in the sauce, hold it up to the light, and kind of turn his finger back and forth. Then he'd flick his hair back three times: One, two, three, dip his finger back in the sauce, look at it again and say, 'I believe you're good.'"
The best stuff
While customers seated in the dining room were agog over Osteen's crab cakes, Parker says the dish he always hoped to swipe off the line at the end of service was Osteen's preserved duck confit with redeye gravy, made in accordance with both French and Southern traditions.
"It was exceptionally delicious, but we were floating that on top of Quaker quick grits," Parker says. "Stone-ground anything didn't really exist. There were a lot of things that didn't exist at the beginning, and Louis pointed the way toward it."
Still, Osteen was adamant about using the best ingredients he could afford or, according to architect Reggie Gibson, couldn't.
"I don't think he had a lot of vices," says Gibson, who grew up with Osteen in Anderson. Gibson designed a number of Osteen's restaurants. "He liked Amstel Light and he liked nice shirts. But if he had a fault, it was that he would do the right thing in spite of good judgment. He would never make any money because he'd get the best stuff. He'd say, 'You've got to the right thing sometimes,' which was all of the time."
For instance, Osteen insisted on using Tillamook cheese in his pimento cheese. When Parker asked him why he put Oregon cheese in his "pate of the South," he told him, "Gump, it's the highest-fat content Cheddar in the world!"
But his greatest affection was reserved for Southern ingredients. His sweetbreads recipe called for Virginia country ham, and his baked rice-and-onion recipe specified Wadmalaw sweets. Osteen had a personal relationship with the owners of the only crab picking operation on the South Carolina coast, which he parlayed into an unforgettable presentation at the 1986 National Governors Association meeting in Hilton Head Island.
"There were appetizers set out, and he had this big silver bowl of fresh crabmeat," says Sullivan, who coordinated the evening's menu. "It was like a trophy-sized bowl."
Final salute
Osteen cooked at that event alongside South Carolina chefs, including Philip Bardin and Frank Lee, who Osteen later invited to join an organization that was a precursor to the Southern Foodways Alliance.
"He brought several (other chefs) into SNOB, and they said, 'Come on, you ought to get on board,'" Lee says. "But I was into the Frenchy thing, and too stupid to join up, which was really a tactical error on my part."
In addition to drumming up support for cultural networks that united Southern thinkers, Osteen made sure chefs from across the region had chances to collaborate in the kitchen. In 1992, he launched the annual Salute to Southern Chefs gala. One chef from each Southeastern state was invited.
"At the time, there was not many of those kind of things around, so it really did bring us together as fellow Southerners, as chefs and as friends," says Frank Stitt of Highlands Bar & Grill, who first met chefs Ben and Karen Barker of North Carolina at the dinner. "It was just a very fertile exchange of ideas."
It also left its mark on Charleston, Sullivan says.
"The important thing is a huge amount of Charleston chefs and restaurateurs got to see food from eight to 10 chefs around the country," she says.
In 1997, when Gourmet served as a sponsor, the chef roster included Emeril Lagasse of New Orleans, Elizabeth Terry of Savannah and Stephen Pyles of Dallas.
"It was very friendly, and that was always a big part of Louis and Marlene's inherent hospitality," Stitt says. "In many ways that is the spirit of a cook: Louis loved to share a good time with everyone."
Marlene Osteen says that's what the two of them intended to do when they looked into opening a Charleston restaurant as early as 1983. They chose a space and applied for a business loan.
"After reviewing the documents, (the banker) reared back in his chair and just started laughing," Osteen says. "I said, 'Why is this funny?' And he said, 'Charlestonians don't come out to eat. They eat in their homes.'"
The Osteens fixed that.