It's no secret that food from other countries is a scarce commodity in Charleston. The restaurant boom has brought us buckets of oysters, endless pizza and pasta options, a glut of wine drinking stations, but not much in the way of flavors from the Far East. Which might explain the growing popularity of Little Miss Ha's private dinner and catering operation.
Janice Nguyen Hudgins got her start cooking professionally at Butcher & Bee about five years ago when she and her family hosted a series of pop-up Vietnamese dinners. Last year, Hudgins found herself making a special Vietnamese dinner for a friend's daughter's 16th birthday, which led to another private dinner a few weeks later, followed by cooking classes, and more dinners, until finally she realized that she had a burgeoning business on her hands.
Hudgins officially launched Little Miss Ha this fall. She offers private dining, cooking lessons, catering, and for the holiday season, fully cooked egg rolls to go.
"I was initially thinking I'd be making ten dozen egg rolls every week, but I had to immediately double my capacity and I'm already sold out for the Dec. 6 pickup."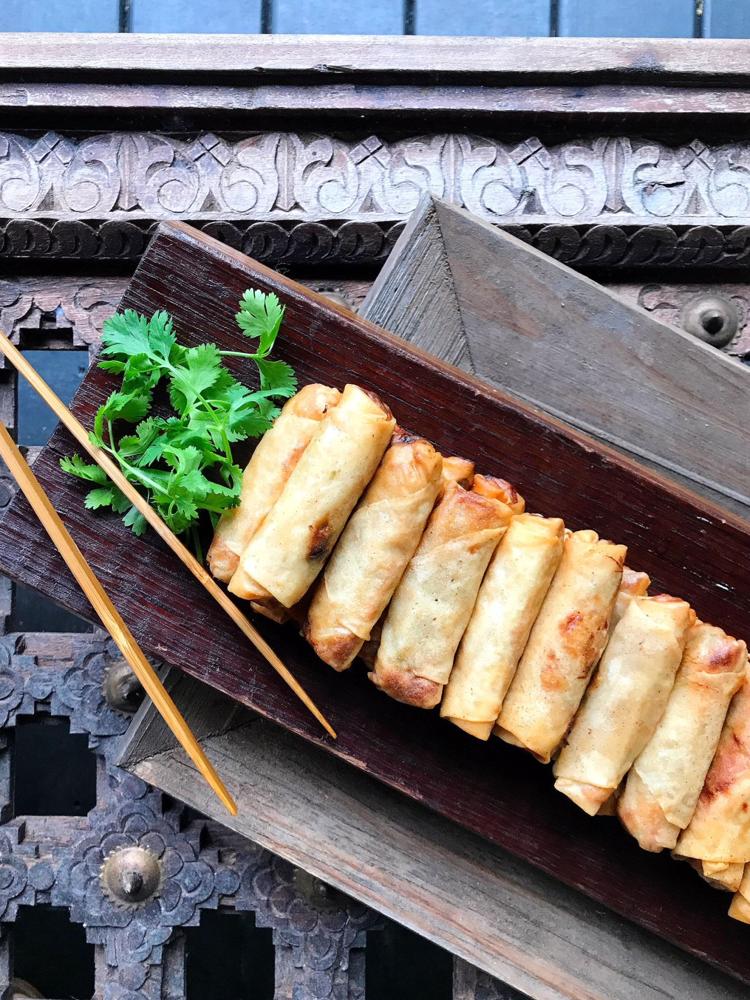 Hudgins got her cooking gene from her mother, nicknamed Miss Ha, who's an instrumental part of the operation, simply because most of the recipes are from her repertoire.
"My family is really big into food," says Hudgins, who grew up surrounded by her large Vietnamese family in Moncks Corner. "We always had Saturday gatherings at our house. The whole entire family would come over, and mom would make the main dish and my aunts would each make a side dish of something that they were known for."
Hudgins became an avid cook in college, but never cooked her mom's food. "It was always so good, so I didn't even bother."
At the Butcher & Bee pop-ups, Hudgins was on spring roll duty, but about three years ago, she decided it was time to learn how to make dishes like pho, glass noodle salad, whole crispy flounder, and Vietnamese beef salad, specialties that appear regularly on her menus alongside her number one fan favorite: Spring rolls with peanut sauce. She's also developing some of her own recipes, including a cauliflower fried rice that has proven more popular than regular fried rice. 
For those wondering when she's going to open a restaurant, don't get your hopes up. The wife of a man who runs several Mellow Mushrooms in Charleston, Hudgins says she has no intentions of opening a brick and mortar. For one, it's hard work, and for another, she likes to stay mobile so that she can focus on quality and use the best ingredients available without worrying about operating costs. 
But if you want a taste of Vietnamese fare, Little Miss Ha is taking egg roll orders on Mondays for Wednesday delivery through December. For more information, follow her on Instagram @little.miss.ha and on Facebook. She can also be reached at Janice@littlemissha.com and (404) 862-5388.