Finding the restaurant market tough to crack, local egg producer Storey Farms is now selling its chicken meat through an online marketplace originally designed to prop up small farmers.
As previously reported by The Post and Courier, Jeremy Storey hung up his waiter uniform in 2014, leaving his job at the Michelin-starred Alinea in Chicago to move to South Carolina and start a chicken farm on some acreage he purchased on Johns Island. 
He dove into the farming profession with only a culinary education and some 4-H skills he developed as a boy. "The most chickens I raised as a kid was around 60," he says. Today, Storey Farms has 3,000 laying hens that produce thousands of eggs a week. He is also raising about 2,000 chickens for meat.
Storey got started just as celebrated local farmers Celeste and George Albers stopped their egg farming, which means he lucked into a ready market for his eggs. He sells to 25 restaurants and says Poogan's Porch is currently his biggest customer. He also sells at the Johns Island farmers market, the Saturday market at the Workshop, The Daily, Mercantile & Mash, Boone Hall and Middle Street Market on Sullivan's Island.  
But the chicken meat market hasn't been as easy. "Keegan-Filion (a farm in Walterboro) has got the restaurant market locked up," says Storey, so he was intrigued when Crowd Cow reached out to him. The Seattle-based company connects consumers directly to ranchers and farmers, providing distribution to customers around the country. 
Crowd Cow started as a way for friends to easily purchase and pay for a share of a pasture-raised cow, which costs a lot of money and requires a lot of freezer space. Instead of individuals having to find a farm and coordinate it themselves, Crowd Cow offers cow shares from participating farms on its website. If a cow "tips," meaning all of its shares are sold, then it is purchased and processed. Since its 2015 launch, Crowd Cow has expanded to include pork and pasture-raised chicken.
The company also went national in 2017, drawing attention and stoking controversy. Grist last year chronicled small-ag advocates' concerns about Crown Cow's practices, including its sale of luxury Japanese beef, which is grain-fed and raised in segregated indoor pens. Following domestic producers' complaints, Crowd Cow removed references to "local" and "sustainable" from its mission statement, Grist reported. 
At Storey Farms, chickens were originally raised using mobile tractors to move them to fresh patches of grass each day, but Storey says that was putting a lot of stress on the chickens. Now his Cornish Rock meat chickens live in a large covered shed with open sides to provide fresh air while being sheltered from the hot sun.
"They get overheated pretty easily," he says. The shed has fans, lights and an automated watering system. 
One end of the shed is open to tall grass and feeders, which allows the birds to move freely from inside to outside where they can give themselves dust baths and eat grass. Storey also stocks the feeders with high-protein feed and alfalfa grass. "Feed is the biggest factor in how they taste," he says. "We spend a lot of money on our chicken feed."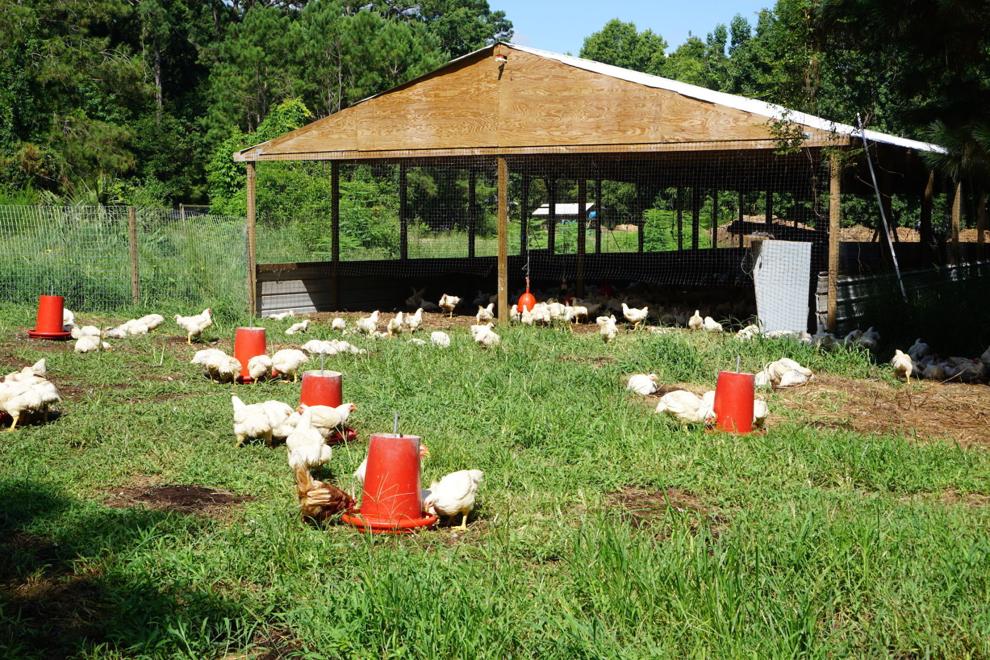 The biggest criticism he gets about his chickens are that they're not tender because they walk around so much. "But I want it to taste like a bird. It's just not what we're used to eating commercially."
When the next batch of chickens is ready to be processed, he'll take them to Williamsburg Packing Co. in Kingstree where they will be slaughtered, processed and then shipped directly to Crowd Cow's warehouse for distribution. 
"We end up getting the same market price," says George Griffin, the farm manager. "And it saves us a lot of labor."
Storey says his family in Indiana has ordered his chicken from Crowd Cow and shared photos of the packaging. He appreciates the company's business model because "it gives everybody access to small-scale production."