Lulls are nearly nonexistent at World Central Kitchen's sandwich prep operation in Ponce, Puerto Rico, but when the pace of work was slowed on Sunday morning by a batch of individually wrapped cheese slices, a volunteer took advantage of the time to ask what the disaster relief organization most needed in terms of donations.
"Unwrapped cheese," one team leader joked, acutely aware that people sheltered in nearby Yauco were awaiting 2,000 ham-and-cheese sandwiches. Plastic-shrouded squares designed for grilled cheese, which have a bad knack for turning melty in volunteers' gloved hands, add an unnecessary step to the assembly process.
It's a process that has been perfected over the course of feeding millions of people in places devastated by hurricanes, wildfires, tsunamis and volcanoes. The nonprofit founded in 2010 by chef Jose Andres became internationally prominent in the aftermath of Hurricane Maria, which World Central Kitchen met with 3.7 million meals.
World Central Kitchen has stuck by Puerto Rico since the 2017 storm, launching a grant program to assist smallholder farmers and bolster the island's food security. But it, last week, reactivated its emergency plan in response to a pair of massive earthquakes that leveled buildings and terrified hurricane survivors.
Across the island, Puerto Ricans said they weren't daunted by power outages, but feared the next aftershock could take out the island's fragile infrastructure.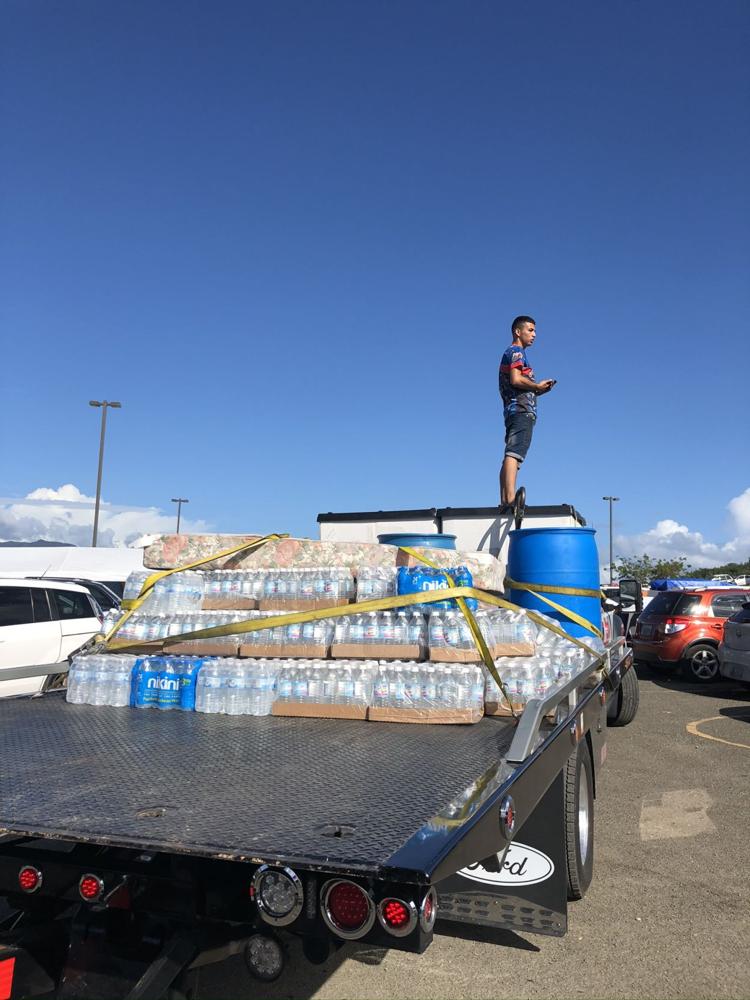 "We just need to hang on to water and communication," said a bartender at acclaimed cocktail bar La Factoria, which managed to open on a cash-only basis hours after Tuesday's 6.4-magnitude quake.
Many Puerto Ricans who for the past few days have avoided going home, whether by driving more hours for Uber or camping out at the Yauco stadium where World Central Kitchen has a distribution station, say it's the uncertainty that scares them most. Even if their homes appear inhabitable, there's no telling yet if the buildings are structurally sound enough to sustain another seismic event.
This weekend, 6,000 people slept outside in official shelters and ad hoc gathering places, according to the Federal Emergency Management Agency.
At Yauco Stadium, the scene is somewhat akin to a flea market or tailgating zone, with companies giving out energy drinks and ice cream treats from branded vans. Families who've carved out space in the parking lot for their folding chairs and coolers are visited by roaming clowns; there's also a face-painting tent for children, and improvised outdoor cafes and barber shops for adults who prefer routine to novelty in times of tremendous stress.
The centerpiece of the World Central Kitchen setup is a collection of enormous paella pans, which have become the group's hallmark. Its goal is to provide people in need with hot and fresh-made food, rather than mere sustenance.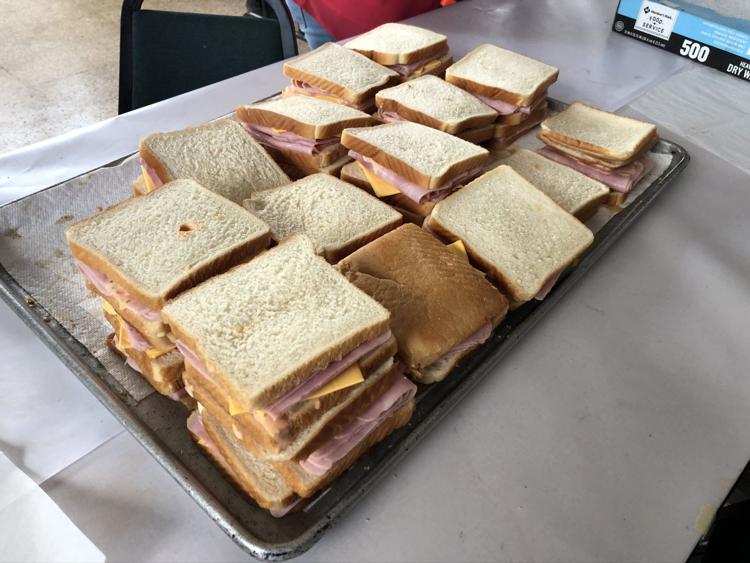 To that end, the sandwiches are a stopgap measure, intended for people whose schedule or location doesn't line up precisely with paella service. The sandwiches made in Ponce were delivered to churches housing people in crisis and kept at Yauco Stadium for those who wanted to take a stack back to where they were camped.
Yet even those sandwiches were lavished with all the cheffy care that World Central Kitchen brings to its hot meals.
Atop each slice of bread, arrayed over tables that stretched nearly the length of the school cafeteria co-opted for the occasion, volunteers were instructed to fan out three slices of ham so they covered the bread completely, crisscross two slices of American cheese in a star pattern and apply an abundant amount of mayo-ketchup, the quintessential Puerto Rican condiment.
There's a utilitarian aspect to that last directive. Because the sandwich might be someone's only meal all day, it's crucial to make it as caloric as possible. But it's also reflective of World Central Kitchen's commitment to honoring local culinary culture; other than during the de-acceleration prompted by single-serving cheese, the only time that sandwich output dropped was when a team member wheeled a coffee cart through the room.
Moreover, the filling and refilling of squeeze bottles with sauce demonstrated that World Central Kitchen prioritizes deliciousness. What the organization really needs isn't unwrapped cheese, the team member continued, but spices.
In Puerto Rico, food without added flavor is unthinkable. World Central Kitchen is making sure its residents who've lost home and schools and confidence in the ground beneath them don't have to surrender small pleasures, too.