Even a year which got off to a rough start can still have a sweet finish.
At least, it can have visions of sugar plums and Christmas cookies laid out for Santa.
Know that the recipes featured here are highly functional, since each treat supplies a taste of a new cookbook suitable for gifting. Because while there's no telling what 2021 will bring, it can't hurt to add dessert.
'The Rise: Black Cooks and the Soul of American Food'
By Marcus Samuelsson with Osayi Endolyn. Recipes with Yewande Komolafe and Tamie Cook, published by Voracious.
As its subtitle suggests, acclaimed cookbook "The Rise: Black Cooks and the Soul of American Food" isn't dominated by dishes associated with Marcus Samuelsson, the celebrity chef featured on its cover. Instead, it features recipes and stories from Black chefs and writers demonstrating the diversity of Black cooking and its architects.
This sophisticated dessert has particular resonance in the Lowcountry, where benne seeds and pineapple are almost municipal symbols. Selim pepper, a Ghanian pepper known for its smoky, musky flavor, can be purchased online.
Pots de Crème with Benne Seed Praline and Roasted Pineapple
The term pot de crème refers to little jars or pots of cream. Traditionally, the French dessert features custardy chocolate with a helping of cream on top. Here we use crunchy praline sprinkled over the dense custard. Benne seeds have a nutty taste and deep West African lineage and are derived from the same plant as sesame seeds but have a stronger flavor.
Ingredients
Pots de crème
1 cup heavy cream
1 cup whole milk
½ teaspoon vanilla extract
½ teaspoon kosher salt
3 large egg yolks
1/3 cup packed brown sugar
2 tablespoons raw benne seeds (or sesame seeds)
Benne seed praline
½ cup packed brown sugar
¼ cup water
½ cup raw benne seeds (or sesame seeds)
1 tablespoon unsalted butter, plus extra for pan if needed
1 teaspoon kosher salt
½ teaspoon baking soda
Roasted pineapple
1½ cups fresh pineapple cut into ½-inch pieces
1 tablespoon brown sugar
2 teaspoons canola oil
2 Selim peppers, crushed in mortar and pestle or with the back of a knife (or 4 green peppercorns)
Pinch kosher salt
Directions
Pots de crème
Preheat the oven to 325 degrees Fahrenheit. Add ½ inch of hot water to a 9- by 13-inch cake pan and place in the oven as it preheats.
Heat the cream, milk, vanilla and salt in a small saucepan set over medium heat and bring to a bare simmer.
Place the yolks and brown sugar in a medium heat-proof bowl and whisk to combine. Gradually, while whisking continually, add the warm milk mixture until incorporated.
Pour the mixture through a fine mesh strainer into a small bowl and add the benne seeds. Stir to combine. Divide the mixture evenly among four 6-ounce ramekins. Carefully set the ramekins into the pan of water and bake for 35 to 40 minutes, until set around the edges, but still slightly wobbly in the middle.
Remove from the oven and transfer the ramekins to a wire rack to cool slightly. Refrigerate until completely chilled, about 3 hours.
Serve each pot de crème topped with roasted pineapple and brittle crumbled on top.
Benne seed praline
Line a baking sheet with a nonstick silicone liner or butter well. Set aside.
Combine the brown sugar and water in a small saucepan. Set over high heat and stir just until the sugar dissolves. Then stop stirring and begin swirling the pan. Continue to swirl and cook until the mixture takes on a deep amber color and reaches 300 degrees Fahrenheit
Remove from the heat and using a heatproof spatula or wooden spoon, stir in the benne seeds, butter, salt and baking soda. Once the butter has melted, working quickly, pour the mixture onto the prepared baking sheet and spread into a thin layer. Allow to cool completely.
Once cool, break the brittle into small pieces and chop into a coarse crumble to use on top of the pots de crème. Any unused brittle may be stored at room temperature in an airtight container for up to 3 days.
Roasted pineapple
Preheat the oven to 375 degrees Fahrenheit.
Place the pineapple, brown sugar, canola oil, crushed Selim peppers and salt in a small mixing bowl and toss to combine. Transfer to a small baking sheet or metal pan and spread evenly. Roast in the oven for 20 to 25 minutes, until the pineapple is slightly brown, tossing occasionally.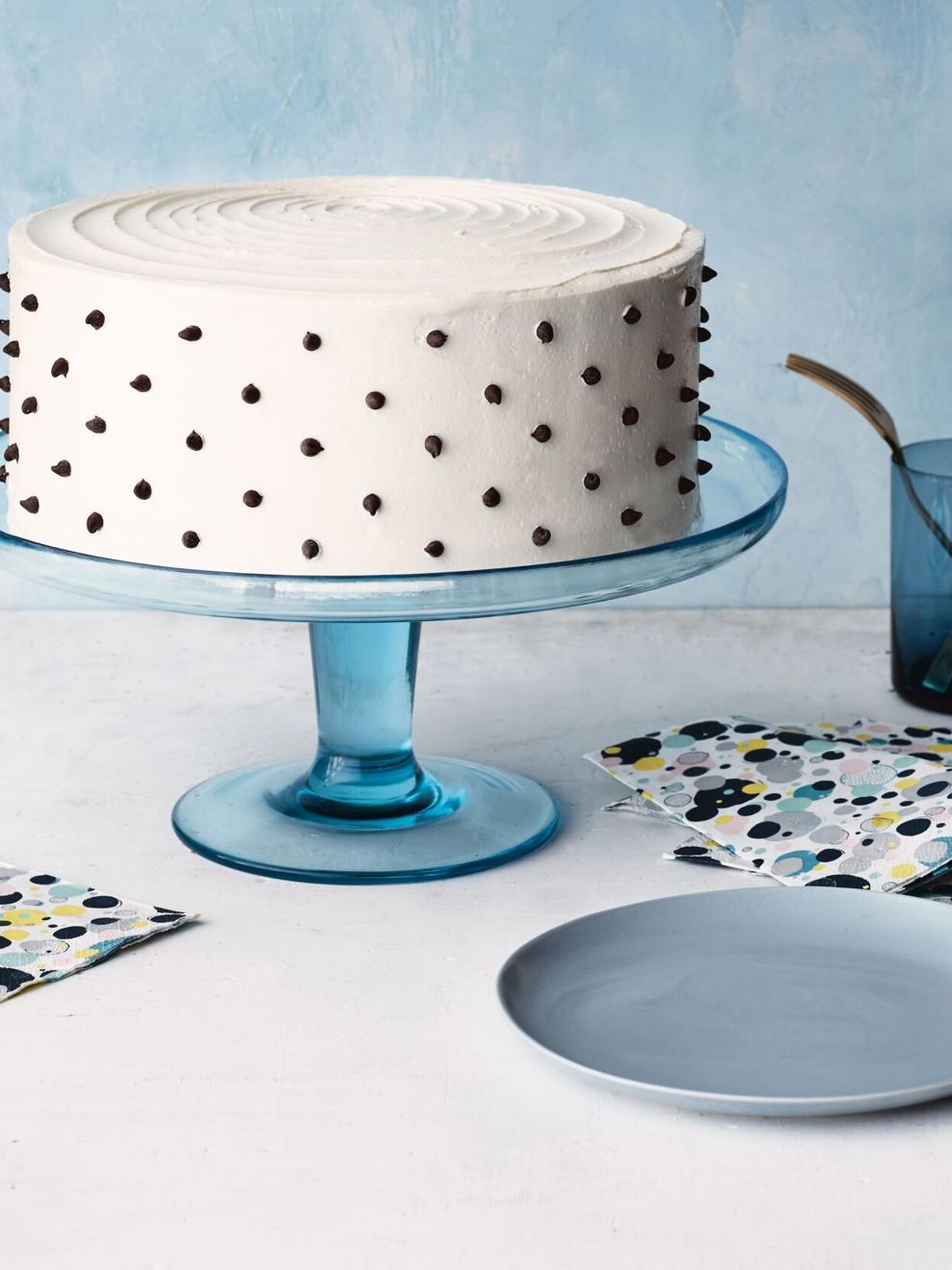 'Cake Perfection'
By Martha Stewart, published by Clarkson Potter, an imprint of the Crown Publishing/ Random House.
Recommended for "serious home bakers" by Publishers Weekly, Martha Stewart's "Cake Perfection" features more than 100 cake recipes, as well as recipes for frostings, fillings and curds. But pastry rookies will appreciate the selection of "weeknight cakes" and cupcakes.
Milk-and-Cookies Cake
This is what happens when your favorite childhood dessert grows up. We created this elegant cake with milk and cookies in mind: The batter is brown sugar–tinged, for a cookie dough-like flavor, and flecked with miniature chocolate chips, plus toffee for a caramel crunch. And the milk? A luscious crème anglaise buttercream.
Ingredients
Cake
2 sticks (1 cup) unsalted butter, room temperature, plus more for pans
3 cups cake flour (not self-rising), plus more for pans
1 tablespoon baking powder
½ teaspoon kosher salt
1 cup packed dark brown sugar
2/3 cup granulated sugar
4 large eggs plus 2 large egg yolks
1 tablespoon vanilla extract
1½ cups buttermilk
1½ cups mini chocolate chips, plus more for decorating
Walnut toffee crunch
6 tablespoons unsalted butter
½ cup plus 2 tablespoons granulated sugar
1 cup walnut halves, toasted
½ teaspoon kosher salt
Crème anglaise buttercream
10 large egg whites
2¼ cups granulated sugar
8 sticks (4 cups) unsalted butter, room temperature
1 tablespoon vanilla extract
¼ cup nonfat dry milk powder
Directions
Cake
Preheat oven to 350 degrees Fahrenheit.
Brush two 9-inch round cake pans with butter. Line with parchment; butter parchment. Dust with flour, tapping out any excess.
In a large bowl, whisk together cake flour, baking powder and salt. With an electric mixer, beat butter and both sugars on high speed until light and fluffy, about 6 minutes. Add whole eggs and egg yolks, one at a time, beating well after each addition until combined. Beat in vanilla extract.
With mixer on low, add flour mixture to butter mixture in three batches, alternating with buttermilk, beginning and ending with flour, and scraping down sides of bowl as needed. Stir in mini chocolate chips.
Divide batter evenly between prepared pans, smoothing tops with an offset spatula. Bake until cake tester comes out clean, about 35 minutes. Transfer pans to a wire rack to cool 10 minutes. Turn out cakes onto rack to cool completely.
Walnut toffee crunch
In a medium saucepan, heat butter and granulated sugar over high, stirring, until butter is melted. Continue to cook, stirring occasionally, until mixture is dark amber, 8 to 10 minutes more.
Add toasted walnuts and salt; stir to combine; transfer immediately to a baking sheet lined with a nonstick baking mat to set. Once cooled, roughly chop.
Buttercream
In bowl set over, but not in, a saucepan of simmering water, whisk together egg whites and granulated sugar. Cook, whisking occasionally, until mixture is completely smooth when rubbed between two fingers, 3 to 5 minutes. Remove bowl from heat.
With an electric mixer, whisk on low speed for 1 minute; then increase speed to medium-high and beat until stiff, glossy peaks form, 7 to 10 minutes. Reduce speed to medium-low and add butter, a few pieces at a time, until all is incorporated. Add vanilla, and then nonfat milk powder, and whisk to combine. Switch to the paddle attachment and beat on low speed about 2 minutes to remove any air bubbles.
To assemble:
With a serrated knife, split each cake in half horizontally to form a total of 4 layers. Anchor bottom layer on a cake board with a dab of buttercream. Spread a generous 1 cup buttercream evenly over cake layer, then top with one-third of walnut toffee crunch. Top with second cake layer, pressing down lightly to adhere. Repeat process, finishing with final cake layer bottom-side up.
Spread a thin, even layer of buttercream over top and sides to create a crumb coat. Refrigerate about 30 minutes. Spread remaining frosting evenly over top and sides, finishing top with a decorative swirl, if desired. Using remaining mini chocolate chips, create a Swiss dot pattern around sides of cake. Refrigerate until firm, about 30 minutes. Bring to room temperature before serving.
To decorate:
To create a Swiss dot pattern around the sides of the cake, apply a total of five rows of mini chocolate chips. Begin with a row in the center of the cake, applying each chocolate chip approximately 1½ inches apart. Repeat a row, 1½ inches above and below the initial one. Apply the final two rows in between the top and center rows, and then between the center and bottom rows. Offset the placement of the first chip by approximately ¾ inch, centering it between two chips in the above row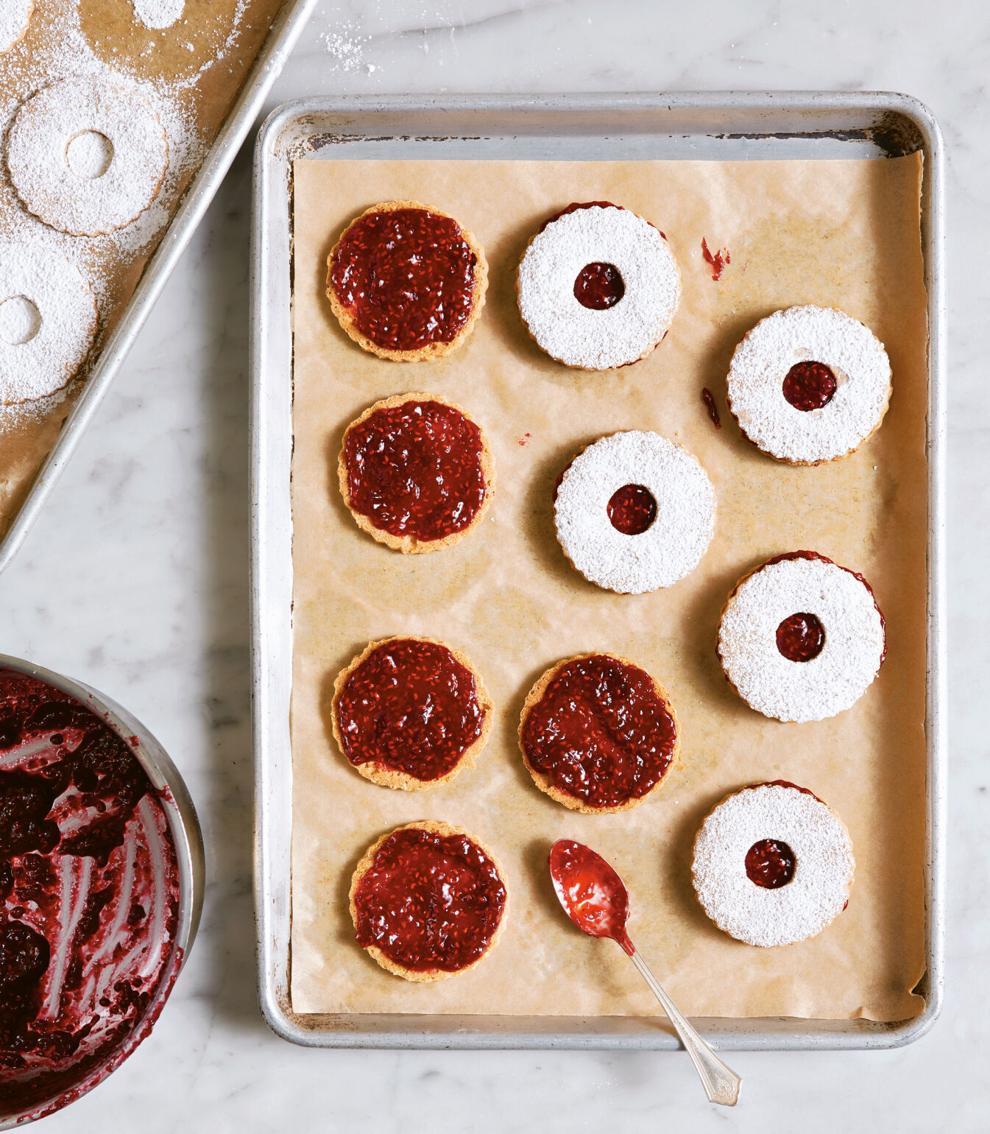 'Baking at the 20th Century Café'
By Michelle Polzine, published by Artisan Books.
The following colorful cookies are featured in pastry chef Michelle Polzine's new cookbook "Baking at the 20th Century Café," a collection rich in what Polzine refers to as "high-stakes baking" for 10-layer cakes and other baroque confections that would have been at home in the Austro-Hungarian Empire.
Linzer Augen
These peekaboo sandwich cookies hail from the Austrian city of Linz. The dough is structurally similar to that of the Linzer Torte, with the addition of hazelnuts to complement the raspberry jam filling. The hard-­boiled egg yolks in the dough keep the butter-­rich cookies from spreading like mad when you bake them.
Ingredients
¾ cup hazelnuts, lightly toasted and cooled
1 cup plus 3 tablespoons all-­purpose flour
½ teaspoon ground cinnamon
2 large eggs, hard-­boiled, whites and yolks separated
10 tablespoons unsalted butter, at room temperature
½ cup granulated sugar
Scant ½ teaspoon kosher salt
Grated zest of 1 lemon
Confectioners' sugar for dusting
¾ cup raspberry jam, homemade or store-­bought
Directions
In the bowl of a food processor, process the hazelnuts until coarsely chopped. Add the flour and cinnamon and continue processing until the nuts are very finely ground; you should have a speckly-­looking flour.
Press the egg yolks through a fine-­mesh sieve into a small bowl. Save the whites for a cook's snack or discard.
In the bowl of a stand mixer fitted with the paddle attachment (or in a large bowl, using a handheld mixer), cream the butter, sugar, salt, lemon zest and sieved egg on high speed until fluffy. Turn off the mixer and add half of the dry ingredients, pulsing the mixer off and on to incorporate. Add the remaining dry ingredients and pulse until they are completely incorporated and the dough is homogeneous.
Transfer the dough to a sheet of parchment, cover with a second sheet of parchment, and roll to a ¼-­inch thickness, being careful not to roll folds of parchment into the dough. Refrigerate the dough until firm.
Preheat the oven to 325 degrees Fahrenheit. Line two sheet pans with parchment or silicone baking mats.
Peel off the top sheet of parchment and, with a 2-­inch round cutter, plain or fluted, stamp out circles of dough; leave them on the parchment. With a ½-­inch round cutter, cut bullseyes out of half of the rounds. Gather up the scraps, reroll and repeat the process once more.
Transfer the cookies to the prepared pans, leaving about 1 inch between them, and bake until golden brown, 10 to 12 minutes. Transfer to a cooling rack and let cool. Once completely cool, generously dust the bullseye cookies with a blanket of confectioners' sugar.
When the cookies are completely cool, turn the whole cookies upside down and spread each with a generous ¾ teaspoon jam. Top with the sugar-dusted bullseye cookies to form sandwiches. The unfilled cookies will keep in an airtight container for up to 2 days, but don't sandwich them with jam until shortly before you plan to eat them or they'll get soggy.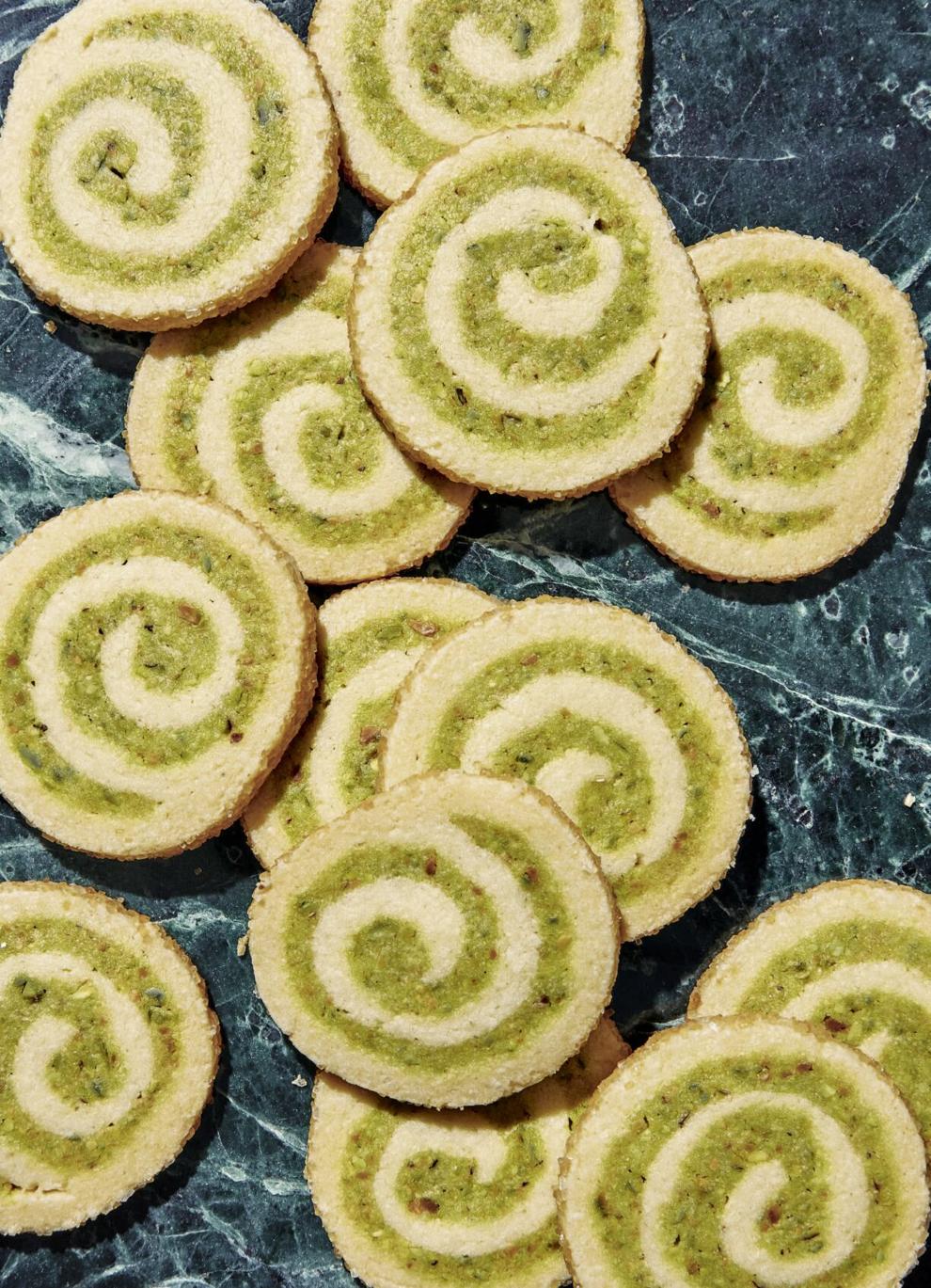 'Dessert Person'
By Claire Saffitz, published by Clarkson Potter/Publishers, an imprint of Random House, a division of Penguin Random House.
Each chapter in You Tube star Claire Saffitz's book is devoted to a fundamental baking category, such as loaf cakes; yeasted bread or layer cakes.
Pistachio Pinwheels
Ingredients
2/3 cup shelled pistachios
12 tablespoons unsalted butter, cut into ½-inch pieces, at room temperature
¾ cup plus 2 tablespoons powdered sugar
2 large egg yolks
½ teaspoon almond extract
1 cup all-purpose flour
½ teaspoon kosher salt
1 ⅓ cups almond flour
½ cup demerara sugar, for rolling
Directions
In a food processor, pulse the pistachios until they're very finely ground but not yet forming a paste, about 25 pulses. Transfer the ground pistachios to a small bowl and set aside.
To the same food processor (no need to wash after grinding the pistachios) add the butter and powdered sugar and process until the mixture is smooth and creamy. Add the yolks and almond extract and process until the mixture is smooth and light. Add the flour and salt and pulse, scraping down the sides of the bowl once or twice, until you have a stiff, uniform dough.
Transfer two-thirds of the dough to a medium bowl and add the almond flour to the bowl. Use a flexible spatula to work the almond flour into the dough until you have a uniform mixture.
Work the almond dough into a slab: Scrape the almond dough onto a piece of parchment paper. Pat it down with your hands into a thinner layer, then place a piece of parchment paper on top. Roll out the dough between the sheets of parchment into a slab measuring about 12 × 8 inches and ¼ inch thick (uncover the dough and use a small offset spatula to shape the dough into a rectangle if necessary). Slide the parchment paper onto a baking sheet and refrigerate the slab until firm, 10 to 15 minutes.
Meanwhile, add the ground pistachios to the food processor with the remaining dough and pulse until the mixture is thoroughly blended and the dough has taken on a green color, about 7 pulses. Set aside at room temperature until the almond dough is firm.
Remove the almond dough from the refrigerator and plop tablespoon-sized pieces of the pistachio dough across the surface of the slab. Use the offset spatula to spread the pistachio dough across the length of the slab in an even layer, leaving a ½-inch border along the longer sides. Starting at one of the longer sides and using the parchment paper to help you, roll the dough into a tight spiraled log. Wrap the log in parchment paper and transfer to the refrigerator. Chill until the dough is very firm, at least 1 hour.
Meanwhile, arrange two oven racks in the upper and lower thirds of the oven and preheat to 350 degrees Fahrenheit. Line two large rimmed baking sheets with parchment paper and set aside.
Sprinkle the demerara sugar across a cutting board. Remove the log from the refrigerator, unwrap and roll across the board in the sugar, pressing down very firmly as you roll so the sugar adheres. Continue to roll and press until the entire log is coated.
Using a sharp knife, shave a thin crosswise slice off each end so you have straight sides with the full spiral exposed. Cut the log in half crosswise, then cut each half in half again to make quarters, and then cut each quarter in half again for eighths. As you cut, rotate the pieces on the cutting board to prevent the pinwheels from gaining a flat side and losing their round shape. Cut each piece into four equal slices to make 32 cookies.
Arrange the cookies flat, dividing them between the two prepared baking sheets and spacing evenly. Bake the cookies on the upper and lower racks until they are golden around the edges, 15 to 20 minutes, switching racks and rotating the sheets front to back halfway through baking. Remove from the oven and let cool completely on the baking sheets.
Stored airtight at room temperature, the pinwheels will keep up to 5 days or can be frozen up to 2 months. The log of dough, well wrapped and unsliced, can be refrigerated up to 2 days and frozen up to 2 months. Thaw 24 hours in the refrigerator before slicing and baking.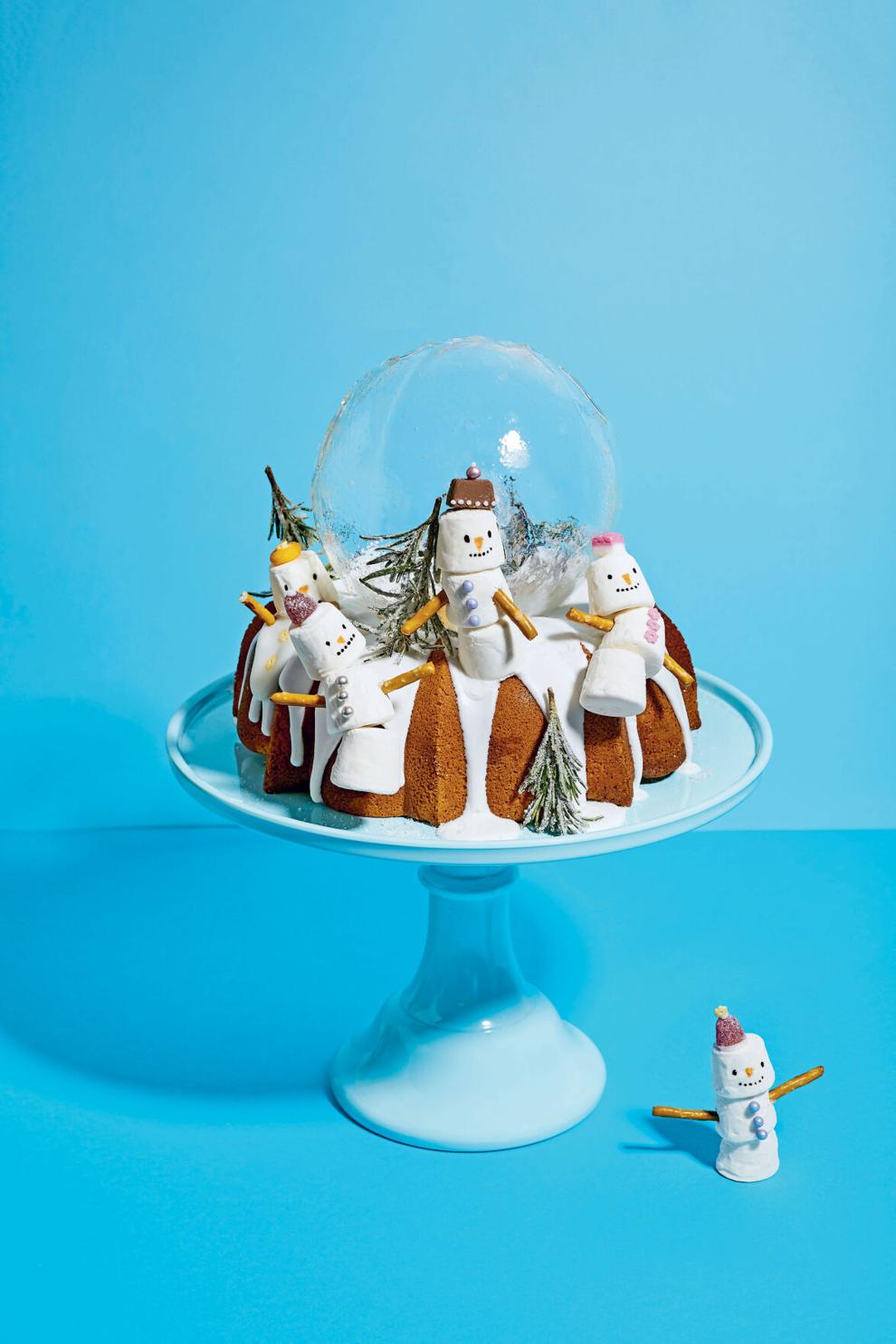 'Christmas with Kim-Joy'
By Kim-Joy, published by Quadrille.
There is some complicated sugar sorcery in this cake from "Christmas with Kim-Joy: A Festive Collection of Edible Cuteness," authored by a "Great British Baking Show" fan favorite, but the underlying concept is charmingly simple: What's sweeter than marshmallow snowmen atop a glazed cake?
Lemon & Cinnamon Swirl Bundt Cake
The key to a light cake is to cream the butter and sugar together until it's almost white in colour and very fluffy. You can't overwhisk, so keep going until it's taken to its limit. A stand mixer really helps, though you can use a handheld electric whisk (although you may get bored of waiting!)
As a bonus, the icing decoration on this bundt is easy to achieve and the snowmen are fun to create. If you're feeling confident with sugarwork, then try the sugar "glass" dome, too, as this transforms the cake into something extra magical.
Ingredients
Cake
1 ½ cups caster or granulated sugar
1 cup plus 2 tablespoons unsalted butter, softened, plus extra for greasing
1 teaspoon salt
6 medium eggs
2 ⅔ cups all-purpose flour (to make gluten free, substitute with gluten-free flour plus 1 teaspoon xanthan gum)
Grated zest of 3 lemons
1 ½ teaspoons baking powder (to make gluten free, use gluten-free baking powder)
¾ cup plus 2 tablespoons sour cream
Cinnamon swirl
¼ cup light brown muscovado sugar
1 tablespoon ground cinnamon
1 teaspoon ground ginger
¼ teaspoon ground nutmeg
Rosemary trees
Rosemary sprigs
1 egg white
Granulated sugar
Sugar glass balloon
1 balloon
¾ cup caster or granulated sugar
⅓ cup plus 1 tablespoon liquid glucose
2 tablespoons water
Lemon drizzle
1 2/3 cups confectioners' sugar
2–4 tablespoons lemon juice
White food dye
Decorative elements
White marshmallows
Sprinkles
Edible black ink pen
Orange fondant or orange
Candy melts
Hard pretzels, chocolate coated cookie sticks or similar
Directions
Preheat the oven to 325 degrees Fahrenheit and generously grease a bundt tin with butter.
Cream the sugar, butter and salt together in a stand mixer fitted with a balloon whisk attachment on high speed until fluffy and light in color. You can use a handheld electric whisk but it will take longer.
Add the eggs, one at a time, whisking for a good minute or so after each addition.
Add the flour (or gluten-free flour plus xanthan gum), lemon zest and baking powder and whisk until just combined. Don't overwhisk.
Add the sour cream and stir until just combined (again avoid overwhisking).
Transfer 10 ounces of the cake batter to a separate bowl, then add all the ingredients for the cinnamon swirl to this bowl and stir until just combined.
Layer the cake batter in the prepared bundt tin, alternating between spoonfuls of lemon batter and cinnamon swirl. Once all the batter is in the tin, use a chopstick (or similar) to swirl the batter a little. Bake for 50 to 60 minutes until a skewer inserted into the cake comes out clean.
While the cake is baking, prepare the rosemary trees. Dip the rosemary sprigs in the egg white, then roll in the granulated sugar until coated. Leave to dry on baking paper.
Next, make the sugar glass balloon. Fill a balloon with cold water from the tap, then knot the top.
Place the balloon, knot side down, in a bowl (smaller than the balloon so that sugar doesn't drip and attach to the bowl). Make sure to have some baking paper underneath the bowl to stop sugar sticking to your work surface.
Add the caster sugar, liquid glucose and water to a small pan and stir to combine. Heat over a high heat, but don't stir at all until the mixture reaches 300 degrees Fahrenheit. At this point, remove the pan from the heat and leave to cool to 226-271 degrees Fahrenheit. It will cool quite quickly, so keep an eye on it).
Immediately pour the sugar mixture over the balloon in a circular motion, then leave for about 10 to 15 minutes until set. Lift the balloon off the bowl and hold over the sink. Use scissors to cut a small hole at the base, letting the water drain out (try to avoid the water touching the sugar). You will then be able to gently pull the balloon away from the sugar glass. Set aside for now on some baking paper.
When the bundt cake has finished baking, leave it to cool in its tin for 10 minutes, then turn out onto a wire rack. It should slide out easily; though if not give it a couple of firm taps.
When the bundt is completely cool, make the lemon drizzle by whisking the icing sugar and lemon juice together in a bowl. Add a little white food dye. This will make the icing bright white and opaque, which will look much more effective on the cake.
Spoon the icing over the bundt cake, creating drips like the top of a mountain, then top with the sugar glass bowl and place the rosemary trees behind it. Arrange white marshmallows in the icing to look like snowmen. Use sprinkles, edible ink pen, orange fondant/candy melts and cookies to decorate the snowmen. Leave to cool.