On Feb. 10, 2009, Wild Olive opened on Maybank Highway.
Unlike its younger sister restaurant, The Obstinate Daughter, which is already plotting an array of promotions for its upcoming fifth anniversary, Wild Olive this weekend marked its tenth by serving a standard menu, demonstrating the consistency and low-key commitment to excellence, which has endeared the Italian restaurant to diners on Johns Island and beyond.
But five employees who have been with the restaurant from the very start recently sat down for separate interviews to reflect on the restaurant's success. It wasn't a foregone conclusion, they agree: Wild Olive opened in the thick of a recession, in an area not yet associated with upscale dining.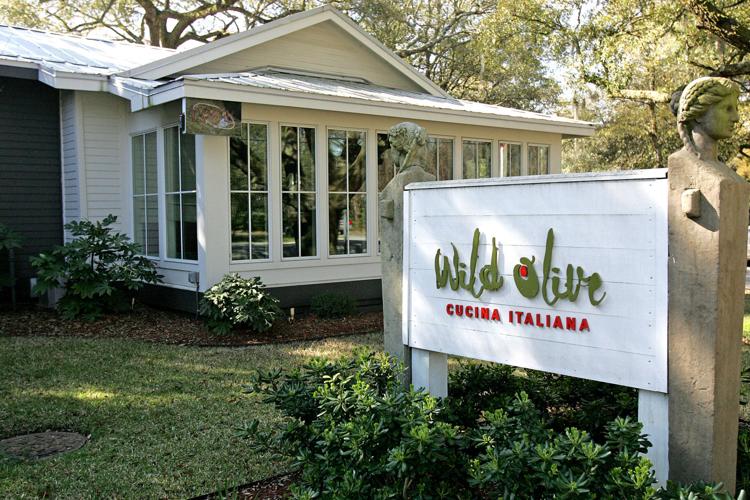 The first night
Chris Hills is Wild Olive's bar manager: You know how those openings are. We were overstaffed, of course. It was chaotic, but more just because you don't know where everything is. I've worked over 2,500 shifts here now, so you just turn around and you know.
Brad Gozis is Wild Olive's chef de cuisine: It was crazy, because at the time, Fred Neuville (of The Fat Hen) owned it. And you know, he likes to yell and scream and not necessarily throw things, but the first day we opened, he was just down my throat.
I was on the pasta station, the busiest station in the restaurant and he's yelling at me, screaming, "You're touching every mussel! Just dump it in there!" And it's like OK, yes chef, yes chef. Nobody thought I was going to come back the second day. Everyone was shocked and surprised to see me. The second night went much better.
Jason Parrish is Wild Olive's general manager: It was rough. I hate to use this one example, but our very first special, I'll never forget, it was a whole fish served over a meat ragu and right then, I thought we might be in trouble. I'd worked for two Italians in Long Island for about 10 years, so I could see it. We weren't cooking Italian food.
Jacques Larson is Wild Olive's executive chef: It wasn't that the food was bad, it was just there wasn't even any pork on the menu. I mean, I'm not talking like a pork chop. Whether it's a mortadella, a pancetta, give me anything! Maybe a little prosciutto? That's why Fred brought me in. He knew me at Union Hall (Larson opened Union Hall in 2002; he left three years later to cook in New York City and northern Italy, returning in 2007 to open Mercato), and it just kind of fit.
Within months of opening, Jacques Larson was promoted to executive chef.
Parrish: Jacques started off as an AM prep cook, making the mozzarella, making the sauces. That's all he did for a while, and then Fred made a really wise decision to give him a shot.
Larson: Fred said he'd love for me to come in and mentor, and I said I was doing this consulting gig, but he offered me just an hourly position. I was like OK, I'll work Monday-Friday, banker's hours. It was great. But I was really considering trying to move back to either Iowa City or Minneapolis, Madison or something.
Then the week before I went on a trip (to the Midwest), Fred said, "When you come back, I want you to take this place over." I knew I had to take the job, because I needed the work, but I have never been so unenthused about a job in my life. I kind of felt like I was being ostracized: Pushed out to the boonies.
Hills: Jacques is the complete opposite of Fred, but in such a great way that it kind of turned us into what we were. You have this militaristic Fred on the line: "No whistling! What do you need? Don't chitchat with me," and then Jacques is kind of like, "C'mon guys. Let's pull this off." That made me stay around.
Parrish: We went from doing dishes that had 20 ingredients to pasta e oilo. He made bucatini pasta with perfectly toasted garlic and a little cheese and parsley, and that was our special. And the servers were like, "That's it? It's just pasta with garlic and cheese." And you take one bite of that and you're like: This is what we were missing here. This is what Italian food is all about.
Larson: I wasn't sure what kind of audience we'd have out here, but I remember the first time we ran octopus as a special, we sold over 30 orders that night. And I was like: You know what? We might have something.
Marco Ceritano is a server at Wild Olive: I didn't do any home cooking when I came here. But now, I'll try a dish here and go home and re-create it. Like, we have a milk-braised pork. The first time I heard that, I thought it sounded kind of strange, but it's one of those things that end up being great.
Grozis: Everybody here, we take food very seriously. That's the bottom line. People that just want a job get weeded out pretty quickly.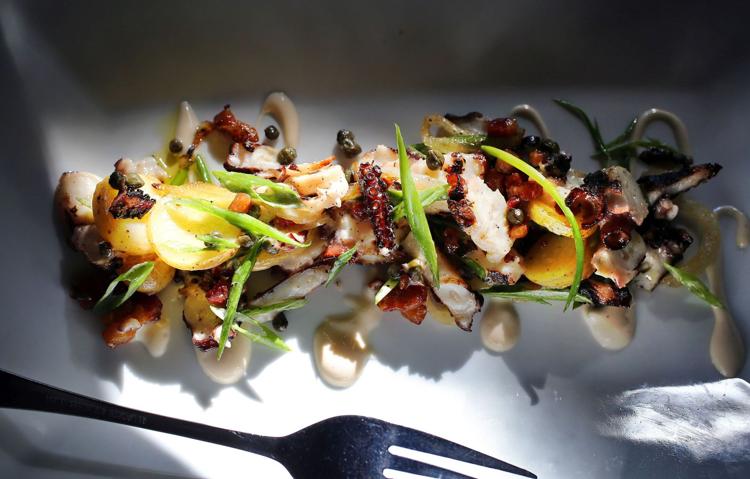 In 2010, Neuville and Doug Godley dissolved their partnership, putting Wild Olive under the Frankie's Fun Park umbrella.
Larson: I tell Doug he makes my job easier in the fact that we have such a great benefits program. We have paid vacation time for servers, where they average out your tips for the last six months. Doug matches up to 6 percent dollar-for-dollar on 401(k)s. Me closing in on 50, we have young cooks, and I'm like, "You don't know how lucky you are."
Grozis: Doug's just the kind of guy who knows how to surround himself with the right people. I would almost say he could look into your soul. He knows if you're going to work out or not. That's why he interviews every employee before they get hired: The dishwashers, the line cooks, you name it.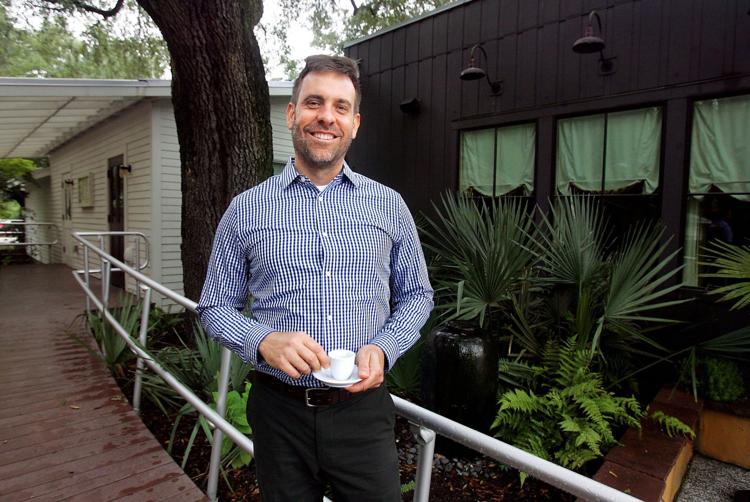 Prior to meeting with Godley, prospective employees are vetted intensely by Parrish.
Hills: Jason is one of the best hiring managers in town. Every position that is filled here probably takes 40 or 50 interviews. He'll say, "Great person, not the right fit for us." We want people who are excited to be here. Call us lifers, but he doesn't want somebody that's got something else going on.
Parrish: The only thing I really look for is a great attitude -- a warm smile, a genuine handshake and great eye contact. I've hired people that had zero experience, but I just like them, and I assume if I like this person, other people will like them, as well.
I hired someone who was a stonemason. We connected in our little 30-minute interview; we talked about books we like, and we mentioned Ken Follett. The guy actually brought me one of his books the next day, and I was like, "This guy's hired."
He was not good. He was not a good host, he was not a good server assistant. But the customers loved him, and after a year, something clicked, and he became the best server we ever had.
While Wild Olive is hugely popular with people who summer at Seabrook or Kiawah, employees say year-round regulars are the lifeblood of their business.
Hills: The regulars have been the driving force for this place. We've got these great locals, and every time they come in, it's like, "Hey Chris, how old are the kids now?" and I'm like, "I saw you two days ago!"
Parrish: People don't say "Let's go to the bar at Wild Olive." They'd never say that. They say, "Let's go see Chris." He's kind of made himself recession-proof. There is no season for Chris. He always has 10 barstools full, every single night.
Hills: We take good notes on people and pass those around the restaurant, so not one server, but all the servers benefit from information about customers. We almost overly try to achieve that, knowing we're a neighborhood place. If people repetitively do the same thing, we can comfortably say, "Hey, would you enjoy a vodka tonic to start tonight?"
Grozis: I actually brought my sister-in-law in here the other day for her 50th birthday celebration, and I hadn't really eaten here for probably five years. And I had to pull everybody aside, because I was blown away by the service. You know, I eat everything back there, but when you sit down and eat it in a restaurant, it's so different. I mean, I knew my food was good, but seeing the other side just made me so proud.
Hill is the lone Wild Olive employee to have married a co-worker, but employees credit their longstanding camaraderie with creating an upbeat atmosphere.
Hills: I feel like the culture in this building is of such a positive nature that if you start to be negative, everybody kind of jumps on you to make sure you get what you need. Nobody bails on anybody here.
Ceritano: We've joked about writing a book, about just how one building can change a group of people.
Hills: Most New Year's Eves are pretty special. We don't do set menu dinners; we don't rent the building out. We just want everyone to come in and sit down and have a meal.
So New Year's Eve is great because the fireworks place right next door lets off an arsenal at midnight, so we're usually able to finish up service; maybe there are a couple of friendly regulars who have lingered well past the kitchen closing. And we all sit along the rail there and have a glass of Champagne and watch the fireworks.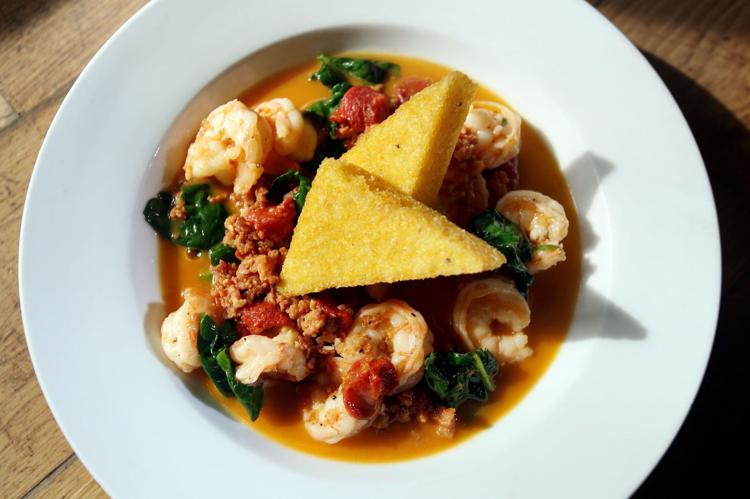 When the restaurant opened, none of its employees counted on being there a decade later.
Larson: This is definitely the longest I've been in one place.
Hills: We're so lucky. I'm so grateful that people come in every day. We talk about it. This could stop at any moment. This could stop at any moment. Stay focused.
Parrish: For a restaurant to make it this long, it's monumental. My goal was 50 years. There are restaurants you see, especially in New York, that are institutions: Pizzeria Di Fara in Brooklyn is such a perfect example. You've had one guy making pizza in Brooklyn by himself for going on 60 years.
I would love for Wild Olive to be that. It would be thrilling to have created the kind of institution that has paid people's mortgages and paid kids' tuitions and given people retirement funds, and all of these things that can happen from great food and great service. I can't imagine doing anything else.