Gluten intolerance and nut allergies do not easily rattle Katy Keefe. The pastry chef is used to changing desserts on McCrady's tasting menu to accommodate dietary restrictions.
One recent request, though, caused her pause. 
Two days before a couple's early April dinner reservation, a man called the restaurant saying he had something to add about his wife's dinner. She had given up desserts for Lent, a six-week period of spiritual preparation leading to Easter.
"So under allergies, it just said desserts," Keefe said. "There were four dessert courses. And there was sugar in everything."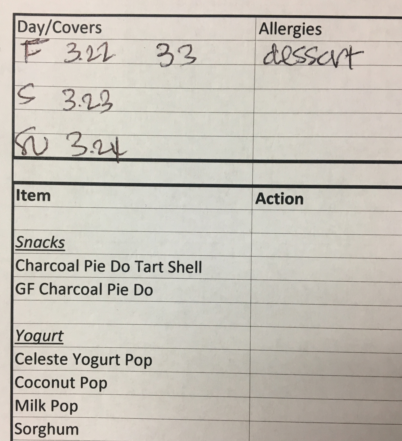 So Keefe knew she'd have to get creative. She posted a photo of the reservation note on Instagram and added a scared ghost emoji to show how puzzled she felt.
"A lot of people responded," she said. "I think they just found it interesting. I don't think a lot of people think about how these restrictions affect chefs."
Both chocolate and sweets ranked in the top 10 of what people gave up for Lent in 2018, according to the Twitter Lent Tracker.
During Lent, which ends Thursday, Keefe said she has noticed other patrons make last-minute requests to swap ingredients, but, "for the most part, we don't change what we do."
"Guests tend to drive themselves," she said. "They might ask to switch something out or just not eat part of it." 
Another area pastry chef, Scott Lovorn of Circa 1886, said Lenten sacrifices such as chocolate "slow down our turnover of product a little."
"We definitely let off of the gas a little," he said. "But it is a short-lived blip."
Of the options on Circa 1886's regular dessert menu, two incorporate chocolate. One is a flight of four chocolate desserts.
"Those who do abstain from desserts in general seem to migrate toward (a) fruit, cheese and nuts-type situation," Lovorn said.
Alison Cates, a pastry chef who last month joined Butcher & Bee and The Daily, said she never noticed Lent affecting dessert sales during her 10 years working in kitchens in Chicago. Still, Cates said she'd like to do a specialty dessert next year for those observing Lent. 
"I don't think it's a bad idea to cater to that crowd moving forward," she said.
Keefe said the McCrady's diner who gave up desserts was "ecstatic" about the fruit-based treats prepared for her. 
"That matters to us," she said. "We don't want people to worry when they're here. We want them to walk in and relax and just be."