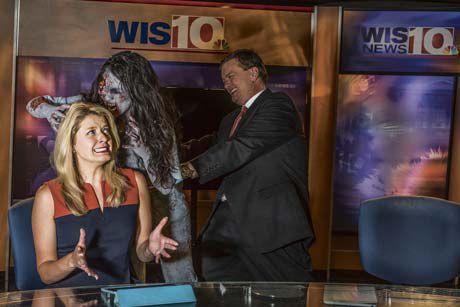 Best Local TV News
WIS (NBC)
Runner-up: WLTX (CBS)
Newsrooms — yes, even TV newsrooms — have gotten smaller in recent years. And yet the public's demand for news and content continues to grow. Year after year, WIS continues to fill that demand. The station's reporters and camera crews are seemingly omnipresent in the Capital City, covering everything from council meetings to murder.
Best Anchorperson
Ben Hoover — WOLO
Runner-up: Dawndy Mercer Plank — WIS
In a category that WIS tends to sweep year after year, it's significant that Ben Hoover — who used to work for WIS, but now works for the ABC affiliate — earned the top slot here. He's a charming, steady presence in front of the camera, and Midlands viewers like that.
Best Weatherperson
Ben Tanner — WIS
Runner-up: Jim Gandy — WLTX
Sure, Ben Tanner has been with WIS for 18 years, and is a trusted source of weather info in Columbia. And sure, he holds the American Meteorological Society Seal of Approval and National Weather Association Seal of Approval. And yes, his meteorological knowledge was invaluable during last October's flood. But what really helps Tanner stand out, to us, is his agile, graceful work in front of the weather map. He's the Fred Astaire of the Green Screen.
Best Sportscaster
Rick Henry — WIS
Runner-up: Reggie Anderson — WLTX
Let's be honest: Rick Henry is sports in the Midlands. He's been at WIS for 28 years, and he's been the station's sports director for 20 of them. Henry also has an active presence on Twitter (@RickHenry10), where he frequently engages with viewers.
Best Local Website — News
Runner-up: wistv.com
When you're looking for the latest on local news, music, food and the arts, you know where to turn. Over the years the website of Columbia's only alternative newspaper has become a venerable hub for what's happening in and around Columbia. And we're kicking around a few ideas that we think you'll love. Make your life easier and keep up with everything we're doing — in print and online — by signing up for our e-newsletters, or give us a shout on Twitter (@FreeTimesSC) and Facebook (facebook.com/freetimessc).
Best Local Website — Sports
Runner-up: GamecocksOnline.com
You might think a local TV station's sports website would be lacking in terms of depth and variety. Not so with WIS. The sports page of the station's website offers a plethora of stories and coverage, touching on local, state, national and international topics. Of particular note is a robust offering of local video. And yes, USC fans, they've got a page just for you.
Best Local Website — Music and Entertainment
Runner-up: onecolumbiasc.com
Free Times puts a premium on trying to give you the most thoughtful and comprehensive coverage of the music and entertainment happenings you'll find in Columbia — from big-time arena shows at Colonial Life Arena to scrappy rock concerts at New Brookland Tavern, from the megaplex to the arthouse Nickelodeon Theatre, from touring Broadway productions to stalwart local theaters, and many points around and in between. We hope this means you think we're doing a good job.
Best Radio Station
WNOK 104.7
Runner-up: WLTY 96.7 (Steve FM)
Just play the hits! But you know, it's not really that simple. Mixing the massive onslaught of pop and rock and hip-hop and other styles that crowd mainstream airwaves takes a sharp ear and a dedication to crafting immersive playlists. WNOK — self-anointed as "Columbia's Hit Music Station" and affirmed by your votes — strives to do just that.
Best Local Radio Personality
Jonathon Rush, WCOS 97.5
Runner-up: Brent Johnson, WTCB 106.7
Thousands of people funnel into the city every morning on their way to work, which can be excruciatingly slow in congested areas. And so we turn to radio to help the time go by. With topics ranging from rabid raccoons to the newest Netflix arrivals, Morning Rush host Jonathon Rush keeps things interesting on the daily commute.
Best Local Tweeter
@dawnstaley
Runner-up: @drinkingticket
The USC women's basketball coach is a big personality around Columbia, and it comes through on her Twitter account. Whether she's warming up the fans, joking with former players, or posting photos of where and what she's eating, it's always fun.
Best Local Instagram
@colatownfoodie
Runner-up: @figcolumbia
Nobody promotes Midlands restaurants like @colatownfoodie, who's always got a plate of something delectable in front of her.
Biggest Media Hog
Donald Trump
Runner-up: Gov. Nikki Haley
Trump's win in the South Carolina GOP presidential primary was a rebuke of Haley, a critic of the New York billionaire, so it figures he'd top her again as our Biggest Media Hog. The Republican presidential nominee sucked attention from reporters, while making all the moves that should have sent him back to Trump Tower. He insulted a former POW. He suggested a ban on Muslims from entering the country. He fought with Lindsey Graham. (OK, that last one might have won him a few votes.)