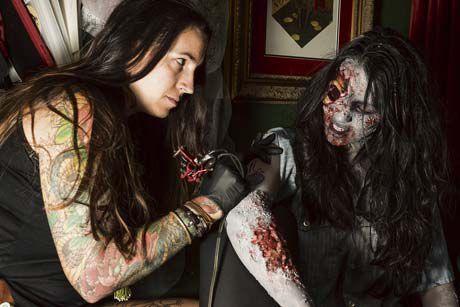 Best Fitness Club
Müv Fitness
Runner-up: Planet Fitness
The Gold's Gym locations around Columbia, consistent Best of Columbia winners, were rebranded under the name of Spokane, Washington-based Müv last year but remain under the same ownership.
Best Hair Salon
Studio O2
Runner-up: Robin Gottlieb Studio
The first new winner in this category in four years, the Vista's Studio O2 also offers massages and oxygen treatments.
Best Hair Stylist
Gregory Garrett —Metropolis Salon and Dry Bar
Runner-up: Lydia Catherine — Vivid Salon
Garrett, owner and stylist at this Taylor Street salon, is beloved by Columbia hipsters and high society types alike for his on-point cuts and magical color services.
Best Day Spa
Urban Nirvana
Runner-up: OCCO Skin Studio
Given our ever-busy schedules, a trip to the massage parlor might be just what the doctor ordered. With different types of massages, waxing options and facial treatments, Urban Nirvana is a great place to pamper yourself.
Best Massage Therapist
Jen Brown — Bliss
Runner-up: Heather Ferry — Heavenly Hands
Shop owner Jen Brown knows her stuff. She served in the Air Force as a victim's advocate for sexual trauma survivors for eight years before specializing in deep tissue massage. Her goal? "To provide a safe, therapeutic experience for survivors to be able to heal and thrive with healing and caring touch." To that end, Brown provides a free hour-long session for trauma survivors and regular massage sessions that can last for up to four hours.
Best Yoga Studio
City Yoga
Runner-up: Bikram Yoga
You want to perfect your downward dog, yes — but you also want to enrich your heart and mind and community, right? City Yoga is the place for you.
Best Tattoo Artist
Shannon Purvis Barron — Indigo Rose Tattoo
Runners-up (tie): Shane Anderson — Animated Canvas Custom Tattoo; Darcy Del Priore — Sickle & Moon
Shannon is versatile, but her style is also unmistakable — and that's the mark of a great artist. She also works with P.ink, an organization that brings together tattoo artists and breast-cancer survivors who want to adorn their mastectomy scars.
Best Tattoo Studio
Indigo Rose Tattoo
Runner-up: Animated Canvas Custom Tattoo
Naturally, Columbia's best tattoo artist owns Columbia's best tattoo studio. Check out one of Indigo Rose's fine artists next time you want some ink.
Best Piercing Studio
Immaculate Body Piercing
Runner-up: Knotty Headz
Immaculate Body Piercing, located in Five Points, has a slogan: "Safe. Beautiful. Gentle." When you are planning to have a part of your body pierced, those are very, very welcome words. The shop says its piercer training exceeds state requirements in a number of areas, including anatomy, wound care, piercing techniques and bedside manner. Plus, they'll make you look cool.
Best Hospital
Lexington Medical Center
Runner-up: Palmetto Health Richland
Free Times readers continue to love Lexington Medical Center, which broke ground this year on a new $400 million, 10-story tower that will include 71 new beds.
Best Urgent Care
Lexington Medical Center
Runner-up: Doctors Care
Look, sometimes things happen in life. Like say, just as a completely random example, maybe you get bitten by an unseen bug and your left leg rapidly swells up to cartoonish levels. When something like that happens, you can count on Lexington Medical Center's urgent care staff to address the problem and get you back on the road to good health in short order.
Best Pediatric Care
Palmetto Pediatric and Adolescent Clinic
Runner-up: Sandhills Pediatrics
With five offices across the Midlands, Palmetto Pediatrics also offers education for new mothers who want to nurse and help to manage care for special-needs children.
Best Dentist
Dr. Adam Brantley — Devine Dentistry
Runner-up: Berger Dental Group
Dr. Brantley touts that he keeps his treatments up to date by continuously incorporating new technology and education into his Columbia practice.
Best Eye Doctor or Group
Columbia Eye Clinic
Runner-up: Sansbury Eye Center
The Midlands' largest ophthalmology practice wins for a third straight year.
Best Chiropractor
The Joint
Runner-up: Dr. Rick Sanford Chiropractic
With three Columbia-area locations, The Joint offers monthly and multi-visit plans that include discounts.
Best Orthopedic Practice
Midlands Orthopedics
Runner-up: Moore Orthopedic Clinic
Sometimes you tweak your knee with just 20 seconds left in your running routine. When that happens, Free Times readers back Midlands Orthopedics as the place to get some TLC.
Best Physical Therapy Practice
Carolina Physical Therapy
Runner-up: Pinnacle Physical Therapy
After hurting your knee so close to being done with your running routine, you might need some help recovering. With a half-dozen Midlands offices, Free Times readers suggest hobbling over to Carolina Physical Therapy.
Best Dermatology Practice
Columbia Skin Clinic
Runner-up: Carolinas Dermatology Group
Feel better about the skin you're in. Columbia Skin Clinic has two Columbia-area offices offering a full-range of services.