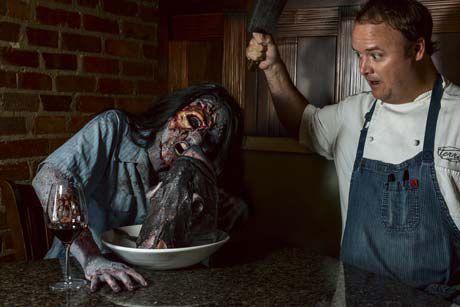 Best New Restaurant
Rise Gourmet Goods & Bakeshop
Runner-up: The War Mouth
Alton-freaking-Brown called Rise's bacon, egg and cheese biscuit "the best breakfast sandwich I've ever had." So yeah, Columbia is pretty blessed to have this amazing new sandwich shop and bakery in Five Points.
Best Restaurant
Motor Supply Co. Bistro
Runners-up (tie): Blue Marlin, Cantina 76
It's no small task to stay at the cutting edge of Columbia dining while also satisfying the tastes of decades of Motor Supply Co. fans. Chef Wes Fulmer, owner Eddie Wales, head barman Josh Streetman and the rest of the crew at Motor do it right.
Best Restaurant — Northeast
Solstice Kitchen
Runner-up: Travinia's Italian Kitchen
Swank, cozy and always delicious, Solstice is a great restaurant, period — not just for the Northeast.
Best Restaurant — Lexington
Old Mill Brewpub
Runner-up: Travinia's Italian Kitchen
Last October, the flood took out the dam at the Old Mill in Lexington, draining the scenic pond that was such a fixture of the Old Mill Brewpub. But the pub kept rocking on, and remains a go-to dining experience in Lexington. While the beer is a draw for many, their food's damn good, too. The Buffalo Soldier with sweet potato fries will make you want to slap your mama. Well, you shouldn't actually commit the misdemeanor crime of simple assault against your mother, but the sandwich is delicious.
Best Restaurant — Irmo
Liberty on the Lake
Runner-up: British Bulldog Pub
Do you like steaks? (Sure.) What about sandwiches? (Well, of course.) And cold beer? (Hell yeah.) Well, what about all of that, combined with frequent live music and a stunning view of Lake Murray? That's what you get at Liberty on the Lake, the freshwater coast version of Liberty Taproom and Grill.
Best Restaurant — West Columbia/Cayce
Cafe Strudel
Runner-up: D's Wings
Turns out Cafe Strudel does a lot more than brunch (although those Hangover Hashbrowns are still pretty perfect). If you haven't stopped by for a fine evening cocktail (Cucumber-Ginger Fizz? Yes, please!) or some Seafood Mac & Cheese or any of the other enticing entrees on offer, you'd do well to take your fellow readers' advice and make a trip out to State Street in West Columbia.
Best Chef
Mike Davis — Terra
Runner-up: Dave Grillo — Cantina 76
When you go to Terra, you know everything on the plate is going to be made with the same attention to quality and flavor, whether it's your grilled quail or the fancy slaw next to it. Mike Davis is a fantastic chef.
Best Place for a First Date
Hunter-Gatherer Brewery and Ale House
Runners-up (tie): Cellar on Greene, Bourbon
So you don't wanna be too fancy, but also want to show that you have a little class. Fear not, dearly beloved. We are gathered here today to tell you about the Hunter-Gatherer Brewery and Ale House, handily situated near USC, which serves a nice selection of house-brewed beers and daily dinner specials. We know a lot of married couples who used to hang out here in the early days of their relationship, so clearly it's good luck.
Best Late Night Food
Waffle House
Runner-up: Cook Out
Waffle House is one of the most dependable chains around. And their ever-impressive line cooks (seriously, pay attention to the super-complex system by which they process orders, translating them into intricate patterns of plates and silverware to make the process as quickly as possible) maintain the same satisfyingly greasy standard late into the night. Go all in and order an All-Star Special with the waffle and the hashbrowns — we prefer them scattered, smothered (onions), covered (cheese slice) and peppered (jalapenos). You're welcome.
Liberty on the Lake wins Best Restaurant — Irmo and Best Place to Dine Outdoors. Photo by John Carlos
Best Place to Dine Outdoors
Liberty on the Lake
Runner-up: Pawleys Front Porch
There are few things more satisfying than downing a few drinks while listening to live music and enjoying Liberty's classic American cuisine. Daily specials and an awesome view of the sunset are enough to make this a required stop along Lake Murray.
Best Take Out Food
Eggroll Station
Runner-up: Eggroll Chen
For decades, West Columbians have been turning to the speedy, delectable and cheap Eggroll Station for Chinese takeout food. As the sign says: Go Cocks, Go E'Rolls.
Best Bang for the Buck
Cook Out
Runner-up: Cantina 76
It's lunchtime and you're hungry. But you're also broke. Like "fishing nickels and dimes out of the car ashtray" broke. (We've all been there.) So what do you do? Well, if you can fish enough change out of that ashtray, you can get a veritable feast at Cook Out for a very reasonable sum of money. For $4.99, they'll give you a burger, two sides and a "huge tea."
Best National Chain Restaurant
Chick-fil-A
Runner-up: Bonefish Grill
We get it. For a fourth consecutive year, the perpetually busy fast-food restaurant (when is there never a line of cars for the drive-through?) has been your top national chain in town. Admit it: Reading this now, you're thinking about having one of their chicken sandwiches. Get in line.
Best Fast-Food Chain
Chick-fil-A
Runner-up: Five Guys Burgers and Fries
What more can we say: Blah, blah, awesome chicken sandwich, blah, blah, cool waffle fries, blah, blah, sweet and tangy lemonade, blah, blah, nice employees.
Best Kid-Friendly Restaurant
Chick-fil-A
Runner-up: The Flight Deck
Where else are kids contained in a playroom small enough to keep an eye on them with just enough glass to mute their screams of joy from where you're eating? The playrooms provide an ant farm-like window into the social dynamics of young ones. You can see how quickly they make friends or how long they search for the right cubby-hole with their shoes.
Best Pet-Friendly Restaurant or Bar
Jake's
Runner-up: Buddy's Saucy Dogs
Jake's hosts Yappy Hours several days a week so you can let your canine pal romp while you enjoy a pint of beer and some tasty barbecue. There's even a Pint-Sized Yappy Hour on Wednesdays so dogs under 40 pounds have a safe play night of their own.
Best Wine List
Gervais and Vine
Runner-up: Cellar on Greene
With more than 40 wines by the glass and a deep cellar of bottles, the Vista's Gervais and Vine excels at finding the wine that's right for you — whether you're a connoisseur or a casual quaffer.
Drip wins Best Coffee and Best Barista — Michael King. Photo by Thomas Hammond
Best Coffee
Drip
Runner-up: Stasbucks
You're damn right Drip makes the best coffee in Columbia. Whether you're after an iced brew (served on a nitro draft at the Drip in Five Points, it's perfection), a hot cup of joe (each delicious cup is made individually using the pour-over method) or a carefully crafted latte (perhaps with one of Drip's tasty homemade syrups), Drip does it all right.
Best Barista
Michael King – Drip
Runner-up: Matt Wright — The Local Buzz
What a nice guy Michael King is — and he makes a damn fine latte, too.
Best Sweet Tea
Bojangles'
Runner-up: Groucho's Deli
When you are sitting in a tailgating chair in a lot down by Williams-Brice Stadium, listening to the pregame show and gnawing on a Cajun filet biscuit from Bojangles', sometimes those Cajun spices get to be a little too much. You need something to wash them down. Something cold. Something sweet. So sweet you may go into a diabetic coma. That's where Bojangles' tea comes in. It's like your grandma's tea, assuming your grandma wields her sugar scoop with a heavy hand.
Best Breakfast
Original Pancake House
Runners-up (tie): Eggs Up Grill, Cafe Strudel
The regular pancakes are aces, always fluffy and ever-insistent on pushing that tart, creamy essence of buttermilk to the front of the flavor profile. And the omelets are outstanding, gargantuan and packed with tasty ingredients. But we suggest that you lean into the intriguing Southern-meets-Northern nature of this Forest Acres eatery's menu, and get the salami and eggs, served with potato pancakes — crispy on the outside, wonderfully moist on the inside. Best breakfast, indeed.
Best Brunch
Cafe Strudel
Runner-up: Gourmet Shop
Those Hangover Hashbrowns are a straight-up Midlands legend, packed with onion, banana peppers, tomato, cheddar cheese and two eggs. Grab the Smoky Bacon Bloody Mary (prepared with bacon-infused vodka and garnished with bacon-wrapped cucumber) to complete a truly decadent post-party remedy. But maybe set aside the afternoon to sleep it all off.
Best Deli/Sub/Sandwich Shop
Groucho's Deli
Runner-up: Firehouse Subs
Groucho's has expanded greatly since its establishment in 1941, now boasting more than two-dozen locations in the Carolinas. But the deli is still keeping things simple, serving up hearty sandwiches and salads and keeping USC students fed at its landmark Five Points location. Plus, the 45 Sauce is just ridiculously good. We pour it on everything. Yes, everything.
Best Vegetarian Menu
Rosewood Market
Runners-up (tie): Black Bean Company, Good Life Café
For years, Rosewood Market's deli and Chef Benoit St. Jacques have been serving up some of the finest vegetarian foods in town. Stop on by for brunch and you won't even miss the meat.
Hudson's Smokehouse wins Best Ribs. File photo
Best Barbecue
Shealy's Bar-B-Que
Runner-up: Hudson's Smokehouse
People love their Shealy's. No, we mean people love their Shealy's. With its classic, well balanced pulled pork, and a mustard sauce that's part of the Midlands barbecue canon — not to mention that huge buffet and the extra-country touches like liver nips and pulley bones — Shealy's is always worth the trip to Batesburg-Leesville.
Best Burrito
Moe's Southwest Grill
Runner-up: Cantina 76
Moe's will tell you that they know burritos. And it turns out that they do, stuffing reliably tasty meats and fresh salsas and veggies into steamed tortillas. If you're in need of a burrito, there's probably a Moe's nearby, and they won't disappoint. Bonus points given for the free chips that you can dip into that truly delicious tomatillo salsa.
Best Pizza
Mellow Mushroom
Runner-up: Marco's Pizza
Mellow Mushroom knows that people want a huge variety of creative toppings and themed pizzas — and they also want delectable crust that puffs up in all the right places. You don't have to be as high as this restaurant's fungal mascot to chow down on this pie.
Best Wings
2 Fat 2 Fly
Runner-up: D's Wings
Truck owners Corey Simmons and Ramone Dickerson have found a way to make fried chicken wings even more awesome by stuffing them with things like mac & cheese and jambalaya. Yes, it's as awesome as it sounds. And now you don't have to keep tabs on a mobile food truck — the two opened a brick-and-mortar location last year near Williams-Brice Stadium called Wing City. Un-clucking believable.
Best Ribs
Hudson's Smokehouse
Runner-up: Carolina Wings and Ribs
When it comes to pork barbecue, ribs are one of the hardest things to get right. They need to be tender and moist, with the meat sliding easily off the bone, with ample bark but not too many dried-out bits. They can't be too gloppy with sauce, and they need to be consistent. Hudson's nails it every time.
Best Hot Dog
Sandy's Famous Hot Dogs
Runner-up: Buddy's Saucy Dogs
"So big! So good!" This is probably what Sandy's wants you to think while chowing down on one of its flavorful dogs. The local chain is best known for its Black Angus hot dogs, made using a secret recipe, and homemade chili. Be sure to save room for a scoop of blueberry cheesecake ice cream for dessert, which comes generously portioned.
Best Hamburger
Five Guys Burgers and Fries
Runner-up: Pawleys Front Porch
If you look around at the walls of any of the area's Five Guys locations, you'll notice that their burgers aren't just deemed the best in Columbia. Over the years, the chain has racked up similar awards from publications across the country, reminding you of this fact with a bold smattering of glowing press clippings. And the burgers — consistently achieving greasy-spoon excellence — definitely hold up their end of the bargain.
Best French Fries
Five Guys Burgers and Fries
Runner-up: McDonald's
And it turns out the fries, prepared in peanut oil, are pretty damn great, too. And they give you a ton of them, pretty much filling the brown bag containing your burger to the brim. Pro tip: Get them with them with the cajun seasoning and enjoy with ample amounts of ketchup.
Best Salad
California Dreaming
Runner-up: Zoe's Kitchen
Why does California Dreaming's salad dominate this category year after year? Because it's downright legendary, from the ample serving to the fresh greens to the buttery, sticky little honey croissant served alongside it. Yum.
Best Steak
Ruth's Chris Steak House
Runner-up: Longhorn Steakhouse
If you're wondering, "Where should I go to eat a fancy, custom-aged, USDA prime steak, and feel like royalty while doing it?" there's really only one answer to that question: Ruth's Chris.
Best Taco
Cantina 76
Runner-up: San Jose
Cantina 76 serves up a selection of creative and tasty tacos on its fresh flour tortillas. The BBQ Brisket, made with a honey chipotle barbecue sauce; Chicken Teriyaki, which comes topped with sweet sesame chili sauce; and Peruvian Shrimp tacos are just a few excellent choices on the Tex-Mex inspired menu.
Best Asian Restaurant
Miyo's
Runners-up (tie): Inakaya, M Vista
In addition to a menu that boasts creations like the Haiku, Olympic and Infinity sushi rolls, you'll find a nice selection of wines and sake to round out your meal. Not big on sushi? Staples like Thai basil beef and General Tso's chicken are also available.
Best Mexican Restaurant
San Jose
Runners-up (tie): Cantina 76, Real Mexico
Stop reading this and look out the window. If you're in the Midlands, you'll probably spot a San Jose. They've got 15 locations in the area, after all. And why not? Their chimichangas are delicious, their burritos are substantial and their margaritas are quite tasty. They'll also let you wear a sombrero on your birthday, if you're into large headwear.
Best Chinese Restaurant
Miyo's
Runner-up: Eggroll Chen
Miyo's serves Chinese dishes both classic and updated, as well as Japanese dishes, sushi and more — and the people of Columbia love them for it.
Best Italian Restaurant
Villa Tronco
Runner-up: Olive Garden
Villa Tronco, which has been in business for 76 years, purports to be the first Italian restaurant ever opened in Columbia. It certainly is the most charming, providing patrons with a cozy, quaint dining area nestled in an old fire station on Blanding Street. The restaurant's expansive menu offers all your Italian favorites — lasagna, manicotti, parmigiana — as well as steaks, a deep wine list and a wealth of desserts.
Best Greek Restaurant
Zorba's
Runner-up: Grecian Gardens
Head on up to Irmo/St. Andrews and fill your stomach with some of the city's best Greek salads and pizzas. Also homemade baklava. Order the homemade baklava.
Best Japanese Restaurant
Miyabi
Runner-up: Inakaya
Located on Columbiana Drive, Miyabi is one of those joints where the chef comes and cooks right there at your table. Dinner and a show, so to speak. The portions at Miyabi are more than generous, and the food is fresh and delicious. Plus, it's always fun to watch your mother-in-law try the "catch a shrimp in her mouth when the chef tosses it" routine. Some things never get old.
Best Southern Restaurant
Lizard's Thicket
Runner-up: Mr. Friendly's New Southern Café
Lizard's Thicket has been serving dishes like country ham and eggs, fried catfish and candied yams for over 35 years, making it a quintessential stop if you're in the mood for some Southern country cookin'.
Best Indian Restaurant
Delhi Palace
Runner-up: 2 Gingers
Featuring an excellent variety of dishes (we're partial to the saag paneer and the okra) and friendly, efficient service, Delhi Palace has become Columbia's favorite Indian restaurant.
Best Cajun Restaurant
Bourbon
Runner-up: Bojangles'
Bourbon doesn't confine itself to Cajun food, but this Main Street eatery's creative menu is inspired by the food of the Big Easy, from the crispy boudin balls to the beignets.
Best Thai Restaurant
Mai Thai
Runner-up: Basil Thai
You never know what wonders await inside a West Columbia strip mall, but Mai Thai is a local treasure that serves an array of Thai favorites, cooked with all the love your heart can handle.
Best Caribbean Restaurant
Island Grill
Runner-up: La Isla Bonita
Tasty, no-frills, authentic Caribbean fare close to Five Points, downtown and Allen and Benedict? Yes please, say our readers.
Best Middle Eastern Restaurant
Mediterranean Tea Room
Runner-up: Al-Amir
It's a Columbia classic for a reason. Devine Street's Mediterranean Tea Room serves up traditional Middle Eastern and Mediterranean fare, including a number of vegetarian specialties, with a smile.
Best Sushi
Inakaya
Runner-up: Tsunami
We're not sure which Inakaya you all voted for. The Inakaya Watanabe location (on St. Andrews Road) is now independent, bought out by the restaurant's original sushi chef, Ryosuke Watanabe, and offers fresh and succulent cuts of fish and a wide variety of delicious roll creations. The Inakaya on O'Neil Court (just off Two Notch Road) has pretty much the same menu, and also does a great job preparing it. Which one's better? That's a hotly debated topic among Columbia sushi fans. We'll let you reach your own conclusion.
Blue Marlin in the Vista wins Best Seafood Restaurant. Photo by John Carlos
Best Seafood Restaurant
Blue Marlin
Runner-up: Bonefish Grill
The Midlands' favorite seafood restaurant sources high-quality fish and shellfish and cooks them up perfectly. Yes, the shrimp and grits are amazing, and not just because the grits are from Adluh Mill just down the street.
Best Dessert
Nonnah's
Runner-up: Kaminsky's
Nonnah's is the sweet spot in the Vista. They've got all your favorite dessert classics, like chocolate temptation and lemon cheesecake, mixed in with some unique offerings, like California almond cake, which is described as, "A sugar cookie crust topped with six layers of white almond cake separated by raspberry preserves, topped with an almond lattice over more raspberry preserves." If you'll excuse us, we're headed to Nonnah's now.
Best Frozen Yogurt
32 Degrees
Runner-up: Yoghut
32 Degrees has 14 locations across the Southeast, one of which is in Trenholm Plaza on Forest Drive. They offer a host of frozen yogurt flavors, and a robust menu of toppings. They also have gelato, custard and sorbet, if those are your preferred frozen dessert jams. The shop's website boasts it has "over 40 individual flavors of yogurt to include fat free, kosher, no sugar added and low sugar selections, all on a rotating basis." Our advice: Try them all.
Best Ice Cream
Marble Slab Creamery
Runner-up: Coldstone Creamery
Marble Slab does more than scoop you up some fine ice cream. They'll also mash it around on their marble slab — get it? — with bits of cookie, candy, fudge sauces and more yummy goodies. They also apparently serve "ice cream pizzas." Just what in the name of unholy dessert creations is that? Go get one and report back to us.
Best Smoothie
Tropical Smoothie Café
Runner-up: Smoothie King
There are smoothies, and then there's the Tropical Smoothie Café chain, where you can have fresh fruits plus all manner of healthy stuff blended into your smoothies. Yum.
Best Mobile Food
2 Fat 2 Fly
Runner-up: Pawleys Front Porch
Corey Simmons and Ramone Dickerson have been met with a good bit of success recently. The friends-turned-business-partners were subjects of a reality TV show on the Oprah Winfrey Network, appeared on the Steve Harvey Show to let the legendary comedian sample their product, and opened a brick-and-mortar location in Columbia all within the same year. All thanks to stuffed chicken wings, which they still serve from their black-and-yellow truck.
Best Service
Chick-fil-A
Runner-up: Motor Supply Co. Bistro
These guys are even polite in a breakup. So when the chain punts cole slaw off the menu (in favor of a kale salad — yeah, superfood!), it shares the mayonnaise-laden recipe with the public as a goodbye present. Are you allowed to bring in your own small cup of slaw if the thought of kale upsets your tummy? Anyway, Chick-fil-A's legendarily friendly staff make it a winner in our readers' books.
Best Catering
Spotted Salamander Catering
Runner-up: Southern Way
Who can handle everything from a traditional Southern wedding shower to an ultra-hip party — and has a great little weekday lunch spot to boot? Spotted Salamander.