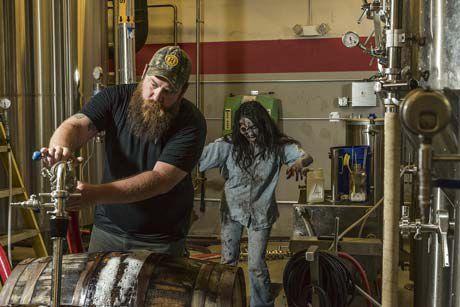 Best New Bar or Club
The War Mouth
Runner-up: Publico Kitchen and Tap
Southern restaurant and Cottontown barbecue joint The War Mouth has a fantastic bar program, with handcrafted specialty cocktails and a well-curated selection of beers and wines. The actual bar is lovely, too: Made of pecky cypress filled in with polyurethane and sealed, it's just the right height and depth for some serious drinking.
Best Bar or Club
Jake's
Runner-up: Craft and Draft
Jake's, located on Devine Street in Five Points, is kind of like a five-tool baseball player: good for any situation. Late night drinks with your college buddies? Sure. Dinner with your spouse, with a menu that features meat, cheese and produce from local vendors? Yep. A variety of beers on tap? Of course. Stages on the inside and out on the deck? Check. Jake's has what you need.
Best Bartender
Will Green — The Whig
Runner-up: Ryan Belton — Craft and Draft
The Whig's Will Green understands what people want when they come to the subterranean Main Street hangout. He can mix up a fine cocktail, helping to fashion the rotating weekend drink specials the bar has started of late. But more often, folks who come to The Whig want a bartender who can point them to a nice craft beer or who is attentive when they need another PBR or Miller Lite — a friendly face that will chat when you feel like it and leave you alone when you don't. By these standards, Green is as good a bartender as they come. (Full disclosure: Green is married to Free Times managing editor Eva Moore.)
Best Place to Pick Up Guys
Publix
Runner-up: Jake's
It's 5:50 p.m. on a Thursday, and the Publix is packed. You reach for a container of store-brand aluminum foil, the one with the foil swan on the package. He's perusing the garbage bags. Your eyes meet. He smiles. You hesitate, then ask if he'd like to meet sometime for a coffee or a beer, maybe at Drip. He pulls out a ballpoint pen and writes his number on your box of foil. That's the magic of Publix.
Best Place to Pick Up Girls
Tin Roof
Runners-up (tie): Bikram Yoga, Pavlov's
So here's what you do: Walk into Tin Roof on a Saturday night and spot the prettiest girl in there. Then you just stroll across the room and say, "You must be one hell of a thief, because you just stole my heart from across the room." After you pick yourself up off the floor, proceed to the bar and get a drink.
Best Bathroom Wall Wisdom
Art Bar
Runner-up: New Brookland Tavern
Art Bar's bathrooms are small, but they're scrawled with some messages that are pretty hilarious — and sometimes a little too poignant. But the thing we really enjoy about those walls is the collection of various band stickers, a sort of slapdash history for the local music scene and the various touring acts that stop at this Vista bar.
Best Bar Trivia
Flying Saucer
Runner-up: Village Idiot
Q: What long-running, high quality bar trivia night is Columbia's favorite? A: Flying Saucer's, duh.
Best Bar Service
Craft and Draft
Runner-up: The Whig
Craft and Draft isn't just a bottle shop. And it isn't just a bar. It's the best place in town to get your craft beer education. The bartenders/shopkeeps are intensely knowledgeable about brews local, national and international, and they keep up impressively with the endlessly shuffling selection on the bar's taps. They dispense their wisdom and advice in a way that's conversational, never forced. All of this while doing their best to make sure your hand is only empty if you want it to be.
Best College Bar
Jake's
Runner-up: Pavlov's
Do you go to college? Yes? OK, good. Now, do you like to drink alcoholic beverages? You do? Good, good. Well, do you like to go to the area known as Five Points and drink those alcoholic beverages while listening to music? Yeah? Wow, we're on a roll here. Listen buddy, just get your ass down to Jake's and thank us later.
Best Dance Club
The Woody
Runner-up: Social
At some clubs, you worry whether you're cool enough, or whether the dancing is quite your style. But at The Woody, everyone is there, and people are doing everything from the shag to the Shmoney. Get your dancing feet down to the Vista.
Best Neighborhood Bar — Downtown/The Vista
The Whig
Runner-up: Uncle Louie's
It might be going a little far to say that The Whig is downtown Columbia's only nerve center — but it's definitely one of them, an afterwork hub for creative types, college kids and (some) business people. It's a safe space and a meeting ground bathed in comfortably dim light, with a well-stocked bar there to get conversation flowing. It also boasts some of the best bar food in town, so nobody goes hungry. That sounds like a great neighborhood bar to us.
Best Neighborhood Bar — Five Points
Jake's
Runner-up: Delaney's
Yes, Jake's has great food and a deep selection of beer and other drinks. And it's often got music being played inside and out. But one of the things that makes Jake's a truly unique neighborhood spot is its friendly attitude toward our canine friends. Beer and dogs: Man's two best friends, together at last.
Best Neighborhood Bar — Shandon/Rosewood/Forest Acres
Craft and Draft
Runner-up: Henry's
Places like Craft and Draft — part bar, part bottle shop, aimed at satisfying the needs of the most passionate beer drinkers — can sometimes become dull and academic. Not so with this Shandon establishment, as much a bustling neighborhood hangout as a meeting ground for brew obsessives. The owners have created an environment where anybody who loves beer, or even just likes it, can feel comfortable to come by for a fun time — no beer-nerd bonafides required.
Best Neighborhood Bar — Harbison/Irmo
British Bulldog Pub
Runner-up: Carolina Ale House
The best neighborhood bar out Harbison way is an impressively authentic British pub. Yes, you read that right. British Bulldog has fantastic pub fare (those planks of cod they serve atop their fish and chips platter are perfectly flaky and moist), and the beer list mingles the expected U.K. favorites with a variety of local and national American craft beer. Come for authenticity. Or just come for a great place to hang out. Either way, British Bulldog is a winner.
Best Neighborhood Bar — West Columbia/Cayce
New Brookland Tavern
Runner-up: 116 Espresso and Wine Bar
NBT is not only a great place to see live music, it's a great place to shoot a game of pool and relax with a cold beer. Friendly, experienced bartenders and cool locals make this spot a neighborhood treasure.
Best Neighborhood Bar — Lexington
Old Mill Brewpub
Runner-up: Keg Cowboy
It's sort of interesting to think of Lexington as a "neighborhood," seeing as how Lexington County has a population of about 275,000. Whether you think of it as a neighborhood or not, Lexington has a gem in the Old Mill Brewpub. Whether you are looking for one of their original drafts (the Killer Buzz Honey Cream Ale and the Merle Haggard Brown Ale are both winners) or you just want to settle in with a PBR, Old Mill Brewpub is your spot.
Best Neighborhood Bar — Northeast
Polliwogs
Runner-up: Henry's
If you live in the Northeast, Polliwogs is probably the bar you've been looking for, with its fantastic bar food and great drink specials.
Best Outdoor Deck
Liberty on the Lake
Runner-up: Jake's
Ample seating, beer, live music on weekends and a beautiful view of Lake Murray make Liberty's outdoor deck an excellent spot to hang out with friends.
Best People-Watching Bar
Art Bar
Runner-up: The Woody
Who's at Art Bar? Well, pretty much everyone, from hip young folks to aging rockers and everyone in between. People feel comfortable here, and that's what makes it so good for people watching.
Best Gay Bar
Art Ba
Runner-up: The Capital Club
Art Bar is not actually a gay bar, but our readers have made it a perennial winner in this category because it's gay-friendly — and has been for many years.
Best Adult Entertainment Venue
Platinum Plus
Runner-up: Platinum West
When it comes to ladies dancing with no shirts on — and barely any pants, either — there's no finer local venue than Platinum Plus.
Best Sports Bar
British Bulldog Pub
Runner-up: Carolina Ale House
OK, so the British Bulldog doesn't have a zillion TVs like some other sports bars. But it's still a great place to watch a game. And when there is a big soccer match on, the place is simply transformed. You'll feel like you were dropped into a pub on Fleet Street in London. Patrons really get into it during soccer, with the chants and the scarves and the whole bit. Plus, the Bulldog makes a wonderful beef and cheddar pasty.
Best Happy Hour
Pearlz Oyster Bar
Runner-up: Cantina 76
All the cool young professionals go to Pearlz, where the happy hour specials are good and the company is even better.
Best Beer Selection
Flying Saucer
Runner-up: World of Beer
Even before Columbia's craft beer boom began in earnest, Flying Saucer was serving up an impressive array of beers, both on draft and in bottles. It still is.
Best Craft Beer Selection
Craft and Draft
Runner-up: Flying Saucer
From the rotating taps — for pints, flights and growler fills, spanning beloved local and regional brews, rare beers and brewery collaborations — to the intensely curated bottle and can selection, which offers a similar mix of familiar favorites and hard-to-find treasures, Craft and Draft is one hell of a bottle shop. And one hell of a beer bar.
Best Local Brewery
River Rat Brewery
Runner-up: Hunter-Gatherer Brewery and Ale House
With a great portfolio of core brews, plus frequent collaborations and a general creative approach, River Rat has raised the bar for brewing in Columbia. Plus, the Shop Road facility is beautiful, with a classy tasting room and a big grassy yard for dogs, kids and events.
Best Brewpub
Hunter-Gatherer Brewery and Ale House
Runner-up: River Rat Brewery
Hunter-Gatherer has been playing the brewpub game in Columbia for over 20 years now. And while you might think they only have food suited for soaking up their selection of ales, wines and spirits, the menu includes a range of foods. A second brewery in the works for the Curtiss-Wright Hangar on Owens Field will feature its own taproom, kegging line and observation deck.
Best Margarita
Cantina 76
Runner-up: San Jose
Whether you want a classic margarita or a fancypants frozen concoction, Cantina 76 is going to do it right.
Best Specialty Drink
Bourbon
Runner-up: Motor Supply Co. Bistro
When you're looking for a top-quality fancy cocktail in the Capital City, you need to go see Kat Hunter, the head bartender at Bourbon, or one of the other fine drink slingers in residence there. With a deep roster of specialty house cocktails, plus rotating specials, they're making creative and delicious things happen in a cocktail glass. They've also got that Ya-Ya Hurricane, a drink so potent they'll serve you no more than two.