U.S. Senator Tim Scott (R-SC) released the statement below regarding COVID-19 legislation passed by the U.S. Senate today.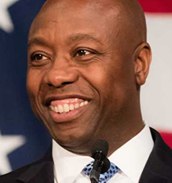 Senator Scott remains in Washington to work on the next COVID-19 relief package, which will focus on ensuring American families, health care workers and small businesses have access to support during these challenging times.
"The COVID-19 package passed by the U.S. Senate today, while well-intentioned, could have disastrous effects for South Carolina's small businesses and their employees," Scott said. "Over the past few days, I have talked with a wide variety of folks from across South Carolina, including small business owners from around the state, restaurant owners, and more. They have all shared their concerns with various pieces of this House bill, such as that it places mandates and burdens on our small businesses that they simply cannot afford.
"With the passage of this package it is clear Congress must immediately move to a third relief package that fixes the issues with the House bill and provides stronger, smarter relief to folks across the country.
"To that end, I have been deeply involved in discussions on the third package of relief we are currently working on in the Senate, and will remain in Washington, D.C. until that legislation is passed. It is absolutely critical that we provide families, workers, health care professionals and small businesses relief sooner rather than later."
"As the Senate continues this important work, I want to thank our doctors, nurses and health care workers across South Carolina and the nation for their tireless work. They are truly heroes, and we can all help them by continuing to follow CDC guidelines regarding social distancing and hygiene. I encourage anyone who has not yet read those guidelines to visit www.coronavirus.gov as soon as possible."