A lighthouse painting hangs on the wall next to Water Hill's desk inside the Berkeley County Magistrate Court building in St. Stephen. To many, it's simply a decorative piece, but to those who truly know the heart of the selfless 92-year-old, it's a representation of the spark inside his heart.
That's because more often than not, the county's oldest employee is a beacon of light to residents enduring a dark season. As a constable, Hill's job description is to serve eviction papers; but he said his faith-filled mission is to help people in need.
"Mr. Hill is the only constable who is going to bring you groceries and an eviction," said Victoria Rock, administrative supervisor and co-worker to Hill the last 17 years. "He tends to talk to people, and he has a heart for people."
In his own words, Hill explained the motivation behind his distinct generosity.
"That's me; that's just who I am," Hill said. "If you tell me you're hungry, I'm going to feed you. I was taught like that.
Also mindful of his appearance in front of those he's forced to confront with bad news, Hill doesn't even carry his work-issued badge.
"Because a lot of people can't stand a badge," he said.
With every knock on a door he's conducted in his county role since 1992, Hill has made sure to offer a friendly face and hope for the future.
"I smile," he said. "I tell them, 'This is not the end; this is just a paper.'"
But constable work hasn't always been Hill's career focus. After graduating from South Carolina State University—in Columbia, his native city—he worked 30-plus years in the classroom. Hill said he taught industrial arts and driver's education at Russellville High School, which eventually became Stephen High School and later shut down.
"Teaching was critical to me because I love people," Hill said.
However, Hill's immediate path post-high school wasn't college. At 18, he unexpectedly joined the military. It was the 1940s, World War II was in full swing, and one of his brothers already drafted by the Army.
According to Hill, the story is a unique one—one with a little comedy and likely concern on his mother's end. He said one day she sent him to the post office to mail a bill and he never returned home. A Marine recruiter caught the teen's attention and ordered him to Fort Jackson to complete a written exam.
"I loved the way the Marines uniform (looked) and how they dressed, and they suckered me right (in)," Hill said with a smile.
Without telling his mom his whereabouts, he was shipped off to basic training, having to later write a letter to his family explaining his new patriotic gig.
"My mom sent me to pay the light bill in town, and I volunteered the same day," Hill said. "I sometimes think how my mom felt—(like) 'Where's my son?' …I stole away—makes you think about the prodigal son."
Because of segregation, Hill was forced to train separate from white recruits at Parris Island. He was instead sent to train with other African-Americans at a place near Camp Lejeune, North Carolina.
During his four years of service, he never encountered combat but served in a supply unit stationed in Puerto Rico; and when Hill left the military, the war was over.
He later met his late wife Janie, also a schoolteacher. Married 60 years, their memories remain lucid in the widower's mind—not uncommon for Hill to refer to her during conversation. In addition to teaching, the couple also operated a small "mom-and-pop" grocery store for many years on Edgewater Road, in a nearby community dubbed "Eaddytown."
Because of his work in education and community service over the years—also a trustee, treasurer and choir member for St. Stephen Baptist Church—Hill became a staple youth mentor and voice of wisdom and was honored multiple times for it.
His accolades range from the Legends Award honor from Berkeley County School District to the prestigious Congressional Medal of Honor.
Additionally, a highway marker was dedicated to Hill in 2016. The South Carolina General Assembly and S.C. Department of Transportation had the marker erected, located on the right side of Highway 45—specifically west of it at the base of Sen. DeWitt Williams Bridge near the Rediversion Canal.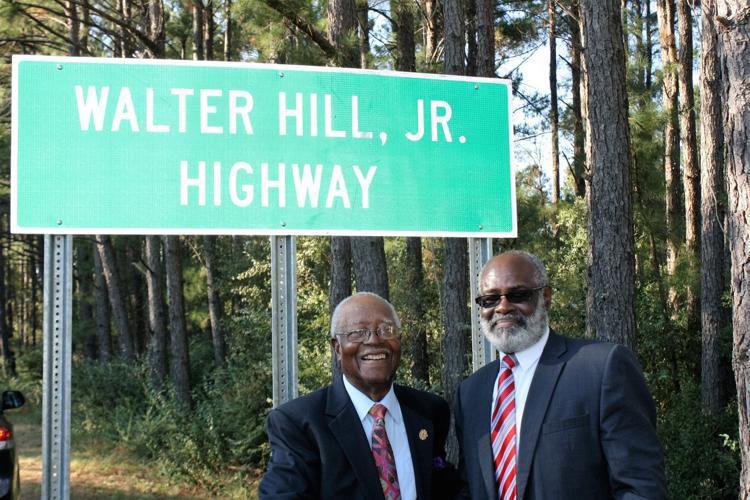 And as far as Hill's concerned, he'll serve in his current job—part time on Mondays and Tuesdays greeting those who pass through the court building's doors—for as long as he's able; sitting idle at home is not an option.
"When they kick me out, I won't be mad," he said with a smirk. "I was always told, 'If you don't use, it you lose it'; this (job) gives me a chance to mingle with people that I probably wouldn't ordinarily get a chance to (and) give some helpful advice."
Rock joked about when she wants Hill to finally pack it all up.
"I told him he couldn't retire until I retire," she said.
In the meantime, Hill's age doesn't slow him down. Rock said his energy is unmatched and that he often travels with college fraternity friends, drives and even mows community members' lawns.
"We can't keep him still," she said. "I always tell him God is keeping him here for us."
And according to Hill, it's God to whom he gives all the credit for his achievements and long life.
"God has been good to me," he said.