Freedom, from A1
Nine-year-old Joel Brace is one of those people who has thrived during this strange time of social distancing, isolation and quarantine.
When schools closed in April and his regular extracurricular activities halted due to the global pandemic, Joel realized he could fill the void with anything. He has taken advantage of the freedom. Mornings were for distance learning but afternoons have included bicycle riding, swimming, and fishing. His main pastime has been building with Legos.
"My favorite things to build are moving things and buildings," Joel said.
His bedroom doubles as his own workshop. It is home to more than 30 sets of Legos, an estimated 1 million pieces.
Joe's mother, Kristen Brace, said every day after her son completed distance learning, he went straight to his upstairs room in their Hanahan home to work on Lego creations. He typically stayed up there for three to four hours straight.
"He's a kinesthetic learner, he can think like an engineer in ways that people would love to," Brace said. "The majority of Joel's creations are all from his head. He hasn't seen it-he just comes up with- it which is amazing to me."
Joel has two older siblings. All three of the children have been involved in sports, the arts, and plenty of clubs, camps, and extracurricular activities. But Brace and her husband also encourage their children to enjoy screen-free alone time. She agrees with research that has shown that quiet, uninterrupted time helps children develop a strong attention span.
"I think it helps their creative minds, it helps them stay focused as young kids," Kristen Brace said. "For Joel, Legos provide a way to learn but it is an outside the box kind of way."
Creating scenes or structures with those plastic, interlocking bricks helps Joel to develop mathematical skills and it boosts his imagination, Brace said.
He recently researched the tallest skyscrapers in the world and then built several Lego replicas- one tower stretched far over his head to touch the ceiling. He built a police station, a Native American village, and a City Passenger Train with a motorized engine that propels the train along tracks surrounding other custom built landscapes and buildings.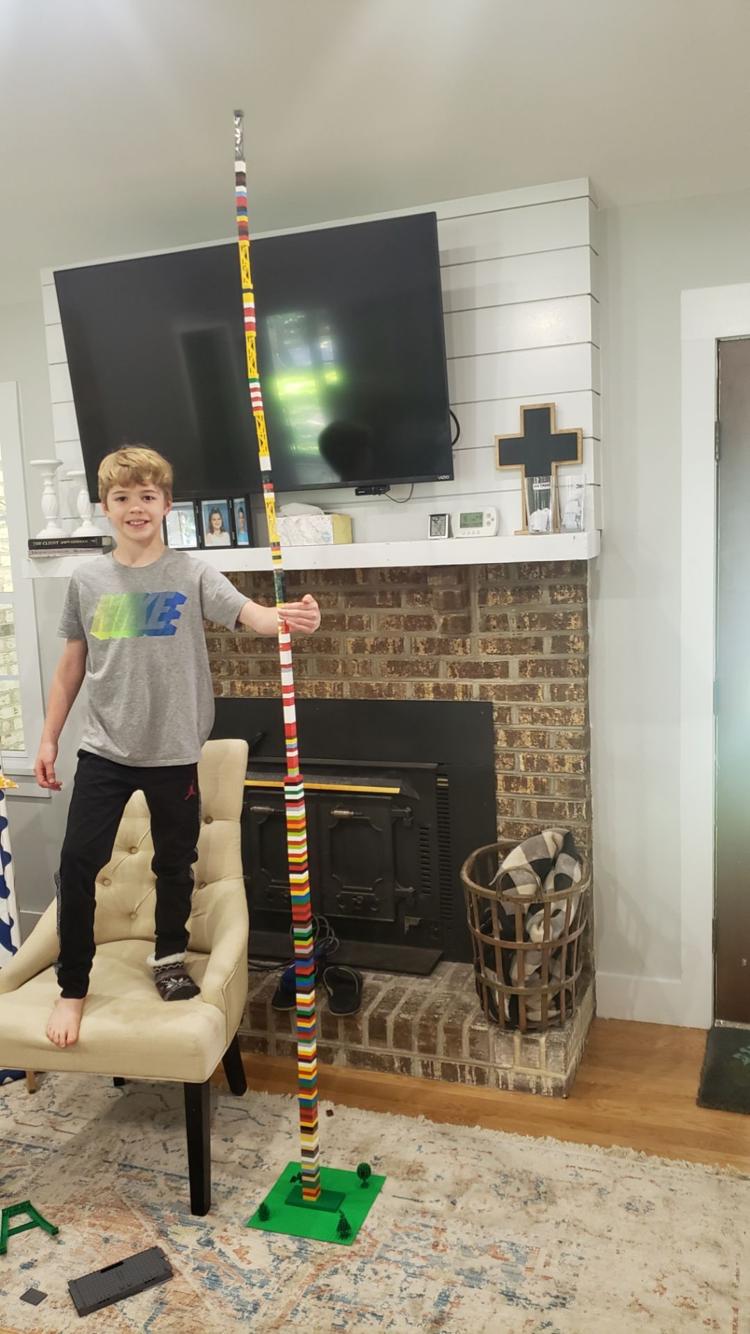 Joel's latest project has been a theme park, inspired by LegoLand- a Florida resort dedicated solely to Lego fun. Joel and his mother visited LegoLand last year for his 8th birthday. Just the two of them.
"We surprised him; it was his birthday treat to go to LegoLand," Brace said. "He enjoyed the rides and the water slide, we stayed at little cottages shaped like lego houses."
The experience had a lasting impact on Joel and reinforced the special bond he shares with his mom.
Lego enthusiasts would be impressed to hear that almost all of Joel's legos are inherited. Many of them are original sets manufactured in the 1970s and 80s passed down to him from his father, older cousins and older brother. Included in his collection are Lego books and magazines from the early 1980s.
Joel's father, Chris Brace, was also fond of building with legos as a child. He grew up to become a full service general contractor and now he owns his own commercial and residential building company, Brace Builders, LLC.
Joel has said he wants to become a builder, too.
Now that the academic year is finished, Joel won't return to Howe Hall Aims Elementary School until the fall.
Exactly how he will return to the classroom remains unclear as the world watches and waits for the end of a global pandemic.
The novel coronavirus pandemic has brought a whirlwind of societal changes, stress and anxiety, sickness, death, and economic woes. But for some children and their parents, hunkering down has rejuvenated the family unit and sparked good, old-fashioned fun.
"We have been able to hit the pause button a little bit," Kristen said. "We have found creative ways to get together as a family and that has been really good for us."