Inside the august Beaux Art building on Lower King Street, visitors are bound to find all manner of words.
They find their home on fine paper, leather-bound and beautified with embossed gilt. They roll out in the looping penmanship of centuries-old letters. They parade across now-amber newspapers, coming together in stories that were once the urgent items of the day. They are penned by boldface, historic names. They are paraded side by side with contemporary jackets touting must-read new authors.
The Charleston Library Society this year celebrates its 275th anniversary, a milestone of millions of words that few membership circulating libraries on this side of the Atlantic can boast and toast. 
It is, after all, the oldest cultural organization in the South and the second oldest continuous circulating library in the country, with the first being The Redwood Library in Rhode Island.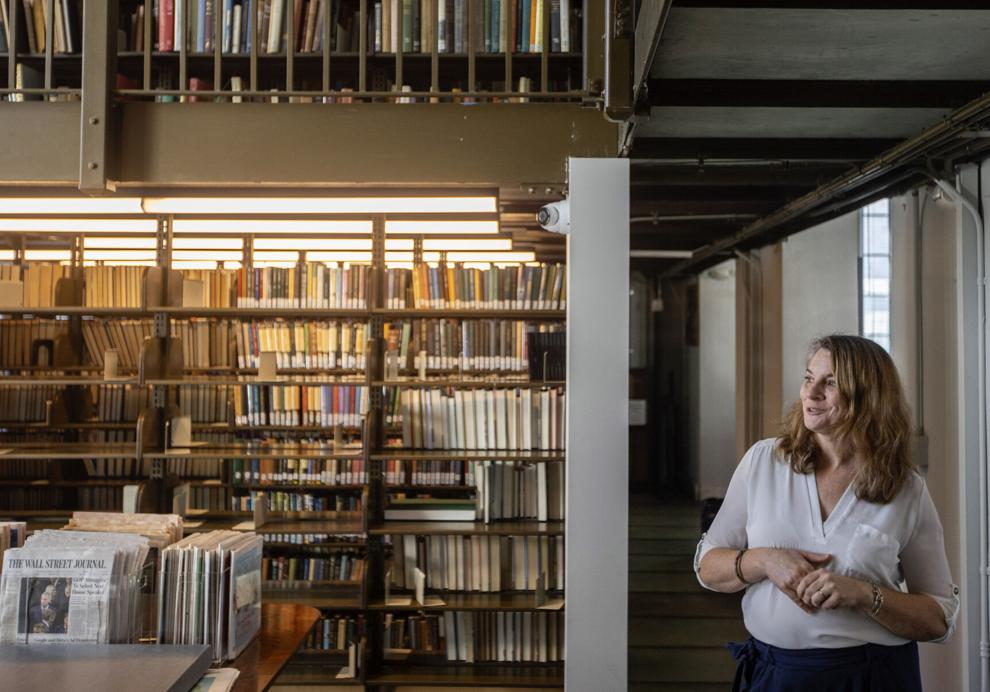 "The inside joke is that books from England got to them faster because they're a little closer," offered Laura Mina, the society's head librarian.
And for all its years logged and words well-chosen, the library today looks by many measures to be in mint condition.
It has recently emerged spit-and-polished from a $6 million gussy-up. It has added a world-class Shakespeare collection attracting Bard scholars from near and far. It has recatalogued its collection in ways that foster scholarship. It has cemented its status as a buzzing cultural hub that cross-pollinates readers and writers, thinkers and doers in hundreds of events each year.
And, at the end of January, it is primed for a changing of the guard that will forge its next chapter.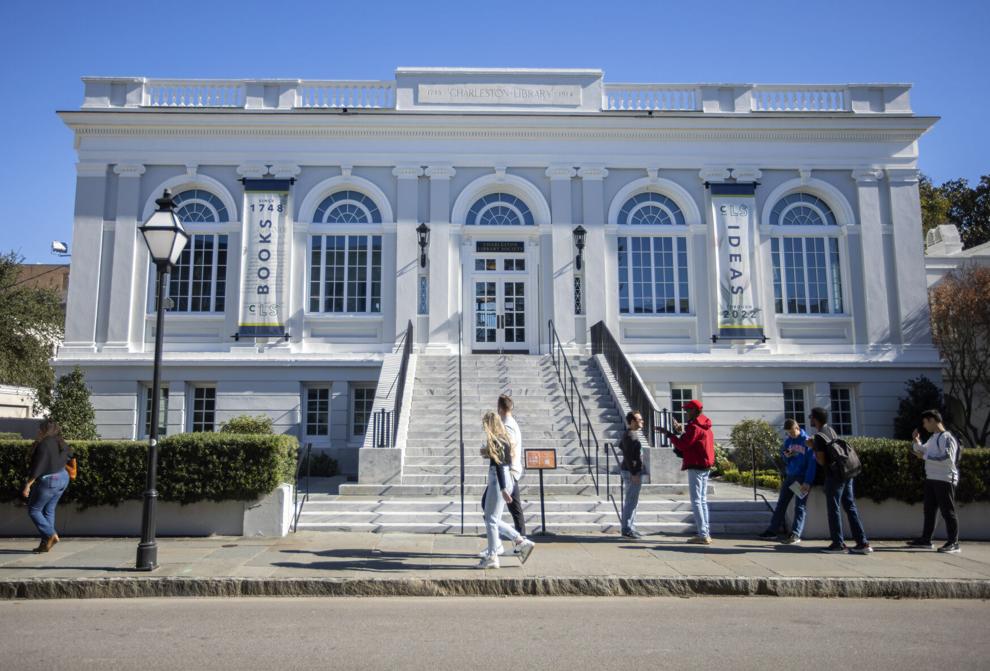 How it started
In 1748, an intellectually engaged cadre of 19 young Charleston men of various vocations concluded that the best way to stave off their perceived threat of ignorance and savagery was to pool money and round up various printed materials from London.
According to author James Raven in "London Booksellers and American Customers: Translantic Literary Community and the Charleston Library Society, 1748-1811," these were formative, fraught times for the center of a plantation society, whose new-wealth social mobility was powered by the cultivation of rice, indigo and, much later, cotton.
"The town came to boast elegant architecture and a confident, complex society, but one also visited by hurricane, plague, fever, war and riot…. In fact, the colony was rarely at peace in its first century, and from the 1760s, was riven by both revolutionary and Loyalist zeal."
Combining their resources and matching their wits, they drew from a wide-ranging curiosity in everything from Greek classics to groundbreaking works on botany, espousing an Age of Enlightenment embrace of knowledge akin to today's STEAM methodology. STEAM is an educational approach that uses science, technology, engineering the arts and math as access points for guiding learning.
Alexander Moore, a historian, author and editor, has been enamored with the Charleston Library Society since he was student in the 1960s. Since then, Moore's ardor has grown — along with his accumulation of knowledge about just how the library came into being.
"These were young people, but they were not only seeking a Western civilization kind of education, whether it was Latin, Greek or something akin, but they were also actively interested in reproducing institutions, not only that they knew about, but also new kinds as well."
A roadmap to that thinking can be seen in their six identified acquisition categories: man as related to his intellectual capacity (philosophy and discipline of the human mind); his relation to deity (theology); his relationship to his fellows (ethics); his relation to society (government, jurisprudence and politics); his pursuits and discoveries (science and literature); and the history of man (history and biography).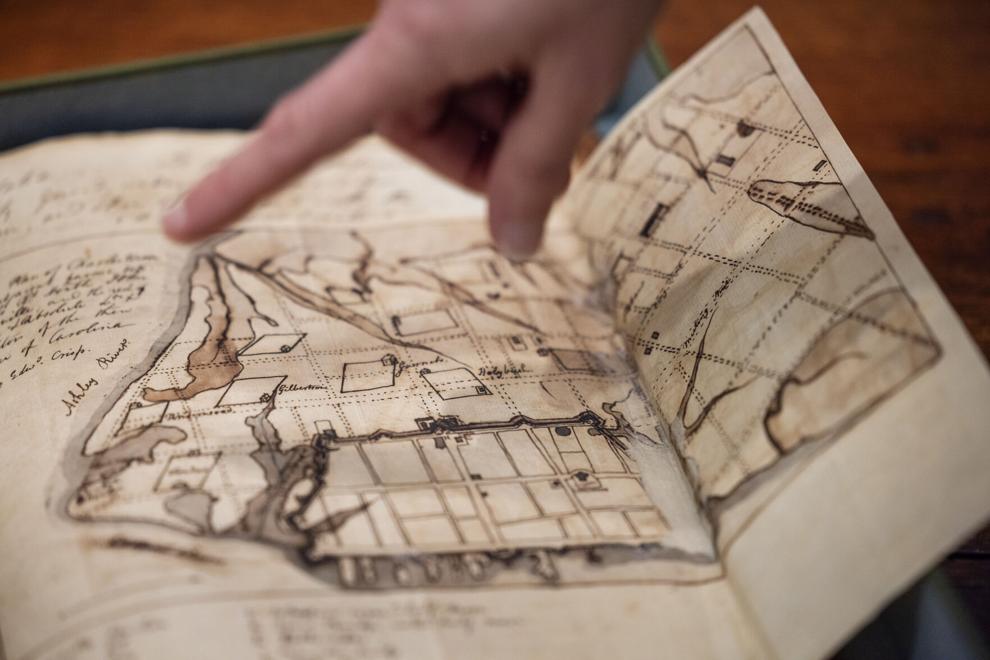 It was in the thick of that formative era when expat families from across the Atlantic based their institutions on British models, while also entertaining new notions of what makes a great society — grounding it in European traditions while moving it forward.
And so they began meeting for hours upon hours to identify desired publications and ponying up vast sums to secure literal boatloads of books, pamphlets and other texts. They spared no expense, fussing over the finest leather and elaborate gilt embossing. They kept copious handwritten records, with meticulously penned, labor-intensive copies.
Such painstaking efforts suggest they had been inked for posterity — that this investment in a new world was far from some flash in the pan. "They were definitely working for the ages," Moore said.
And while many protocols were imitative of those in England, he sees the motives as twofold.
"They were preserving a culture, but they were also actively involved in helping to create it as well, and at every stage. These people were innovative scientists, they wanted to keep up with things."
The enterprise was sufficiently purposeful to lay the groundwork for the 1770 founding of the College of Charleston. Its members amassed enough naturally history artifacts to form the core collection of the Charleston Museum, and an array of historical documents to do the same for the South Carolina Historical Society (founded in Charleston in 1855.) There were ample other offshoots, too, like the South Carolina Jockey Club (founded here in 1734.)
Their collecting was ambitious, swelling shelves to almost 5,000 volumes by 1778, only to have them largely consumed by a fire in their building on what is now Philadelphia Alley near St. Philip's Church. Undaunted, they began collecting again. By 1826, they had ratcheted the number up to 12,000 volumes.
Their collection dove deep into past cultures, then folded in ideology informing a new society, the kind of revolutionary thinking that no doubt informed a break with England.
Moore notes that revolutionaries like brothers Thomas Pinckney and Charles Cotesworth Pinckney were very knowledgeable about classical Greek, with one sibling traveling with works from classic Greek philosophers in his saddlebags.
And the ensuing collective American revolutionary effort in turn prompted war, including the 1779 British siege of Charleston, a devastating defeat for the American Revolution.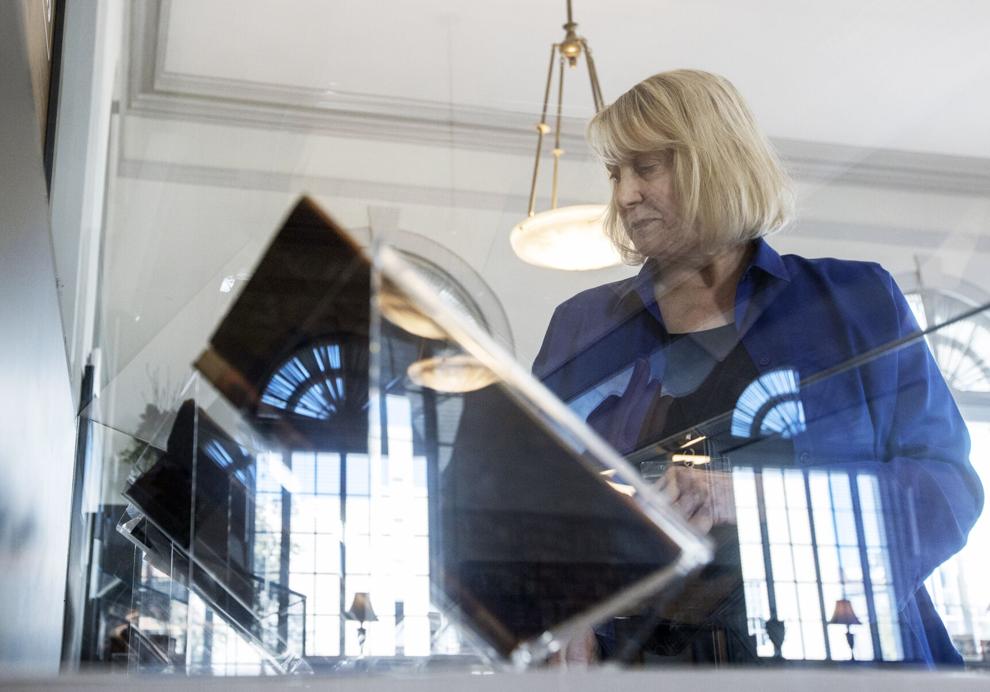 An intellectual complex
Ascend its grand exterior stairs and cross the threshold into the Main Reading Room, and you will land on a black-and-white tile parquet floor sweeping from one wall to the other that are punctuated by large Palladian windows. Above, a skylight is glazed opaque. All shine light on interspersed wooden tables where a smattering of members quietly pore over words from books and laptops.
Look down at those floors and hold your gaze, and the time travel begins. You'll soon spot the subtle spirals of fossils embedded in the marble tiles, an apt metaphor for an institution aiming to hold fast to history.
The building has housed the organization since 1914, after the previous century and a half of lugging its tomes from one locale to another on the peninsula.
Lift your eyes across the room and up to the rows of mezzanine shelves and spot the soft light cascading to the rows below. That's due to the original translucent, metal-framed glass floors allowing it filter through, lending an ethereal feeling for readers wending through shelves.
Now move onto the reason for this society, as it is called. It's all those words. Books line rows of shelves, both squat and towering. In four corners, glass cases permanently display papers and journals and artifacts that represent four eras of the library and spanning dignitaries and documents.
The first hit upon entry to the main room of Charleston Library Society may likely be that hallmark library hush. That, however, belies the swirl of activity happening throughout the building.
There is constant archival management of Curator/Historian Deborah Fenn, who gives new meaning to the designation keeper of institutional history.
On a Friday morning, she is arranging documents pertaining to the 275th anniversary, which will be on view. She also maintains those four-corner cabinets that mete out the historic moments. She points out a copy of the complimentary membership the society gave George Washington, with the original now at the Library of Congress in Washington, D.C.
"This is really amusing," she said, pointing to a bill from a local tavern, where meetings took place, and chuckling at the itemization of 64 terrapins followed by a disproportionately long list of manifold glasses of Madeira, claret, port, punch and other spirits.
The provenance of some publications sheds insightful light, too. The library's Mark Catesby editions, for instance, were purchased at the suggestion of Miles Brewton, the Revolutionary patriot and rice plantation owner. Founding father Charles Cotesworth Pinckney recommended the Boydell Shakespeare.
Recently, Fenn has been busy assembling a library archive collection of such materials and records the library has dubbed MS29, something Mina lights up about.
"This continuity of record-keeping has allowed us to have a sense of what was being collected, why it was collected, who was asking for it," offered Mina. "What were the thinkers thinking were important about these?"
Mina also leads the charge in acquiring the steady stream of new titles for members. These range from new periodicals to the latest release of John Grisham — the bestselling author who is scheduled to speak at the society's sold-out membership event on Jan. 17.
"It's a treasure chest that everybody gets to open on their own," Mina said.
Stick around for a while and you might experience the other main attraction: similarly inquisitive, knowledge-thirsting people.
They come by the dozens to events and lectures that the library hosts, a wine-sipping meeting of minds that is true to the library's original mission in the breadth and depth of disciplines explored through today's top writers, thinkers, artists and experts.
This is among the many feathers in the cap of Anne Cleveland, the executive director who made it an institutional priority to animate the space.
Along with structural and collection advances, Cleveland is credited with transforming the library into a dynamic forum for exchange that has attracted top-tier authors and launched a literary festival that ultimately became its own independent undertaking that is the Charleston Literary Festival.
At the end of January, she will retire and pass the baton to her successor Laura Pelzer.
Beyond its main room, the lower level is a warren of literary delights, including an intact Cutter card catalog system, a winsome, mural-brightened children's room and an expansive one for young adults. Farther along still is a sleekly appointed Fellows room for mingle and author talks that could rival a posh British social club.
This is connected to a repurposed, adjacent historic home at 160 King St., which holds acclimatized vaults filled with centuries-old treasures, from the writings of John Drayton to the folios of Catesby, and tomes of historic newspapers.
Upstairs, an elegant administrative suite showcases works of art and burnished antiques. It also is the way to the Igoe Shakespeare Library, a room separated by a glass wall that is painted a rich red, which shows off to stunning effect the collection donated by Skipper and Ann Igoe. It includes a 1632 Second Folio of the complete works and the celebrated "Holinshed's Chronicles" history of England, Scotland and Ireland that informed Shakespeare's works.
The downstairs space along King Street houses Buxton Books, the library's cultural partner that trades in curated offerings including many titles connected with the region and with library programming.
There also is an on-premise bindery where Conservator/Bindery Director James Davis is elbows deep in the conservation of books, while also conducting related classes.
The paper chase
About all that paper. It could be argued that no one knows more intimately the daunting prospect — and the great stakes — of protecting a material as easily to perish as paper.
Its hallowed halls past and present have housed all manner of ruminations written and printed in every form, particularly books and newspapers.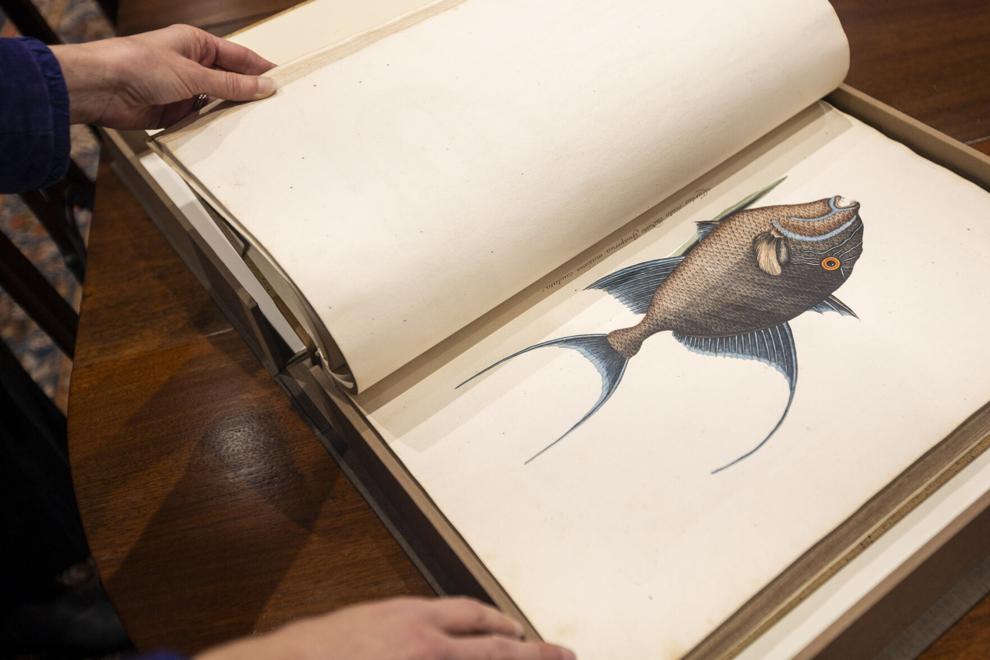 Among the treasures are:
A 1798 letter in the hand of George Washington to Charles Cotesworth Pinckney from Mt. Vernon, inviting him to visit;
A copy of the Fundamental Constitutions of the Carolina, c. 1669, in the hand of John Locke;
An illustrated 1800 work by Gov. John Drayton, a library society member, including a rare map showing the walled city of Charleston;
The "Hamilton Doodle," a paper filled with Alexander Hamilton's own loops and patterns drawn during a meeting about the founding of the navy;
English naturalist and explorer Mark Catesby's "The Natural History of Carolina, Florida, and the Bahama Islands," two editions dated 1754 and 1771;
"The Journal of a Voyage from Charleston, S.C., to London," by Revolution-era Charlestonian Louisa Susannah Wells; and
Copies of the South Carolina Gazette and early American newspapers dating back to 1732.
"The writing of South Carolina history would be impoverished if it weren't for those newspapers," said Moore, adding that the scholarship based on them goes beyond South Carolina history. "If the library society has one 20th-century legacy, it has to do with the newspapers and the impact that had."
And there is so much more, carefully tucked away in slim metal drawers in the vaults. There are Charleston directories and Huguenot records, detailed earthquake scrapbooks and Francis Marion letters, elaborate 18th-century travelogues and lavishly bound overviews on everything from surveying to botanicals, Latin-text manuscripts of works of Horace and Persius and the original manuscript for "Porgy," written in 1924 by Charleston author DuBose Heyward.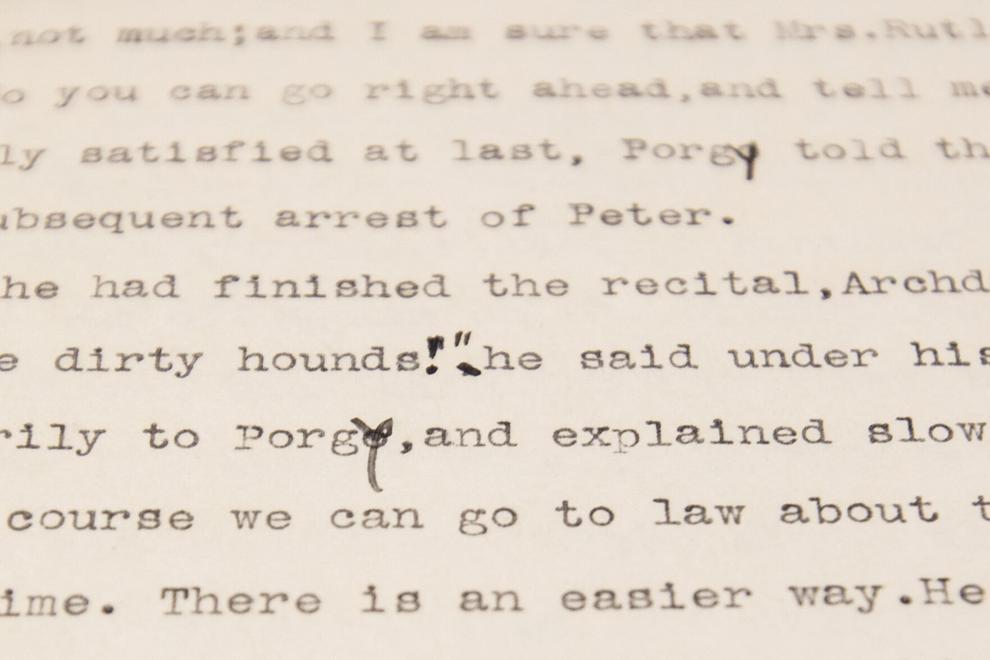 These are now under the careful watch of Special Collections Librarian Lisa Hayes. On a recent morning, she is showing off the pristine Igoe Shakespeare Library, in which are displayed some other gems from the collection.
The library's ongoing guarding of those papers is, in part, informed by a harrowing 1778 fire that blazed through its former home just east of St. Philip's Church, turning much of that hard-wrought posterity into ash.
Former librarians such as Ellen Fitzsimmons spent decades ensuring that it would never happen again. She even fought plans to build a "slow-burn" building using wooden floors rather than the existing marble, glass and stucco.
There were other instances of heroic championship of the library's holdings.
When pirates impounded books from an incoming ship, the library wrangled them back with a sizable ransom. During the Civil War, the library took no chances. It packed 60-plus boxes and hauled them to Columbia for safekeeping.
Through hell and Redcoat pursuit, the library has held on to some of its earliest holdings and is working to replace those it lost — a testament to remarkable origins and staying power.
"That's the thing that that astonishes me," said Moore. "We think about institutions as being vulnerable and old ... but these people, they put it all together, knowing what they wanted to do… what they created themselves."
For Moore, an overarching impact is the example of how a collective society can achieve such things. Summoning Shakespeare, he likens it to Prospero's cave in "The Tempest." Along with literature, magic and more have been created at the library century after century.
"Right now, the magic is arriving at full speed and in many forms," he said, citing the ways the institution has branched out to host offerings such as chamber music and launch literary festivals.
"The Library Society has demonstrated from its beginning that it is an institution and it's a building, but it is also a kind of a supernova of activity," Moore said. "Every culture and artistic enterprise is going on in that building."
Its founders, he said, believed that history was going to progress. While it looked to its past, it was optimistic about the future.
As it launches its next chapter, those may well be words worth holding onto.