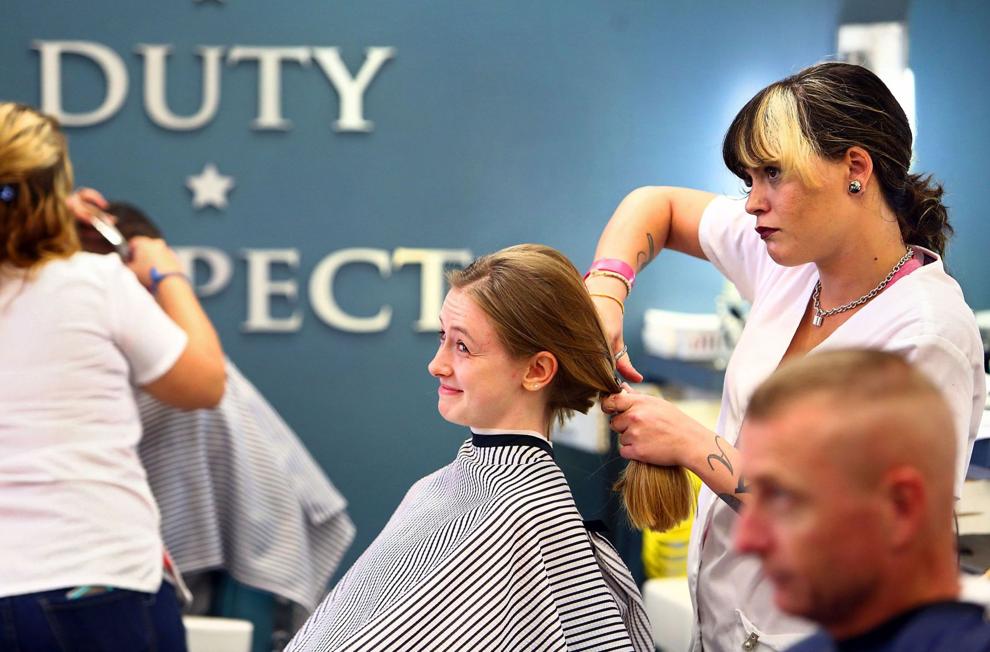 Jennifer Pozzani grimaced as the barber wrapped her shoulder-length blonde hair into a ponytail and started cutting.
Then she squeezed her eyes shut.
The barber, a woman named Sarah Kilgore with two-toned hair and tattoos on her arms, sawed off Pozzani's ponytail and traced a humming clipper along her scalp. Jaw dropped, Pozzani stared at her reflection in the mirror on the opposite wall of The Citadel Barber Shop.
"How does that look?" Kilgore asked, handing Pozzani a mirror.
"Good," she said. "As good as it's gonna get."
"Nine months will be over before you know it."
For Pozzani, an 18-year-old from Rockland County in New York, her regulation haircut — no longer than three inches on all sides — is a rite of passage at The Citadel, an institution steeped in history and tradition that for decades excluded women from its ranks.
How times have changed. In the past 20 years, the number of women in the Corps of Cadets has slowly but steadily grown. In 1999 — the year Nancy Mace, a self-described "tomboy" from Goose Creek, became the first female cadet to graduate from the historic military college — 30 women entered The Citadel's iron gates. For the fall 2016 semester, 68 female "knobs" reported to campus for Matriculation Day, the school's largest class of freshmen women ever.
Today, women at The Citadel hold high-ranking leadership positions within the Corps. More than half of them participate in varsity sports. They enter The Citadel with higher grade-point averages than their males peers. They graduate at higher rates and are less likely to drop out, too. Research from the Multi-Institutional Survey of Leadership shows women graduate from The Citadel with increased resilience, confidence and leadership skills.
"The model works," said Connie Book, The Citadel's first female provost and dean. "And it's really powerful to witness it."
On Aug. 12, 1995, Shannon Faulkner reported to The Citadel escorted by U.S. Marshals and became the first woman to join the Corps of Cadets in The Citadel's 152-year history. An honors student from Powdersville, Faulkner was admitted to The Citadel in 1993 after omitting any references to her gender on her application. When college officials discovered she was woman, they denied her entrance into the Corps.
Faulkner famously waged a two-year legal battle against The Citadel. She was attacked in the press and by the public. Her childhood home was vandalized. Her parents received death threats. Citadel supporters sold T-shirts and bumper stickers emblazoned with slogans like "Save the Males" and "1,952 Bulldogs and One Bitch."
For Citadel supporters, especially alumni and cadets, Faulkner threatened the very core of the institution's identity as a bastion of traditional Southern masculinity, said Steve Estes, a history professor at Sonoma State University, who has studied gender and culture at The Citadel.
"(They) felt that the single-gender education helped foster a band of brothers, to use Shakespeare's term, and that camaraderie really comes from being tested under fire," Estes said. "And if women can be admitted into this band of brothers, then it changes the core of its manly identity."
Faulkner's ordeal ended days after she finally enrolled under federal court order. Overcome by stress and exhaustion, Faulkner, then 20, spent most of her first week at the campus infirmary. She dropped out and left in tears while her former classmates openly clapped, cheered and celebrated on the quad.
The following year, in 1996, The Citadel's Board of Visitors voted to eliminate its males-only admissions policy in response to a U.S. Supreme Court decision that ruled the Virginia Military Institute, another all-male, state-supported military college, must admit women or refuse public money. Four women were admitted that fall.
Today, 183 undergraduate females are enrolled at The Citadel, representing eight percent of the Corps. The Citadel would ideally like to raise female enrollment to 15 percent of the undergraduate population, Book said, equal to the percentage of women in the U.S. military. To compete for female applicants interested in a military career, the administration employs more than 10 admissions and athletic professionals whose jobs are dedicated to recruiting women to campus.
"We understand that this kind of education is not for everybody," said Associate Director of Admissions Lisa Lugo, a 2002 Citadel graduate from Texas who applied to the college on a dare. "We're still making history and there are many opportunities to do that."
Take Bailey Richardson, a freshman biology major from Aynor, the first woman to win the Star of the West Undergraduate Scholarship, The Citadel's most prestigious award. Her father, Joey Richardson, graduated from The Citadel the spring before Faulkner enrolled. Back then, he admits, he was one of many cadets who opposed women's integration. He still has the bumper sticker and T-shirt to prove it.
"I think time changes everything," he said.
His daughter agreed.
"Girls have been here for 20 years. I feel like those feelings have kind of passed," she said. "I just want to prove myself to my company. Just because I'm a girl doesn't mean I can't do anything."
For Mary Novak, a vivacious, 21-year-old senior from Mount Pleasant, The Citadel was a "perfect fit." She was a member of Junior ROTC at Wando High School with dreams "to help people," but wasn't sure how she would do it. She remembers arriving to campus with just a box and backpack, wondering, "Am I going to be prepared?"
Of course, nothing could have prepared her for the mental and physical challenges of her knob year, the hardest experience of her life. But Novak persevered. There's no struggle women face at The Citadel that men don't also endure, she said.
"We run together, we laugh together, we play together, we eat together, we work out together. It's like you kind of stop noticing we're all different people after a while," she said. "They treat us with respect and we respect them; it's not different from going anywhere else that I would imagine."
On the Friday afternoon before Matriculation Day this month, Novak greeted new freshmen women at the Holliday Alumni Center for a ladies-only networking event. She cried when she saw a former Wando classmate, a girl she knew from Junior ROTC, walk through the doors with newly shorn hair. Novak embraced her, swelling with pride.
"I can't believe that was me three years ago. I was that scared little girl with no hair. I had no idea what I was doing. I had no idea what I was getting myself into. And now I'm a senior and it's the best thing I've ever done for myself," Novak said. "This whole thing is hard to do. Nothing about this is easy for a guy or a girl. But the women are incredible. Everyone is just so incredible. It's just great to see the potential working through the door."
Reach Deanna Pan at 843-937-5764.