An all-day event billed as the largest gathering of patriots Aiken has ever seen offered on Saturday an intoxicating brew of politics, religion, medical advice and merchandise to attendees, some of whom traveled hours to be there.
The Faith and Freedom Rally at Goshen Farm featured speakers such as Bryan Ardis, who accused public health officials and hospitals of malfeasance during the pandemic, and Pastor Todd Coconato, who championed a spiritual and political awakening in the U.S.
"God is doing something new, he is doing something fresh, and he is not done with America," Coconato said on stage, as vendors nearby peddled pins and hats and shirts and prints and cups and crosses. "America is a great nation, and the people are waking up in the droves," he continued. "It's high time that the church is the head, and not the tail."
When Coconato asked who in the crowd liked Donald Trump, applause erupted. Trump was elected in 2016 due to, in part, an outpouring of support from the evangelical bloc.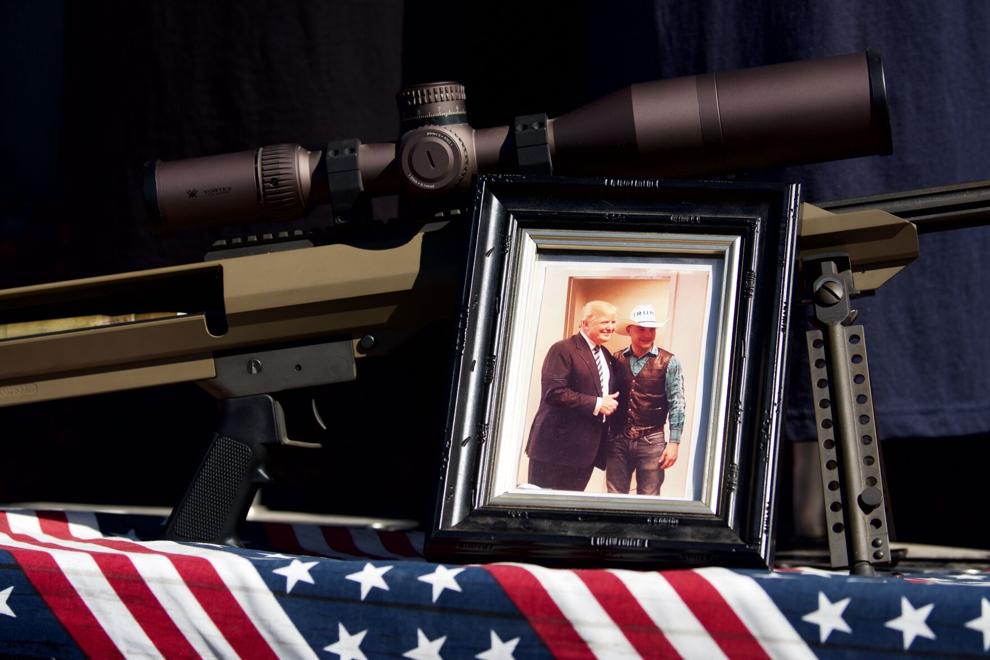 Several incarnations of the former president dotted the rally-grounds Saturday. One, a life-size cutout, included a placard: "I'm STILL your president." Another, a framed photo, was perched on a table, leaning against a rifle. And a third – perhaps the most dynamic – stood behind Jeff Preston, an illustrator who depicted the ex-commander-in-chief in the midst of battle, rolling up his sleeves, his distinct red tie bending in the breeze.
As people browsed, Preston described the image as a "positive portrait" – not necessarily punditry. The artist shied away from politics until last year, around the 2020 election; his portfolio, decades in the making, is chock full of the scary and the spiritual, the sort of material that graces magazine covers, not campaign literature.
"There are still things that I have planned in the future that I think are going to be very powerful," Preston said, "but really not as much a left or right thing, just pure patriotism."
That approach, he explained, casts a wider net. But the illustration of ready-to-work Trump has resonated with many, he added, including one person in California who approached in tears.
"That was everybody else's" mental image of the president, Preston said. "I hit a big-time nerve."
The rally, from 9 a.m. to 6 p.m., was hosted by Goshen Farm and WUCC 99.9.