The Aiken City Council on Monday night is expected to review plans for an apartment complex for older adults along busy Whiskey Road.
It will be City Council's first formal look at The Magnolia – a three-story, 60-unit development, a mix of one- and two-bedroom apartments, pitched for 5 acres north of Stratford Drive and south of Brookhaven Drive.
The surrounding area includes single-family homes and commercial properties. A project narrative for The Magnolia says it will "play a nice median between the two property types."
Only those 55 and older will be allowed to live there, if and when it's built.
"Again, this would be a senior community for residents aged 55 and older, no children will live there," Max Elbe, with Lowcountry Housing Communities, told the Planning Commission earlier this year. "All residents will be aged 55 and older."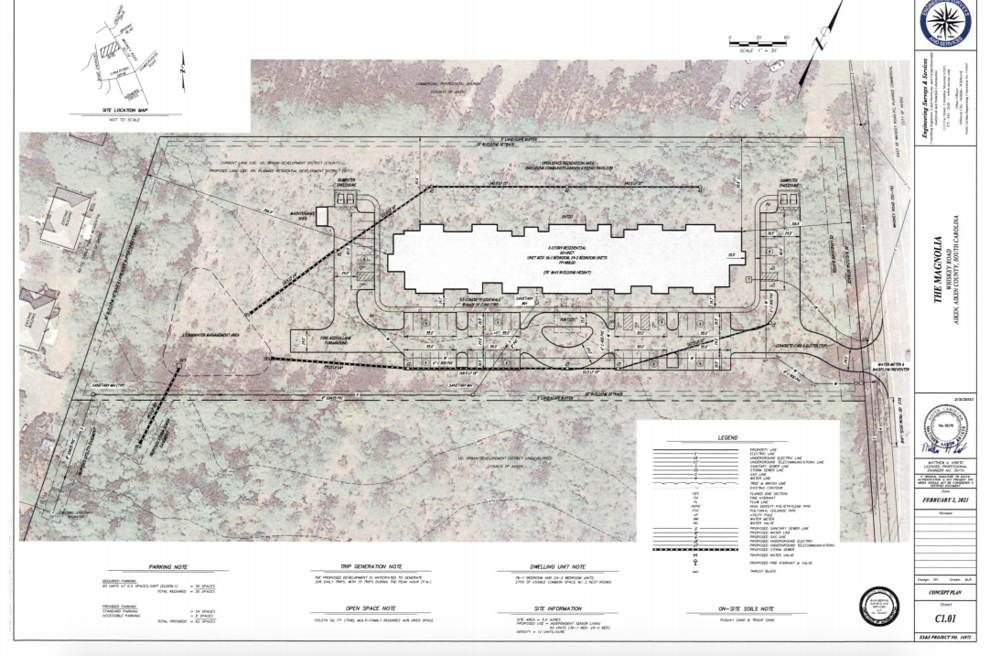 The commission, which advises City Council, unanimously recommended approval of the concept plan and related annexation but appended several conditions.
A handful of people have expressed worry about the proposed apartment complex.
"The main thing is, as these properties are developed along Whiskey Road, there's going to be issues about ingress and egress on Whiskey Road," Planning Commission Chairman Jack Hunter has said. "The DOT has made that clear."
A traffic study is not required, according to a memo from City Manager Stuart Bedenbaugh, because "it is projected that the maximum trip generation will be less than the 100-trip threshold."
City Council's meeting will be in person at the downtown Municipal Building, 214 Park Ave. S.W. A closed-door executive session and an informal work session will precede the regular meeting at which The Magnolia will be discussed.